A demonstration against anti-Semitism in Berlin is urging participants to wear a kippah on Wednesday in response to an attack on an Israeli man wearing the traditional Jewish skullcap.
The "Berlin wears a kippah" protest is set for Wednesday evening in front of the Jewish community center in the German capital. It follows the assault of Adam Armush, a 21-year-old Israeli Arab who was violently assaulted by a 19-year-old Muslim refugee in the German capital last Tuesday.
The video of Armush being whipped with a belt while his attacker cries out "Yahudi!" or "Jew" in Arabic quickly went viral. Berlin police identified the attacker as a Palestinian from Syria named Knaan S. who was registered at a refugee home in Brandenburg state outside Berlin, but who most recently was living "out of a suitcase" in the capital.
The Jewish community plans to hand out thousands of kippahs to everyone interested in expressing solidarity with the Jewish community in Germany by wearing them proudly across the city and elsewhere.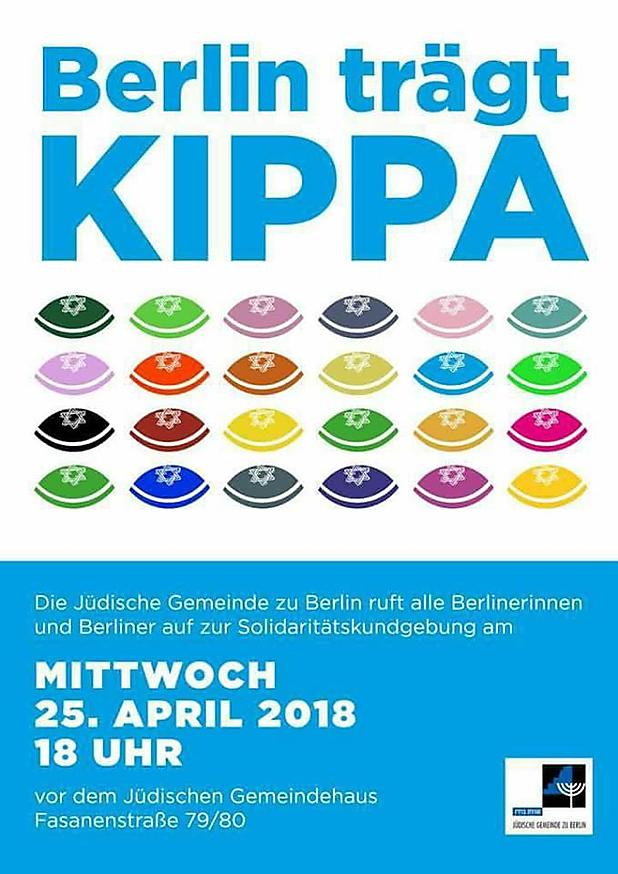 Head of the Jewish Community in Germany, Joseph Schuster, Berlin Mayor Michael Müller and the Jewish community leader Dr. Gideon Yaffe will speak during the kippah protest march.
On the same day, a similar demonstration is planned for Erfurt, the capital of the former East German state of Thuringia, organized by ACHAVA Festspiele Thüringen, a private cultural organization. The event will take place in the morning and conclude at the New Synagogue in the center of the historic city.
Such is the furuore over the original Berlin attack that German Chancellor Angela Merkel has pointed to Arab immigrants who bring profoudly anti-Jewish sentiments to their new home as "dismaying."
"We have a new phenomenon, as we have many refugees among whom there are, for example, people of Arab origin who bring another form of anti-Semitism into the country," Merkel told the private Israeli Channel 10 network in a weekend interview.
The chancellor added that "to our regret, anti-Semitism existed in Germany even before [their arrival]."
Follow Simon Kent on Twitter:

Follow @SunSimonKent

or e-mail to: skent@breitbart.com