JERUSALEM, Israel — Several main streets of Jerusalem are bedecked in Israeli and American flags in celebration of the upcoming transfer of the U.S. embassy to the city on Monday — and one major intersection in the center of the city features an explicit pro-Trump message.
"Trump, make Israel great," says one. "Trump is a friend of Zion," says another.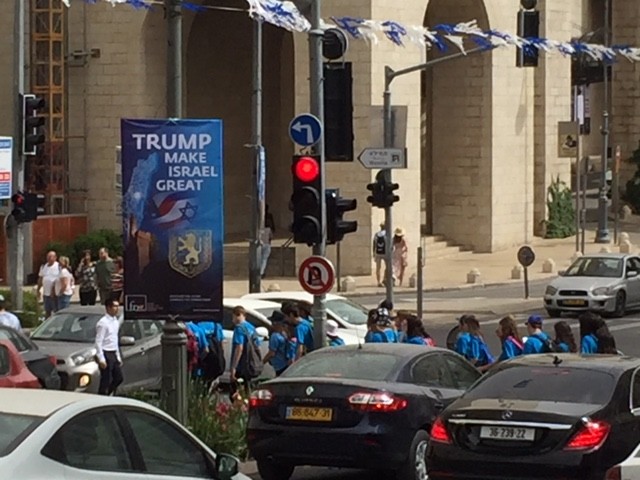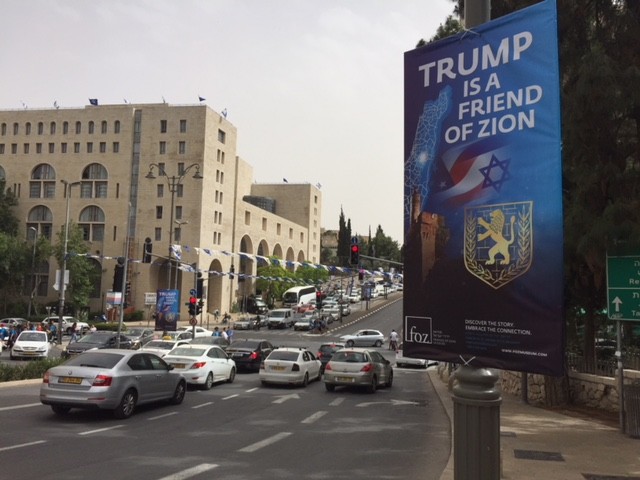 The signs reflect the mood in Israel, where President Donald Trump is rapidly becoming a hero, thanks in part to his decision to move the embassy, as well as his decision on Tuesday to pull the U.S. out of the nuclear deal with Iran.
But they also represent the specific institution that paid for the signs to occupy their present position near the Old City: the Friends of Zion Museum.
#Jerusalem #embassy #USA #Israel pic.twitter.com/JNCGxE0kyl

— Joel B. Pollak (@joelpollak) May 11, 2018
The museum opened in 2015 and "resents a technologically advanced, interactive experience that tells the story of the dream of restoration of the Jewish people to their historic homeland and the brave non-Jews who assisted them in realization of that dream," according to its website.
It also "serves as a platform for fighting BDS and Anti-Semitism internationally."
BDS — "boycott, divestment, and sanctions" — is a movement that aims to isolate Israel culturally and economically as well as diplomatically.
With or without the museum, pro-Trump sentiment is riding high in Israel.
Arrived in Israel a few hours ago and I've already been stopped three times by people who want to thank America for @realDonaldTrump

— Joel B. Pollak (@joelpollak) May 9, 2018
Israeli taxi driver brings up @realDonaldTrump. "Yesterday was a big day… Trump is giving his soul for Israel… He has giant balls… There's no one like him." Says last night's IDF attack on Iranian missile sites in Syria (if that's what it was) put folks at ease in Tel Aviv.

— Joel B. Pollak (@joelpollak) May 9, 2018
"He's not a politician. He does what he says he will do," an Israeli taxi driver told Breitbart News.
Also benefiting from Trump's recent decisions: Israeli Prime Minister Benjamin Netanyahu's Likud Party, which is polling at record highs this week.
Joel B. Pollak is Senior Editor-at-Large at Breitbart News. He was named to Forward's 50 "most influential" Jews in 2017. He is the co-author of How Trump Won: The Inside Story of a Revolution, which is available from Regnery. Follow him on Twitter at @joelpollak.