President Donald Trump's focus on border security is a "shiny object" which undermines the campaign to keep fentanyl drugs out of Missouri, says embattled Missouri Sen. Claire McCaskill.
McCaskill's comments were directed at homeland security Secretary Kirstjen Nielsen during an Oct. 10 hearing in the Senate:
I think, honestly, I'm going to be candid here. I think there has been so much political attention around border security and in Americans' minds and I think frankly in the President's mind. He sees this as agents along the border, all across the southern border and because there's been all that political attention there, there's been very little attention directed to this real vital need that we have.

We are dying from this fentanyl in record numbers all across my state. Families, I talk to families every week, Madam Secretary, who have lost a child to fentanyl, illegal fentanyl.

And the sad thing about this we could do this. We know how to interdict. I can guarantee you that the director of the FBI can certainly tell you that we know how to interdict. We just not have put enough boots on the ground around this problem and I think part of that is because it's the shiny object over here of 'Are we securing the entire southern border?' I want to secure the border. I certainly do not want to shirk that responsibility but I want to do this in a way that's smart and really is addressing the threat to our country.
McCaskill's effort to blame Trump for the rising fentanyl deaths comes amid her tight race with the GOP's Senate candidate, Josh Hawley, who now serves as Missouri's Attorney General.
Polls show that Hawley has edged past McCaskill as he adopted a strongly pro-American immigration-reform platform.
Since 2014, deaths from fentanyl and other synthetic drugs have exploded up to almost 30,000 in 2017, largely because Chinese-made fentanyl is being smuggled into the United States via mail and through the southern border.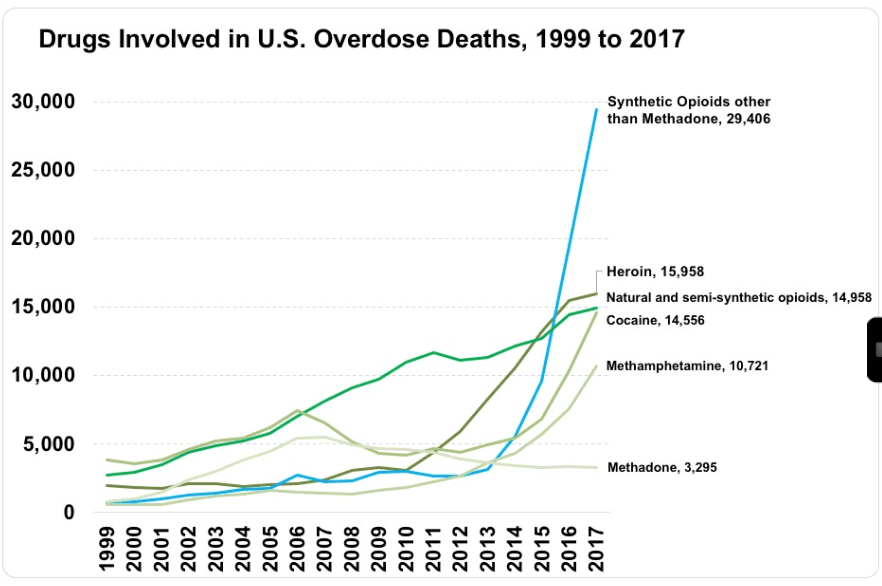 Trump and his deputies are pushing on several fronts to block the movement of Chinese fentanyl, for example, by pressing Chinese government officials to block fentanyl production in their government-controlled society, and by indicting Chinese producers and distributors. Congress has also passed a new law to help interdict drugs send via mail services.
Trump is also pushing for a border wall that would curb the movement of Mexican-smuggled drugs, including drugs that are produced in China.
However, Democrats in Congress have refused to support the wall or to accept Trump's request for additional "boots on the ground," despite the massive death toll from fentanyl and other drugs.
The Senate's draft budget for 2019, for example, includes only $1.6 billion for a border wall — and provides only enough funds to hire 375 border patrol officers. According to a press statement from the Democrats on the Senate Appropriations Committee:
The bill includes funds to support the hiring of 375 new CBP officers for deployment to our air and land ports of entry and 375 new Border Patrol agents (instead of the 750 requested by the President) …

The bill rejects the President's request to increase the number of detention beds to 52,000 [for detaining migrants].  Instead, the bill funds an average daily population of 40,520 adult and family detention beds, the same as the fiscal year 2018 enacted amount. The bill rejects the President's request to hire 3,300 new ICE employees to support his executive order on immigration.
Democrats touted the funding they approved for "combatting opioids." But that funding added up to just $147.9 million in a $55.2 billion DHS budget. That is just 0.2665 percent of the agency's draft budget, or the equivalent of just one cent in $4. Yet the Democrats' statement boasted:
Combatting Opioids. The bill provides a total of $147.9 million across several DHS components to combat the flow of opioids into the U.S.  These funds will deploy detection technology and improve interdiction at ports of entry and international mail facilities, add 15 new CBP drug detection canine teams, expand opioid and other illicit drug investigations (including training in opioid cyber investigative techniques) to combat supply chains using the "dark web," and develop opioid detectors to protect law enforcement officers and canines who come in contact with dangerous doses.
The top Democrat on the subcommittee responsible for drafting the 2019 budget is Montana Sen. Jon Tester, who is facing a tough 2018 election against Matt Rosendale.
Other Democrats on the committee include West Virginia's Joe Manchin, who is facing Patrick Morrisey, and Wisconsin Sen. Tammy Baldwin who is facing  Leah Vukmir.
In general, Democrats have allied with GOP-leaning business groups to oppose curbs on legal and illegal migration, despite the huge economic impact on Americans and heartland states.
Four million young Americans will join the workforce this year, but the federal government will also import 1.1 million legal immigrants, and allow an army of at least 2 million visa-workers to work U.S. jobs, alongside asylum-claiming migrants and illegal aliens.
Overall, the Washington-imposed economic policy of economic growth via immigration shifts wealth from young people towards older people by flooding the market with cheap white-collar and blue-collar foreign labor.
That flood of outside labor spikes profits and Wall Street values by cutting salaries for manual and skilled labor offered by blue-collar and white-collar employees. The policy also drives up real estate prices, widens wealth-gaps, reduces high-tech investment, increases state and local tax burdens, hurts kids' schools and college education, pushes Americans away from high-tech careers, and sidelines at least 5 million marginalized Americans and their families, including many who are now struggling with opioid addictions. Immigration also pulls investment and wealth away from heartland states because investment flows towards the large immigrant populations living in the coastal states.