Breitbart Senior Editor Milo Yiannopoulos spoke tonight at the University of Delaware in a discussion titled "TRANNIES ARE GAY."
"As you may have heard, some horrible miscreants put up some promotional posters last night that made a few people angry" said MILO referencing photos of Caitlyn Jenner featuring the words "Trannies Are Gay".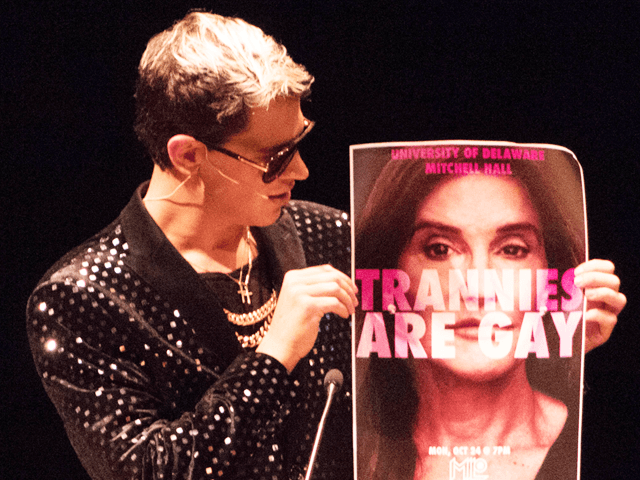 "If these trannies are so upset by mere words, how are they going to deal with getting their dicks cut off? My position is a simple one. There are only three genders: Male, female and retarded."
"Of course many trannies, or those that make up their own new gender, are not actually retarded. But they are deeply mentally damaged, and they are failed by a liberal establishment obsessed with making them feel good about themselves." continued MILO.
"Consider how fanatical the liberal establishment, especially on campus, is with pronouns.  My pronouns in case you are curious are "Fag, Faggot, and His Royal Fagness".  In the minds of the far left, what is important is not that a person be free to believe what they want about themselves, it is that all of us need to believe what they believe…. OR ELSE."
"If trans lobby had its way, misgendering them would land you in jail. How ridiculous is this idea!  Forcing people think a certain way, to make another person comfortable. A tranny may say I am ugly. They'd be wrong of course, but they are free to say it."
Watch the full event below.