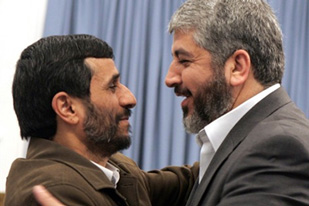 On May 7th, two Muslim Imams, Masudur Rahman and Mohamed Zaghloul, were taken off a Memphis flight.

"It's racism and bias because of our religion and appearance and because of misinformation about our religion," one of the imams, Masudur Rahman said. "If they understood Islam, they wouldn't do this."
The Council for American Islamic Relations (CAIR) announced they would act on behalf of these Imams in this matter. CAIR "will follow up with the airline and with the TSA to help ensure such incidents do not continue to occur."
Is it reasonable for Rahman and Zaghloul to say that "If they understood Islam, they wouldn't do this"? Let's examine where these two Imams were headed. They were flying to Charlotte, North Carolina, where they were to participate in a North American Imams Federation Conference (NAIF) on Islamophobia.
The conference was organized by the North American Imams Federation, a key Muslim Brotherhood front organization (Muslim Mafia, Gaubatz and Sperry, page 235). Imam Omar Shahin was the President and co-founder of NAIF in 2003. He remained President until recently. According to NAIF's webpage, Shahin is currently Secretary on the Board of Trustees.
Shahin was Imam and President of the Islamic Center of Tucson (ICT) until 2003, which in the mid 1980's functioned as one of the two main hubs in North America for the Mektab Al Khidmat (MAK), which the U.S. Treasury has identified as the precursor organization to al-Qaeda. Shahin's predecessor at ICT (1983-1984) was Wael Hamza Julaidan, co-founder of the Mektab Al Khidmat. Another MAK co-founder was Osama bin Laden. Omar Shahin admitted to being a supporter of Osama bin Laden while he, Shahin, was spiritual leader at the ICT (Muslim Mafia, Gaubatz and Sperry, page 222).
Shahin served as a representative for the Holy Land Foundation for Relief and Development (HLF) and the Global Relief Foundation (GRF). Global Relief was shut down in December 2001 and designated a terrorist financier of Al Qaeda and HAMAS. Shahin raised money for the organizations through the Islamic Center of Tucson and defended the HLF after it was indicted. In 2008, five of the HLF board members were found guilty in the largest terrorism financing case in U.S. history.
Shahin also served as a representative for the KindHearts Foundation which was later discovered to be an offshoot of the HLF and GRF and was eventually shut down in 2006 for providing material support to HAMAS.
Another NAIF Trustee is Michigan Imam, Mohamad Mwafak Algalaieni. He went to an INS hearing to support GRF co-founder Rabih Haddad who had been arrested for his leadership role in the GRF, and was facing deportation on the same day the U.S. government shut down the GRF for terrorism financing. Haddad was denied asylum and eventually deported because he presented a "substantial risk to the national security of the United States." He had been a fundraiser for CAIR-MI and was also a member of the Mektab Al Khidmat.
The President of NAIF's Executive Committee is Ashrafuzzaman Khan. He is a former Secretary General (President) of the Muslim Brotherhood entity, the Islamic Circle of North America (ICNA) whose stated goal is to establish a global Islamic caliphate and impose Shari'a over the United States. Before coming to the U.S., Khan was allegedly a commander for Al-Badr, the Pakistani paramilitary wing of the Jamaat-e-Islami (ICNA is Jamaat-e-Islami's American affiliate), whose goal was to sabotage the 1971 Bangladeshi Liberation War by executing Bangladeshi intellectuals, thereby crippling the new nation. Al Badr is the oldest of the existing jihadi terrorist organizations of Pakistan.
NAIF's Khan is accused of being a "chief executioner" of the Al Badr forces who shot to death 7 Dhaka University teachers. A report by News Bangla, an online Bangladesh newspaper based in Washington D.C., said, "Ashrafuzzaman Khan's personal diary found in his residence contained the names of more than twenty Dhaka University teachers and staff. Also, the diary contained the names of a few other intellectuals who were either killed or who went missing in 1971."

"Many of the Bengali intellectuals listed by Ashrafuzzaman Khan were taken out of their homes in the dead of night in that eventful week of December in 1971."
In 2009, the (Department of Justice (DOJ) began an investigation into Khan, who was accused of failing to disclose his past with Al-Badr when he applied for U.S. naturalization. Just a few days ago, after forty years, a Jamaat-e-Islami leader admitted that "genocide and mass killing" took place.
Another NAIF Board of Trustee member is Imam Siraj Wahhaj of the At-Taqwa mosque in Brooklyn, New York. Imam Wahhaj was a character witness for the "Blind Sheik," Omar Abdel Rahman who was convicted in 1995 of plotting to blow up the WTC and other New York City landmarks. During Wahhaj's testimony, he called the sheikh a "respected scholar," and "bold, as a strong preacher of Islam." Omar Abdel-Rahman, the Blind Sheik, had also spoken at Siraj's Masjid At-Taqwa. In 1995, Wahhaj was named an unindicted-co-conspirator in the 1993 WTC bombings.
Many of Imam Wahhaj's messages are anti-American. He has called America "a garbage can- It's filthy, filthy and sick." Wahhaj's sermons call for Islamic domination: "Where ever you came from, you came to America. And you came for one reason – for one reason only- to establish Allah's deen (a complete way of life)."
Wahhaj tells his congregants the importance of political activism.

"As long as you remember that if you get involved in politics, you have to be very careful that your leader is for Allah. You don't get involved in politics because it's the American thing to do. You get involved in politics because politics are a weapon to use in the cause of Islam."
Siraj Wahhaj is a member of many Muslim Brotherhood front organizations, including ISNA and CAIR. In recent years, Wahhaj has also fundraised at CAIR events.
Another NAIF trustee is Imam Johari Abdul-Malik, the Dar Al-Hijrah mosque's Outreach Director located in Falls Church, Virginia. Per The Department of Treasury's Enforcement Communications System (TECS) records, Dar al-Hijrah "is a mosque operating as a front for HAMAS operatives in U.S.," "is associated with Islamic extremists," "has been under numerous investigations for financing and providing aid and comfort to bad orgs and members," has "been linked to numerous individuals linked to terrorism financing," and "has also been associated with encouraging fraudulent marriages."
Imam Abdul Malik incites division between Muslims and non-Muslims in his sermons by calling non-Muslims an extremely derogatory term: "kaffir," i.e. infidels. Johari Abdul Malik has threatened an Islamic takeover of America. Additionally, in 2001, he said this:

"I am gonna teach you now. You can blow up bridges, but you cannot kill people who are innocent on their way to work. You can blow up power supplies… the water supply; you can do all forms of sabotage and let the world know that we are doing it like this because they have a respect for the lives of innocent people."
Just, two days ago, Al-Awlaki was targeted for assassination by a U.S. drone. Al Qaeda member in Yemen (AQAP), Anwar Al Awlaki, was Imam of Dar Al Hijrah in mid-2001. Imam Abdul-Malik has publicly defended Anwar al-Awlaki's clericship at Dar Al Hijrah: he was "articulating the same message that I articulate today." Al Awlaki was considered an important spiritual advisor for two of the 9-11 hijackers, Khalid al-Mihdhar and Nawaf Al-Hazmi, and in recent years has been tied to terrorists Major Nidal Hassan (Ft. Hood) and Umar Farouk AbdulMutallab (The Underwear Bomber).
The Flying Imams Gambit
Persons associated with NAIF have been thrown off of planes before.
NAIF founder, Omar Shahin was the Imam of the mosque at the Islamic Center of Tucson (ICT) at the time when Hamdan Al Shalawi and Muhammed al Qudhaieen were attending ICT. Shalawi and Qudhaieen, who were in the U.S. on visas from Saudi Arabia, were removed from a flight after twice attempting to open the cockpit door. According to the 9-11 Commission Report, the FBI later suspected this was a "dry run" for the 9-11 hijackings. The 9-11 Commission Report pointed out that one of the students, Al Shalawi, was training just one year later after the suspected "dry run," in an Al Qaeda camp in Afghanistan.
The Council for American Islamic Relations (CAIR) represented these two Saudi students in filing racial profiling lawsuits against the airline. CAIR blamed the airline incident on "racial and religious profiling" and "Islamophobia."
Imam Omar Shahin's comments during the 9-11 investigation portended the similar tactics by Islamists to this day to exploit the terms "racial profiling" and "Islamophobia:"

"I think the investigation is not headed in the right direction. They are focusing on the Arabs, the Muslims. And all the evidence shows that the Muslims are not involved in this terrorist act."
Imam Omar Shahin himself was one of the Flying Imams who were thrown off a U.S. Airways flight in 2006. Shahin and five other Muslim clerics were returning from a 2006 North American Imams Federation Conference- the same conference that Imams Masudur Rahman and Mohamed Zaghloul were on their way to attend just a few days ago.
Coincidence? I think not. In 2006, NAIF President Omar Shahin said this about the 2006 Flying Imams incident.

"Since minute one of this incident, I then contacted Ibrahim Hooper [of CAIR] and brother Nihad Awad [of CAIR], and we arranged everything…. [W]e already coordinate with them everything, and we update each other every once [in] a while, every two hours, three hours. And everything is being coordinated with CAIR and with MAS. Even today, I asked MAS-Arizona chapter, please, whatever you want to do, just let brother Nihad Awad and Ibrahim Hooper know about it before you [do]. That's what we are doing, and we are going to do that in the future. Inshallah."
The "Misunderstood Islam" Deception
"If they understood Islam, they wouldn't do this," said Imam Masudur Rahman. If NAIF, the North American Imams Federation, is in fact representative of the Imams of North America, then Imam Rahman's statement must be regarded as a deception.