The Islamic State has released a video online showing the execution of captive Jordanian pilot Mu'ath al-Kaseasbeh, who appears in the video being immolated while held in a cage.
The fate of al-Kaseasbeh, held by ISIS since his F-16 fighter jet went down near the Islamic State's conquered capital of Raqqa in December, has long been considered pivotal to the Jordanian war effort. Jordan has been attempting to negotiate his release in exchange for would-be suicide bomber Sajida al-Rishawi, imprisoned by Jordan under a sentence of death since participating in a horrific attack on the Radisson Hotel in Amman in 2005.
Efforts to secure the release of Kaseasbeh, along with Japanese hostage Kenji Goto, ended when ISIS sawed Goto's head off with a knife… and now they have released a video showing the execution of the Jordanian pilot.  He was stuffed in a cage, doused with petroleum, and set on fire.
The authenticity of the video has yet to be determined by official sources, but some images have been posted online.  Warning before following that link: this is the least horrifying image.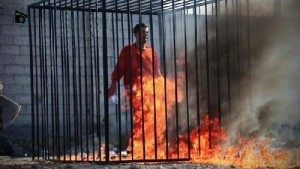 The video is evidently undated, so if this is genuine footage of Kaseasbeh's death, it's not certain exactly when he was killed.  The UK Daily Mail reports that furious negotiations for his release were still in progress yesterday; a major sticking point has been ISIS' refusal to provide Jordan with proof their pilot was still alive.  Jordan has threatened to begin swiftly executing ISIS prisoners if Kaseasbeh was killed.
The title of the video, incidentally, is "Healing in the Believers' Chests."