Editor's Note: This breaking story first appeared on CNN. Breitbart News provides up-to-the-minute updates. 
John Hayward reports (2/15/15, 9:00 AM): Police in Copenhagen have stated they believe the man killed at the Norrebro train station, killed by officers after he opened fire on them, was the perpetrator of both the cafe and synagogue attacks, based on surveillance video from those incidents.
The UK Guardian quotes Danish security chief Jens Madsen saying the killer may have been "inspired by militant Islamist propaganda issued by IS [Islamic State] and other terror organisations."  The individual has reportedly been "on the radar" of the intelligence services for some time.  Madsen theorized that he might have been seeking to replicate the Charlie Hebdo massacre in Paris, a theory also advanced by cartoonist Lars Vilks, host of the event that came under attack.  At the time of this writing, the authorities have not released the name of the slain attacker.
Prime Minister Helle Thorning-Schmidt described the attacks as "a cynical act of terror" and said she was "happy and relieved that police have disarmed the suspected perpetrator behind the two shootings."  She said her country had "lived through some hours which we will never forget."
Fox News further quotes the Prime Minister saying "We do not know the motive for the alleged perpetrator's actions, but we know that there are forces that want to hurt Denmark. They want to rebuke our freedom of speech."
Mary Chastain reports (12:30 PM):
Mary Chastain reports (11:42 PM):
Mary Chastain reports (11:35 PM):
Reuters reports (11:16 PM): A second man has died from gunshot wounds.
(Reuters) – A man who had been shot in the head multiple times at a Copenhagen synagogue has died from his injuries, Danish police said on Sunday.
Denmark was on high alert and a massive manhunt was underway after the shooting on Saturday, in which two police officers were injured.
The attack occurred hours after a man sprayed bullets at a cafe hosting a debate on freedom of speech in an incident the prime minister called a terror act. One person was killed and three police officers were injured.
It was not yet known if there was a connection between the two attacks, Danish police said.
Mary Chastain reports (11:04 PM):
Mary Chastain reports (10:42 PM):
Mary Chastain reports (10:39 PM): A livestream broadcast by Danish TV is recording the manhunt.
Mary Chastian reports (10:30 PM):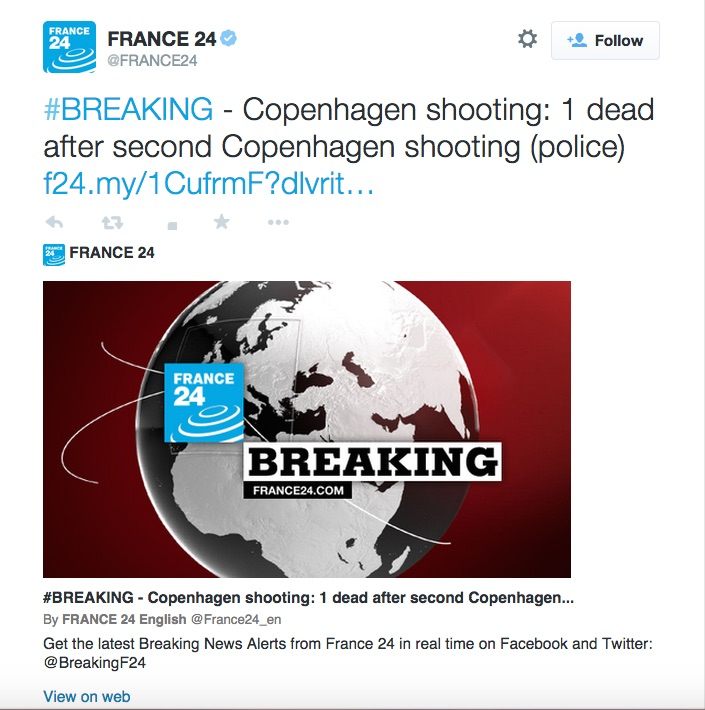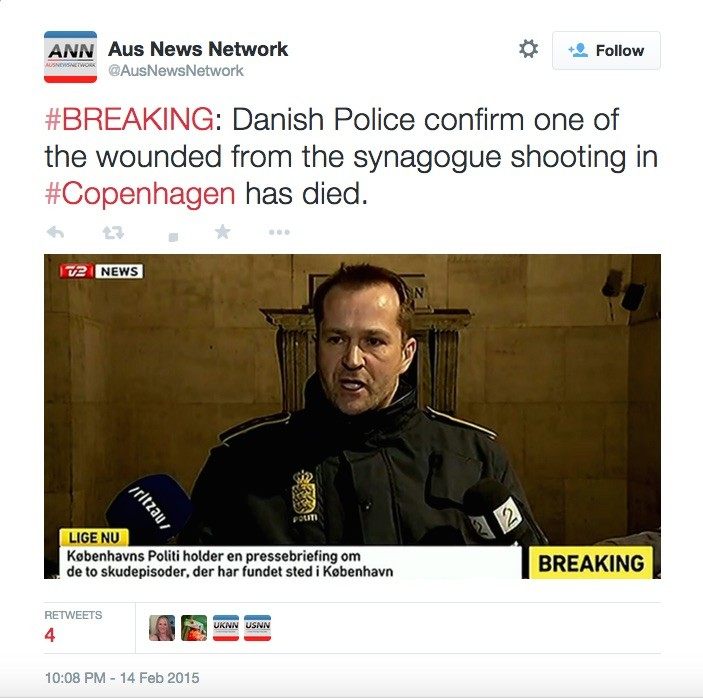 Mary Chastian reports (10:15 PM):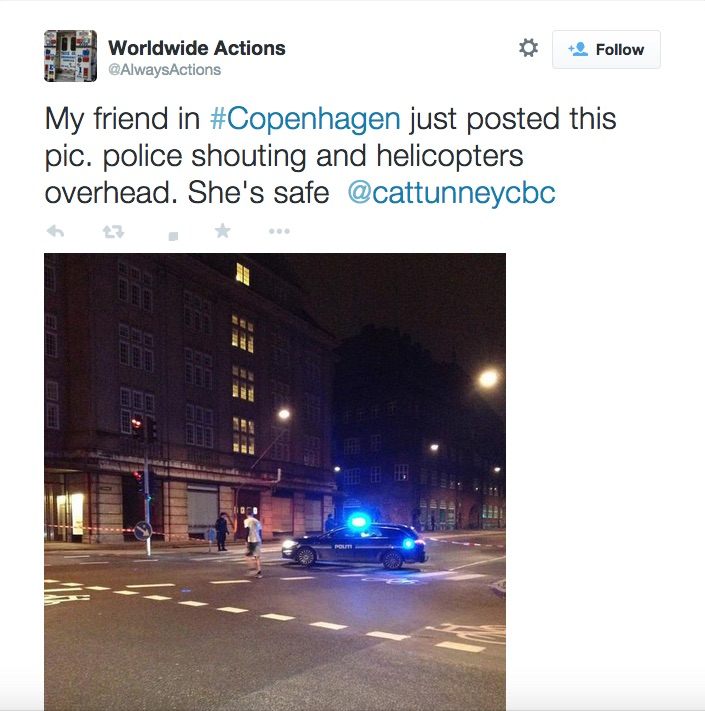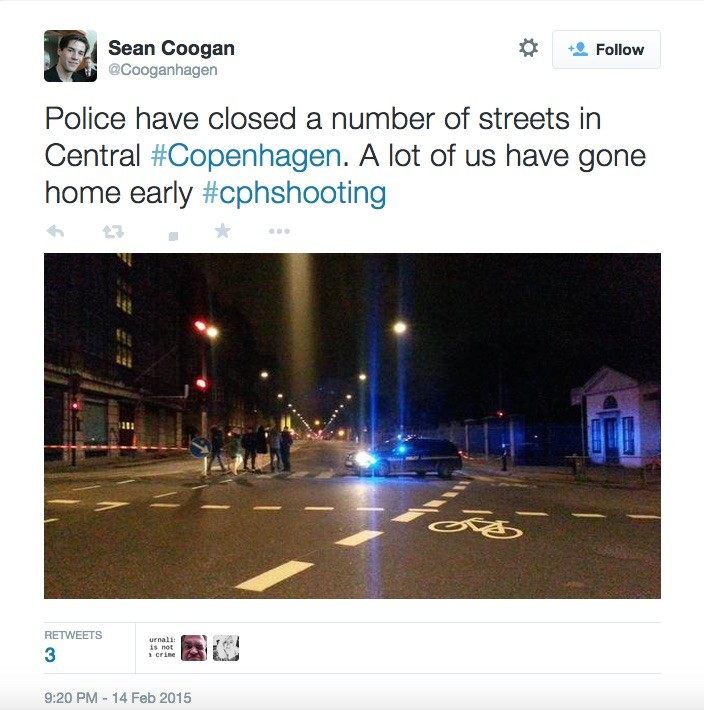 Ian Hatchett reports (9:26 PM): CNN Producer Susanne Gargiulo reports that Danish police were telling citizens it was not safe to be in the streets of Copenhagen in the wake of two shootings in the city on Saturday.
Mary Chastain reports (9:16 PM):
PHOTO: Scene near Copenhagen synagogue where gunman opened fire, wounding 3 http://t.co/bQUAAtBASb pic.twitter.com/6DLTBtOAFJ

— ABC7 Eyewitness News (@ABC7) February 15, 2015
https://twitter.com/rConflictNews/status/566775559452381184
#Danish Shooting: Audio of moment jihadi terrorists struck #Copenhagen cafe targeting #LarsVilks. http://t.co/NlvzNErvNz #DanishLivesMatter

— Tarek Fatah (@TarekFatah) February 15, 2015
#Cphshooting: Police advise people to stay indoors, Copenhagen 'not safe' as manhunt continues http://t.co/bb4WmMIUvn http://t.co/8Y3zV7ly4c

— RT (@RT_com) February 15, 2015
💥 Metro station in central #Copenhagen #København being evacuated by police#Denmark

V @JewishFeed pic.twitter.com/xu3TYxclIZ

— Mete Sohtaoğlu (@metesohtaoglu) February 15, 2015
Danish police: Several injured after shooting at Copenhagen synagogue http://t.co/J7WRaZfmVS pic.twitter.com/IHlfs17yAn

— eSmartMe (@esmartme) February 15, 2015
https://twitter.com/rConflictNews/status/566766158129295360
https://twitter.com/Breaking911/status/566757137125093376
#COPENHAGEN: As at least 1 shooting suspect is at large police set up checkpoints in the area pic.twitter.com/iaRtTLctV3 @JewishFeed

— AlwaysActions (@AlwaysActions) February 15, 2015
Copenhagen Police release image of suspect wanted in the earlier attack on cultural center #CopenhagenShooting pic.twitter.com/yrmeqY8mdS

— Steve Grzanich (@SteveGrzanich) February 15, 2015
BREAKING PHOTO – DENMARK: Police on scene after Shots were fired at synagogue in Krystalgade in Copenhagen (Sky News) pic.twitter.com/sizFJgOYnE

— Israel News Feed (@IsraelHatzolah) February 15, 2015
Katie McHugh reports (8:11 PM): CNN has blurred out Lars Vilks' cartoons of Muhammad.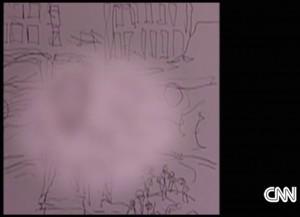 Mary Chastain reports (8:10 PM):
BREAKING PHOTO – DENMARK: Police on scene after Shots were fired at synagogue in Krystalgade in Copenhagen (Sky News) pic.twitter.com/sizFJgOYnE

— Israel News Feed (@IsraelHatzolah) February 15, 2015
The Associated Press reports (7:55 PM):
COPENHAGEN, Denmark (AP) — A gunman opened fire on a Copenhagen cultural center, killing one man and wounding three police officers in what authorities called a terror attack against a free speech event featuring an artist who had caricatured the Prophet Muhammad.
After searching for the gunman for hours, police reported another shooting near a synagogue in downtown Copenhagen after midnight Sunday. One person was shot in the head and two police officers were shot in the arms and legs, police said, adding it wasn't clear whether the two incidents were linked. The gunman fled on foot, and police warned people to be vigilant and follow the instructions of officers flooding the city center.
The earlier shooting came a month after extremists killed 12 people at a satirical newspaper in Paris that had sparked Muslim outrage with its depictions of Muhammad.
There was no immediate claim of responsibility for the first shooting, which took place shortly before 4 p.m. on Saturday. Danish police said the gunman used an automatic weapon to shoot through the windows of the Krudttoenden cultural center, which TV footage showed were riddled with bullet holes. The gunman then fled in a carjacked Volkswagen Polo that was found later a few kilometers (miles) away, police said.
They said the victim was a man about 40 who was inside the cultural center. He has not yet been identified. Two of the wounded officers belonged to the Danish security service PET, which said the circumstances surrounding the shooting "indicate that we are talking about a terror attack."
Lars Vilks, a Swedish artist who has faced numerous death threats for caricaturing the Prophet Muhammad, was one of the main speakers at Saturday's panel discussion, titled "Art, blasphemy and freedom of expression." He was whisked away by his bodyguards unharmed as the shooting began.
Vilks, 68, later told The Associated Press he believed he was the intended target of the shooting.
"What other motive could there be? It's possible it was inspired by Charlie Hebdo," he said, referring to the Jan. 7 attack by Islamic extremists on the French newspaper in Paris. He spoke from an undisclosed location for his own security.
(CNN)[Breaking news update, posted at 7:34 p.m. ET]
A second shooting has taken place in the Danish capital of Copenhagen, just hours after a deadly terror attack in the city. In the latest incident, shots were fired near a synagogue, Copenhagen police said early Sunday. There were people who were injured, said a spokesman who wouldn't give his name. He wouldn't specify how many people were hurt or the nature of their wounds.
[Previous story, posted at 6:40 p.m. ET]
A gunman stormed a Copenhagen, Denmark, building where controversial cartoonist Lars Vilks and his supporters had gathered Saturday, killing a man and wounding three police officers before fleeing, police said.
Helle Merete Brix — founder of the Lars Vilks Committee, created two years ago in support of the Swedish cartoonist whose portrayals of the Prophet Mohammed angered many in the Muslim world — told CNN that security personnel on site moved her and others to safe areas after shots rang out.
She and Vilks ended up in a storage room together, holding hands, until police told them it was OK to come out.
"We have never taken any chances," Brix said, referring to the heavy security from police, Danish intelligence services and Vilks' own security guards at this and other committee events. "What we have so much been frightened would happen happened."
After the attack, what appeared to be the man, dressed in dark clothes, carjacked a civilian's dark Volkswagen Polo and drove away, Danish police said. That vehicle was found between two train stations.
The gunman remained at large Saturday night. Police initially had said there were two shooters. The discrepancy was caused by chaos in the aftermath of the incident, Copenhagen police spokesman Steen Hansen said.