The Muslim Public Affairs Council (MPAC) posted a picture on Twitter confirming that its President, Salam Al-Marayati, is in attendance at the White House's Countering Violent Extremism Summit, which kicked off on Tuesday.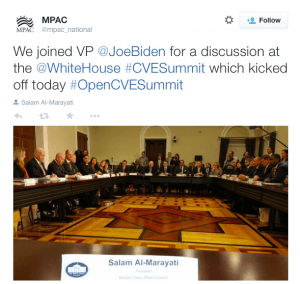 Al-Marayati has a long record when it comes to defending terrorists and jihadist organizations. He is also a 9/11 truther.
After The September 11 attacks against the World Trade Center, he  publicly encouraged officials to look at the government of Israel as a prime suspect.
Al-Marayati has said in the past that Hezbollah, the Lebanese jihadist organization that has been designated a terrorist group by the United States, is a "legitimate resistance" movement.
Former House Minority leader Richard Gephardt was forced to withdraw his nomination of Al-Marayati to the National Commission on Terrorism after finding information that "he, his colleagues, and organizations have made [statements] in support and defense of terrorist acts and groups."
Al-Marayati endorsed the BDS (Boycott, Divestment and Sanctions) movement against Israel in an op-ed for the Huffington Post on January 30. The BDS movement, which seeks the destruction of Israel, has been described by its critics as fiercely anti-Semitic.
MPAC, which was established in 1998 by close affiliates of the Muslim Brotherhood, has a history rife with extremist proclamations.
In an MPAC-sponsored March 2009 protest to "Defend al-Aqsa Mosque and al-Quds," participants could be heard chanting slogans that can be interpreted as encouraging Palestinians to wipe out Israel's Jewish population. demonstrators chanted, "From the river to the sea, Palestine will be free. From the river to the sea, Palestine will be free."
In 2003, MPAC wrote a policy paper that called for the removal of Gaza Muslim Brotherhood terror group Hamas, Iran-proxy Hezbollah and Palestinian Islamic Jihad from the U.S. list of state designated terror groups.
In a 1998 speech at the National Press Club, an MPAC senior official described Hezbollah as a group that fights for "American values."
The news of Al-Marayati's appearance comes as the White House has refused to publicly release the names of attendees at its Countering Violent Extremism Summit, which is set to take place from Tuesday to Thursday.