The Pentagon has released a copy of an anti-ISIS leaflet to the public that was dropped over Raqqa, Syria earlier in March. Raqqa is known as the de facto capital of the Islamic State's operations in Syria.
The 60,000 leaflets were dropped as part of a U.S. military psychological operations campaign that hoped to dissuade people from joining the jihadist terror group.
Pentagon officials revealed that the leaflets were dropped by a USAF F-15E aircraft carrying a canister to disburse the flyers.
Pentagon spokesman Col. Steve Warren told the media that "the message of this leaflet is if you allow yourself to be recruited by Daesh [Islamic State] you will find yourself in a meat grinder. It's not beneficial to your health."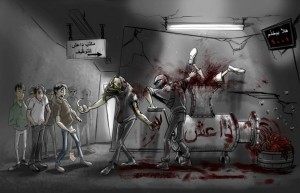 Photo: US Central Command
The spokesperson confirmed that the operation was carried out by the Army's Psychological Operations group, which since 2010 has been called " Military Information Support Operations (MISO)."
The Arabic sign in the leaflet displays the message "Daesh Employment Office," with its meat grinder labeled "Daesh," which is written in blood. A sign on a monitor to the upper right reads, "Now Serving Number 6,001."
The Pentagon has spent more than $1 billion dollars in conducting information operations in the Middle East, USA Today reports.
The United States military's psychological operations units primary mission is to influence hearts and minds in areas where it wishes to garner influence. The military has said this is the first campaign of its kind in Syria since September, Reuters reported.