Boston Marathon bombers Tameralan and Dzhokhar Tsarnaev's mother, Zubeidat Tsarnaeva, erupted into an angry all-caps tirade on social media after her surviving son Dzhokhar was found guilty on all 30 counts related to the bombing and the Tsarnaevs' violent rampage across Boston as they sought to escape from police.
Vocativ translated Tsarnaeva's message, after a tip from the sister of a family friend.  This friend, Timur Raduyev, had long ago created a "Support For Dzhokhar" page on Russian website VKontakte — which was, ominously, able to attract 1,882 followers and pile up $5,000 in donations.
His sister forwarded Vocativ a note in which Tsarnaeva said she would never forget the day her son was found guilty of multiple death-penalty offenses. "May God bless those who helped my son," she wrote. "The terrorists are the Americans, and everyone knows it.  My son is the best of the best."
The Russian-language screen cap of her social-media post is written in all-caps, and sprinkled with exclamatory punctuation: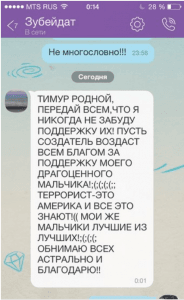 When Tsarnaeva learned Vocativ had posted this message, she unleashed another all-caps tirade using WhatsApp:
HOW CAN A MOTHER FEEL WHOSE SON IS IN THE CLAWS OF A PREDATOR PREPARING TO TEAR HIM TO PIECES LIKE MEAT ??? ((((((((( BUT THERE IS AN ABUNDANCE OF SUCH MOTHERS, WHO BURY THEIR BEST SONS IN THE GROUND WHO ARE TORMENTED BY PREDATORS, LIKE BRAVE YOUNG EAGLES SOARING THROUGH THE OPEN SKY, LIMITLESS, AND WHO IN ONE MOMENT AND IN ONE INSTANT END UP IN THE CLAWS OF BLOODTHIRSTY AND RAVENOUS BEASTS, WHOM THEY FEED TO THEIR EMPTY AND TERRIFYING BELLY! (((

I'M TALKING ABOUT THE SONS OF ISLAM, AND NOT ONLY THE SONS BUT ALL PEOPLE ADHERING TO THIS RELIGION, WHOM THEY ANNIHILATE, AS IF THEY WERE NOXIOUS INSECTS OR ESPECIALLY DANGEROUS BEASTS, AROUND THE WORLD! ((((((( SOME PEOPLE, OR SHALL WE SAY, MANY PEOPLE, DON'T CARE ABOUT THIS AND THEY SLEEP KNOWING AND SEEING THIS AND CAN PEACEFULLY LIVE, EVEN GOING THROUGH THEIR DAILY GRIND, AS LONG AS IT DOESN'T CONCERN THEM! ;(;(;;

BUT MY SONS WERE NOT PART OF THE NUMBER OF SUCH UNEMOTIONAL AND BRAINLESS ANIMALS AND THE PAIN OF THE MOTHERS AND FATHERS, SONS AND DAUGHTERS OF ISLAM TORMENTED THEM, DAY AND NIGHT, UP TO THIS DAY THEY HAVE RECOGNIZED WHO IS KILLED AROUND THE WORLD, FOR NOTHING! ((((((((((

THAT ISRAEL, THAT THE GOVERNMENT OF AMERICA, ARE IN EQUAL PROPORTIONS! (((((((((((( SO FOR WHAT DID MY RELATIVES AND LOVED ONES PAY A PRICE!;(;(;(;(;(

BUT, YOU KNOW, GOD EXISTS, THE CREATOR OF EVERYTHING AND EVERYONE, THE CREATOR OF YOURS AND OURS!!! HE IS UNIVERSAL!!!!! HE SEES EVERYTHING AND KNOWS EVERYTHING AND ALSO LISTENS TO EVERYTHING!!!!!

THEY WILL PAY FOR MY SONS AND THE SONS OF ISLAM, PERMANENTLY!!! THE TEARS OF THEIR MOTHERS WILL BE FUEL FOR THEM IN HELL, AND ALSO THEIR BLOOD, I AM DOUBTLESS AND ETERNALLY GLAD THAT I KNOW THIS FROM THE WORDS OF THE CREATOR, NOT JUST ANYONE'S WORDS!!!!!!

TODAY THEY ARE KILLING MUSLIMS, AND TOMORROW WILL COME YOUR TURN AND HE, WHO DOUBTS THIS IS DEEPLY MISTAKEN!!!!!

GLORY TO THE ONE CREATOR OF THE UNIVERSE, WHO GAVE ME THE BEST SONS AND LET ANYONE TRY TO FORCE ME TO REJECT THEIR WORDS OR COMPLAIN ABOUT THEM !!!!!!!!!! NO ONE AND NEVER, NOT THAT KIND OF PERSON OR ANY PERSON WHO MIGHT BE ON THIS EARTH, WHOM I WOULD BE SCARED OF, EXCEPT ALMIGHTY ALLAH, RULER OF THE TWO KINGDOMS, THIS ONE AND THE ETERNAL ONE!!! THE LOVED ONE AND ETERNAL ONE WHOM WE WILL RETURN TO AT THE BITTER END.

HE WHO DARES TO DOUBT THIS IS UNBLESSED!

I LOVE MY SONS IMMEASURABLY!!!!!! PRECIOUS, GLORIOUS AND RARE IN CHARACTER AND ESSENCE!!!! THE BEST SLAVES OF GOD, THE ONE CREATOR!!! THE BEST SONS OF THEIR MOTHER, AND ALSO THE BEST SONS OF THEIR RELIGION!!!!!!! I COME BEFORE THE ALMIGHTY GOD WITH THE LOVE OF A MOTHER AND PRIDE IN THEM AT ANY MOMENT !!!!!!!!!!!!!!!!!!!!!!!!!!!!!!!

ONLY GOD KNOWS WHAT WE DO NOT KNOW!!! WE PUT OUR HOPE IN HIM, WE CALL UPON HIM, HIM THE ONLY ONE WE ARE HELD IN HIS REDEMPTION!!! SO THERE IS NOT FEAR AMONG ANY OF US!!!!!! GLORY TO THE ETERNAL ALMIGHTY ALLAH!!!! TO THE GOD OF THE KINGDOMS!!!! THE ONLY ONE AMONG WHOM THERE IS NO EQUAL!!!!

SO THERE YOU HAVE IT, DEAR!

THE MOTHER OF THE BROTHERS THE BEST TWO BROTHERS, TAMERLAN AND DZAKHAR, ZUBEIDAT!!!!!
(Vocativ explained that the Russian version of the sad-face emoticon, deployed at the end of the third paragraph above, doesn't use colons for eyes.)
Dzokhar Tsarnaev confessed to his crimes. The jihad message scrawled on the inside of the boat where he hid, after running over his brother with a truck in his haste to escape, included thoughts on the righteousness of murdering infidels very similar to his mother's.
Defense efforts to portray Dzhokhar as a deluded tool of his older brother did not work at trial, but his lawyers will get one more crack at it during his sentencing. If the court chooses to pay attention to his mother's ravings, the task of demonstrating that he was a hapless dupe will become more difficult.