TEL AVIV–An encrypted instant messaging service that serves as a Twitter of sorts for Islamic State fighters and their Islamist militant supporters has been ablaze with speculation about Wednesday's mass shooting inside a California learning disability center.
Multiple messages were exchanged celebrating the carnage and speculating whether the attack was carried out by lone wolves acting on behalf of ISIS, according to a member of the messaging forum who is an ISIS-supporting, junior-level militant based in the Gaza Strip.
The Gazan militant provided Breitbart Jerusalem with what he said were two messages from the blocked Telegram group. Telegram is an encrypted instant message service that has been used by terrorist groups in the past, with multiple accounts reportedly shut down for terrorist associations.
One of the messages was sent in the name of Abu al-Baraa al-Tunisi. The Gazan militant said Tunisi is an ISIS fighter in Iraq. The name is common among Islamic fighting groups. An Abu al-Baraa al-Tunisi was also identified by ABC News in 2014 as being a member of the al-Qaeda-aligned Al Nusra Front in Syria.
In the Arabic message, seen below, Tunisi first claims the shooting was an act of ISIS and then admits he is unsure.
The message states:
"Oh Allah, we are seeing what is happening now in the country of the donkey, Obama. And it is an act of our partisans of the Islamic State. Even if not, we are going to see it very shortly, our brothers.
"We swear to Allah we will take vengeance even if it will take time, as our sheikhs said.  The invasion of Paris won't be the last one. We are coming to slaughter you. This is your fate, you infidels."
A second message was sent under the Telegram user name of Saleel al-Sawarim, a militant battle chant that has been adapted by ISIS.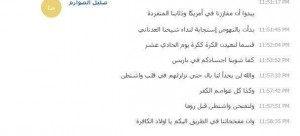 That message (pictured right) speculates about a lone wolf using the words "it seems," meaning the sender was unsure.
"It seems that our fighters in America and our lone wolves started to act fulfilling the call of our Sheikh [Abu Mohammad] al-Adnani. We swear that we will repeat the same act that happened on 9-11. And as we grilled your bodies in Paris we swear to Allah that we will not rest until we shake you in the heart of Washington as well as in all the capitals of the infidels. We will invade Washington before invading Rome. Our explosives are on their way to you, you sons of infidels."
Adnani is the official spokesperson and a senior leader of ISIS.
At least 14 people were killed and 14 others injured in a mass shooting at the Inland Regional Center in San Bernardino, California.
The Los Angeles Times cited a witness and federal law enforcement sources saying the assailants may have opened fire on a Christmas party being held by county employees.
San Bernardino police Sgt. Vicki Cervantes told reporters officials believe there were multiple shooters wearing military-style gear.
According to reports, officers are searching the area for up to three white males wearing tactical gear and ski masks and armed with AK-47s.
David Bowdich, the assistant director of the FBI's Los Angeles field office, told reporters it is not yet known whether the shooting was a terrorist incident.
"Is this a terrorist incident? We do not know," said Bowdich.