Pentagon spokesman Col. Steve Warren highlighted what may be a forged document to insist that the Islamic State is in "desperation" mode and "beginning to feel the pressure" of the U.S.-led coalition's efforts against the terror group.
Throughout its rampage across the Middle East, the Islamic State has committed mass executions against innocent men, women, and children, using brutal methods to torment and end innocent lives. There exists overwhelming evidence that the Islamic State has persecuted and executed religious and ethnic minorities, for no reason other than the fact that they do not follow Islam. The holy warriors frequently brag about their actions, and post videos of their savage execution methods on social media. They have beheaded countless individuals, and burned others alive, showcasing their barbarism for the world to see.
The United States government, in its information campaign against the jihadi group, has sought to highlight these atrocities. But this time, the Pentagon appears to have overstepped its bounds.
On Tuesday, Pentagon Spokesman Col. Steve Warren tweeted: "ISIL fighters ordered to dress as ISF [Iraqi Security Forces] and commit atrocities before fleeing Fallujah," attaching a document purportedly drafted by the Islamic State.
ISIL fighters ordered to dress as ISF and commit atrocities before fleeing Fallujah. pic.twitter.com/CsXQEyMn6Z

— OIR Spokesman (@OIRSpox) December 22, 2015
The purported Islamic State flier orders citizens of Fallujah to blow up mosques, to "assault some women," and to kill "civilians, torture them and film them." It also calls for the filming of executions, among other inhumane actions.
In a conference call with reporters Tuesday, the Pentagon spokesman said the supposedly recovered documents provide that Islamic State is "beginning to feel some of this pressure that we've been applying to them." According to Col. Warren, the document was obtained by Iraqi security forces from a unit within the Islamic State.
Russian state-media and some U.S. publications have quickly picked up on the spokesman's post and conference call with reporters, assuming the documents are accurate and legitimate.
"Clearly, this isn't the behavior of a legitimate government or of a legitimate military force," he said. "It's the behavior of thugs, it's the behavior of killers and it's the behavior of terrorists," Warren added.
"The reason I bring this up is to illustrate where ISIL is right now. I would submit to you that we're starting to see a change in their behavior that may be related to some desperation," the Pentagon spokesman said.
The document, however, appears to be a forgery, as there are factual, chronological, and locational issues with the flier.
For one, the memo is dated 1436. The current Islamic year is 1437.
Secondly, the document is signed by the Islamic State's "Ninawa Province." But Fallujah is not located in Ninawa Province. Fallujah lies in Anbar Province.
It also requests that Islamic State fighters send execution videos to Al Arabiya (headquartered in Saudi Arabia) and Al Jazeera (headquartered in Qatar), the two predominant Sunni networks in the Middle East. Yet, Islamic State has its own sophisticated media presence.
There are other more subtle errors in the Arabic language version, which has been pointed out by social media users in response to the Pentagon spokesman's post.
Breitbart News has found that the memo is at least over two months old, as it was posted by an Iraqi man on social media on October 16.
Islamic State supporters and others have taken to Twitter, highlighting the spokesman's tweet and citing it as proof that the U.S. government is not to be trusted.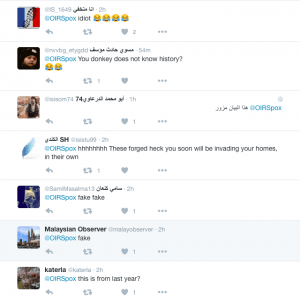 Others suspected the alleged forgery is a product of an Iran-backed Shiite militia group:
.@OIRSpox No, these documents are fake. More U.S. military propaganda to cover up murderous abuses against Sunnis by #Iraq's Shiite militias

— James Wheeler (@wheelertweets) December 22, 2015
Is US pushing forged-doc to protect Iran-backed Shia Militias fm backlash for atrocities in Fallujah? I hope not https://t.co/paV4ceitVV

— Michael P Pregent (@MPPregent) December 22, 2015
The alleged forgery comes as pundits have sounded the alarm on the relationship between the United States and the Shiite militias, which are largely controlled by Iran. Some argue the Obama administration is playing a dangerous game by developing cordial relations with terror-backed entities. In fact, some Shiite militia groups view the United States as their "primary target," Breitbart News has reported.
Breitbart News inquired within the Pentagon and asked if the DOD still stood by the document as legitimate.
Maj. James Brindle, a DOD spokesman, did not rescind the publication of the alleged forgery. He told Breitbart News, "Col. Steve Warren used the documents to brief reporters today about ISIL," and directed Breitbart News to the briefing where he made the aforementioned comments. He did reiterate that Col. Warren received the documents from Iraqi forces. It remains unclear if the flier was vetted by the U.S. intelligence community.