The Saudi execution of insurrectionist Shiite cleric Nimr al-Nimr threatens to touch off a conflict between Sunni and Shiite Muslims across the Middle East and beyond. Massive Shiite protests have occurred across the region over the past few days and have spread into Asia.
Bahrain finds itself in an especially precarious position, as the Sunni-dominated government presides over a majority-Shiite populace.
"As the Bahraini government has sided with the Saudi monarchy amid growing international backlash, the conflict has further enraged the country's Shiite majority, who already complain of second-class treatment," writes International Business Times. "The implications for the Bahraini government could be major, particularly as it continues to struggle with a financial crisis brought on by the drop in oil prices."
Protesters in Bahrain marched with pictures of the executed Nimr al-Nimr: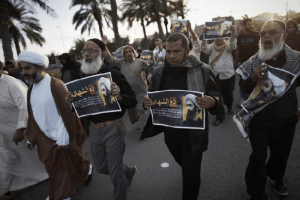 So did demonstrators outside the Saudi embassy in Ankara, Turkey: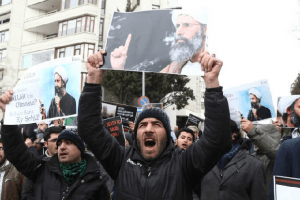 Shiite militias in Syria took time out from the civil war to demonstrate against Nimr's execution: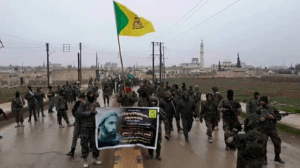 Shiite demonstrators in India burned Saudi King Salman in effigy outside the Saudi embassy in New Delhi: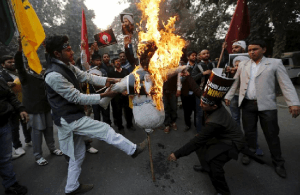 Protesters in Jakarta also railed against the Saudis:
Of course there were large demonstrations in Iran, where the Saudi embassy was sacked: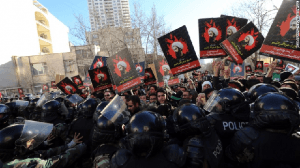 No Iranian protest is complete until American and Israeli flags are burned, although the U.S. government has actually been ambivalent to mildly disapproving of Nimr's execution: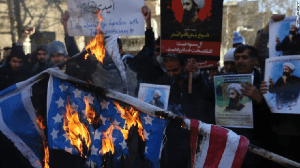 A large demonstration also rolled through Tahrir Square in Baghdad, where Russian propaganda outlet RT.com reports there is pressure to close the Saudi embassy again, even though it was only re-opened last month after being shuttered since 1990:
Supporters of Iraqi Shiite cleric Moqtada al-Sadr staged a massive protest in Najaf, Iraq, on Monday: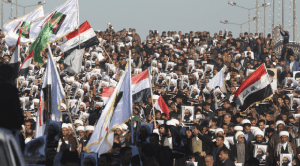 Shiite demonstrators filled the streets of Karachi, Pakistan: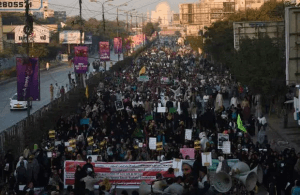 Another photo from Hyderabad, Pakistan, shows kids getting involved: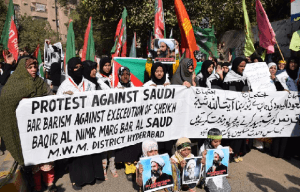 Thousands of protesters marched as far away as Nigeria, not only mourning Nimr's death but demanding the release of Sheikh Ibrahim Zakzaky and his followers, who the protesters say has been imprisoned unjustly by the Nigerian government: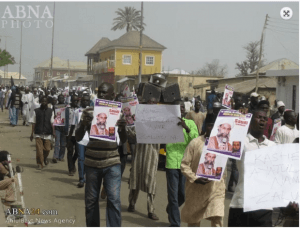 Shiites within the Saudi kingdom have been protesting as well, including this group of burqa-clad women in the coastal city of Qatif: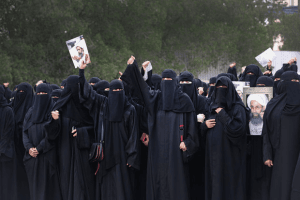 VOA News quotes White House spokesman Josh Earnest saying the U.S. government raised "direct concerns" with the Saudis about "the potential damaging consequences of following through" on last weekend's mass executions, especially the killing of Nimr.
According to documents uncovered by CBC News, the Canadian government gave similar warnings after Nimr was sentenced to death in October 2014, but they didn't think the Saudis would actually go through with killing the Shiite cleric, and they "underestimated the scale of the reaction to the execution."