A Turkish court has issued a gag order, banning Facebook, Twitter, and other social media outlets following a bombing in the capital, Ankara, which killed 37 people and injured dozens others.
Al Arabiya cites numerous Turkish media sources announcing the ban on social media, and "local users" confirming that they could not access the sites at all. The ban follows wide dissemination of graphic photos of the Ankara car bombing surfacing online, including images of the car used as the explosive device.
Turkish courts have issued gag orders on the spread of images of terrorism or violence before, but have more commonly banned publishing the photo, not cut off access to social media sites themselves. As the UK Telegraph notes, "It has become a familiar pattern for courts to issue gag orders on the media but usually Facebook and Twitter have not been affected."
Some access to Facebook still appears available, however, as The Independent notes that a Facebook post from a man in Ankara has gone viral. In that post, he reproaches Europeans for the minimal public outcry at terrorism in Turkey when compared with terrorist attacks in France. "Contrary to what many people think, Turkey is not the Middle East," James Taylor writes. "Ankara is not a war zone, it is a normal modern bustling city, just like any other European capital, and Kizilay is the absolute heart, the centre. … You were Charlie, you were Paris. Will you be Ankara?" The piece does not clarify whether it is readily accessible in Turkey, however, or going viral in Europe exclusively.
The Turkish government under President Recep Tayyip Erdogan of the Islamist Justice and Development Party (AKP) has a history of attempting to silence social media. Most recently, the government attempted to shut down Facebook, Twitter, and Youtube following a terrorist siege in the office of prosecutor Mehmet Selim Kiraz, after a photo of Kiraz as a hostage of the Marxist Revolutionary People's Liberation Front (DHKP-C) surfaced on Twitter. The photo was taken shortly before the terrorist featured shot Kiraz in the head and a police raid subsequently ended the attack.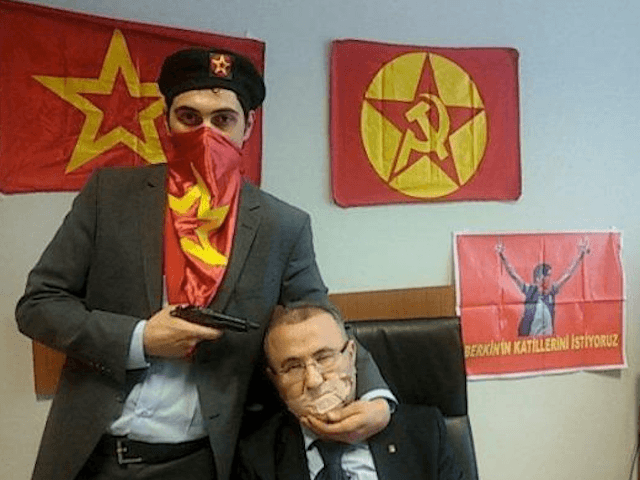 The government also blocked any media outlet publishing the photo from attending Kiraz's funeral.
That same year, Turkish courts moved to ban all Facebook pages that insulted Muhammad, threatening to block all of Facebook from Turkey if the company did not yield to the demand to remove allegedly blasphemous material. The government also blocked distribution of images of Muhammad published in Charlie Hebdo, a satirical magazine whose Paris headquarters were targeted by a jihadist attack in January of that year. Police raided the headquarters of the Turkish newspaper Cumhuriyet following that publication's announcement it would run a Turkish-language inset version of Charlie Hebdo in solidarity with the magazine.
Before assuming the presidency, Erdogan had already made a name for himself as an opponent of social media. "We will not leave this nation at the mercy of YouTube and Facebook," he said in 2014, warning that the government would "take the necessary steps," including banning media sites, to oppose "all kinds of immorality, all kinds of espionage."
Thirty-seven people have been confirmed dead in Sunday's bombing, for which no group has officially taken responsibility. The government has issued statements attributing the attack to the Kurdistan Workers' Party (PKK), a Marxist terrorist group that the Turkish government has vowed to eradicate. According to Sabah, a newspaper friendly with the Erdogan government, police have evidence identifying one of the bombers as Seher Çağla Demir, "a female member of the PKK who joined the militant group in 2013." Police have arrested "at least 29 people," according to CNN, and operations against Kurdish separatists in the south of the country have continued, as well as airstrikes on PKK positions in Iraq.
"Terror attacks–which intend to target the integrity of Turkey, unity and solidarity of our people–do not diminish our will to fight against terror, but further boost it," Erdogan said in remarks following the attack on Sunday. Government officials and pro-government columnists have issued statements apparently easing Turkish people into becoming accustomed to the attacks until the government can eliminate the PKK entirely. "Unfortunately, our country has to live with this terror but the perpetrators, those who wish to attain their goals through terror, should know they will never reach their aim," Supreme Court Head İsmail Rüştü Cirit said on Sunday–a line, Hurriyet notes, echoed by columnists at the pro-government Yeni Safak newspaper.