The Islamic State has launched a mobile phone app for children, in which they are taught the Arabic alphabet, Islamist ideology, and a useful vocabulary of words such as "tank," "gun," and "rocket."
"The app has games for memorizing and how to write the Arabic letters in addition to including a nasheed (a cappella Islamic songs) designed to help teach the alphabet. The lyrics in the nasheed are littered with jihadist terminology, while other games within the app also include militaristic vocabulary with more common, basic words," explains the Long War Journal.
A press release from the creators of the application, the Islamic State's "Library of Zeal," said the software "teaches the cubs the alphabet letters." ISIS likes to refer to its child soldiers as "cubs of the Caliphate."
For example, here is how the app teaches kids how to write the word "dababa" for "tank":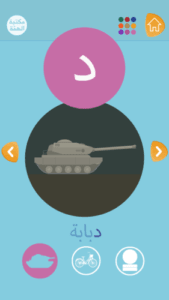 The Long War Journal reports this is not the first ISIS phone app, but it is the first one aimed specifically at children.
"The jihadist group has also produced several videos from many of its proclaimed provinces showing children being trained for jihad or being indoctrinated at Islamic State-ran schools. Other videos have shown children being involved in beheadings and executions of prisoners held by the Islamic State," the Journal notes.
Business Insider reports the children's app is being distributed through the encrypted messaging platform Telegram, and other channels favored by jihadis, by Al Bayan Radio, the Islamic State's propaganda network.
BI observes that the new smartphone program follows in the footsteps of Islamic State textbooks that use jihad imagery to teach various subjects, such as this example from a math book: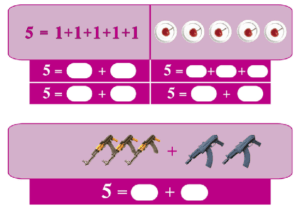 Business Insider cites experts who worry that "children living in ISIS territory are being indoctrinated with terrorist ideology at a young age, which could be difficult to reverse whenever ISIS is defeated."