Rome's new populist mayor, Virginia Raggi, had a half-hour meeting with Pope Francis on Friday, after which she said she had been "deeply impressed" by the pontiff.
During their meeting, Raggi played the Pope a video on her tablet, comprising a medley of messages, calls, invitations and testimonials from the most troubled suburbs of the Italian capital and titled "The voice of forgotten Rome."
Raggi also took her parents, her six-year-old son and a few of her closest coworkers to meet the Pope.
Shortly after their meeting, Raggi posted a photo of the encounter on her Twitter account, commenting: "A great thrill. Struck by his profound humanity. Thank you."
Una grande emozione. Colpita dalla sua profonda umanità. Grazie. pic.twitter.com/Y07fuhHjSw

— Virginia Raggi (@virginiaraggi) July 1, 2016
In an interview with Vatican Radio, Raggi expressed her conviction that the Church has "a very important role in all of Italy, but especially in Rome, its home."
Raggi said that the meeting went "very well" and was "very exciting," noting it was the first time she had met the Pope.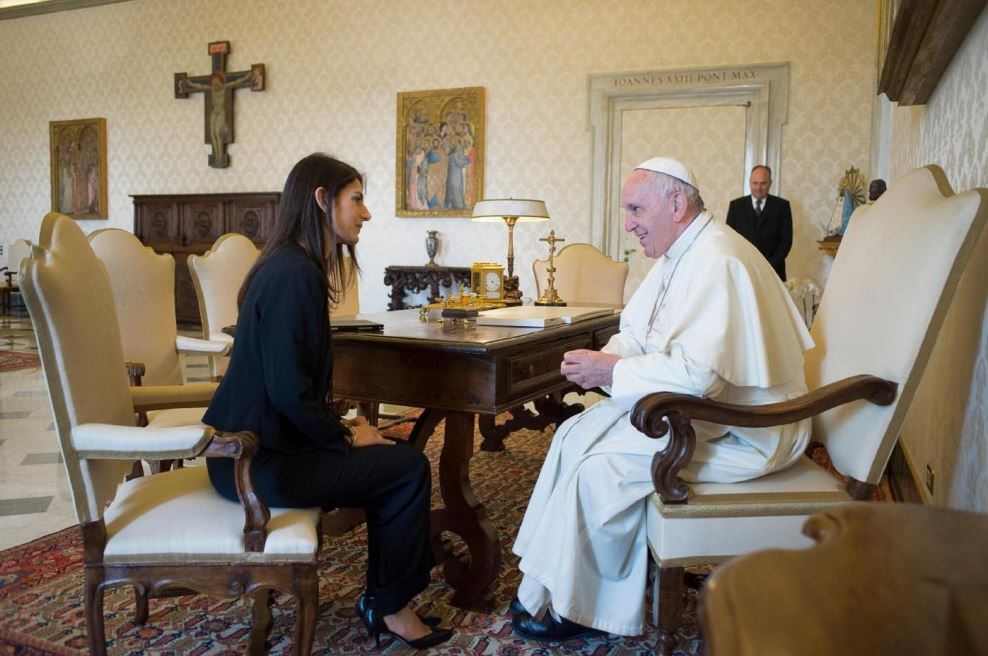 Late last month, Raggi won Rome's mayoral election by a 2:1 landslide, one of 19 members of the populist, Eurosceptic Five-Star Movement (M5S) to win victories in cities all over Italy. Raggi ran on a platform of transparency and reform, promising to give the city back to the people.
The anti-establishment M5S was founded by comedian Beppe Grillo just seven years ago, and now posed a serious threat to the reigning Democratic Party (PD).
The sweeping gains of M5S in Italy are also part of a larger trend toward populism throughout Europe, marked by diffidence toward what many see as the gradual surrender of national sovereignty to the European Union, especially in the face of a mismanaged European migrant crisis.
Follow Thomas D. Williams on Twitter  Follow @tdwilliamsrome