Pope Francis has written a letter of support and encouragement to the Olympic team composed of African and Middle Eastern refugees, promising his prayers for their success.
In June, the International Olympic Committee announced the selection of 10 refugees to compete in Rio de Janeiro, forming the first-ever Refugee Team of Olympic athletes. The team, comprising 10 athletes from Syria, South Sudan, Republic of Condo and Ethiopia, will compete under the Olympic flag, and during the award ceremony the Olympic anthem will sound.
The team comprises two Syrian swimmers, two judokas from the Democratic Republic of the Congo, a marathoner from Ethiopia and five middle-distance runners from South Sudan.
"Their participation in the Olympics is a tribute to the courage and perseverance of all refugees in overcoming adversity and building a better future for themselves and their families," said UN High Commissioner for Refugees Filippo Grandi. "UNHCR stands with them and with all refugees."
In his Spanish-language letter, dated July 26, Pope Francis extends his greetings and desires for success to the refugee team, expressing his hope that their courage and strength "serve as a cry for peace and solidarity."
"Through you may humanity understand that peace is possible, that everything is won with peace, while everything is lost with war," he wrote.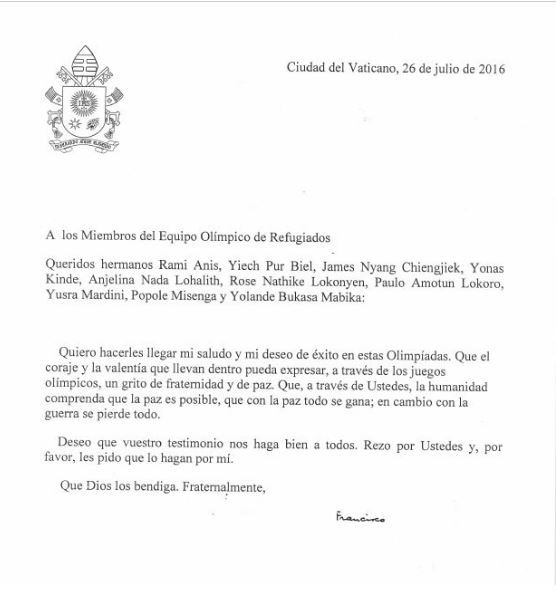 In September 2015, the International Olympic Committee established a fund to aid refugees representing 17 national Olympic committees, which is reportedly now worth $2 million.
Follow Thomas D. Williams on Twitter