Italians are up in arms over the most recent issue of the French satirical newspaper Charlie Hebdo, which ridicules the suffering of the Italians after the most recent earthquake that claimed some 300 lives.
An illustration in the August 31 issue depicts earthquake victims as different forms of Italian pasta, with blood representing tomato sauce and a layered "lasagna" composed of bodies caught amidst the rubble from the quake.
Social media let loose a wave of collective indignation at the magazine, which bore the title "Earthquake, Italian Style."
#CharlieHebdo 's cartoon on the earthquake who hit my country is just disgusting and disrespectful to the victims. Shame on you

— Rosa Schiano (@rosa_schiano) September 2, 2016
Many complained that the drawing, signed by the cartoonist "Felix," in mocking other people's sufferings, shows an utter lack of respect and good taste.
The tragedy that rocked the country on August 25 left entire villages razed to the ground, with nearly 300 dead and thousands more displaced from their homes. Many of the victims of the quake, which registered 6.2 on the Richter scale, were children.
The heaviest death toll was in the Italian town of Amatrice, whence pasta all'amatriciana takes its name, with at least 184 casualties. Another 46 died in Arquata, and 11 in the town of Accumoli.
In the cartoon, a bloodied victim bears the caption "Penne al pomodoro," while another is titled "Penne au gratin," with the depiction of dead bodies buried under debris bearing only the word "lasagna."
On the same page of the vignette, a caption reads: "It is not known whether the earthquake shouted 'Allahu Akbar' before striking."
Charlie Hebdo garnered international renown and broad sympathy after the January 2015 Islamist attacks on the newspaper's Paris offices, when 12 of its journalists were murdered by two jihadi brothers, Chérif and Saïd Kouachi for having published an illustration making fun of the prophet Mohammad.
Charlie Hebdo is known for its irreverent cartoons and despite the general indignation many have pointed out that, as a form of free speech, satire merits protection. At the same time, people are expressing their outrage and disgust—another form of free speech—with the cartoonist's reprehensible taste.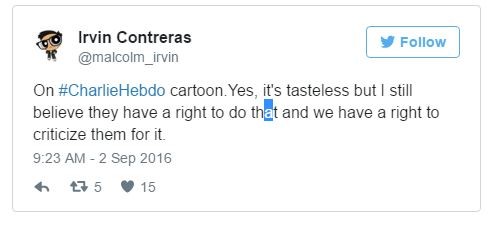 And while Italians continue to defend the newspaper's right to publish what it wants, no one today is boasting "Je suis Charlie Hebdo."
Follow Thomas D. Williams on Twitter Follow @tdwilliamsrome