Jamaat-ud-Dawa (JuD), a terrorist group considered to be a front organization for the Lashkar-e-Taiba (LeT) jihadist group, organized protests across Pakistan after authorities placed its leader, one of the alleged masterminds behind the 2008 massacre in India's Mumbai, under house arrest.
Late on Monday, Pakistani authorities placed Hafiz Saeed, JuD chief who also served as the leader of the Kashmir-based LeT, under "preventative detention" at his residence, reveals an order from Pakistan's Interior Ministry.
Agence France-Presse (AFP) reports:
Protests by the group's followers broke out in some major cities on Tuesday afternoon.

Some 300 JuD activists staged a demonstration in Islamabad, burning the flags of India and the United States, while a similar number protested in the central city of Multan.
India, Pakistan, and China have competing claims to the Kashmir region, home to numerous deadly clashes between India and Pakistan last year despite a 2003 ceasefire between the two nuclear-armed nations. Pakistan and India have fought three wars over the Muslim-majority region.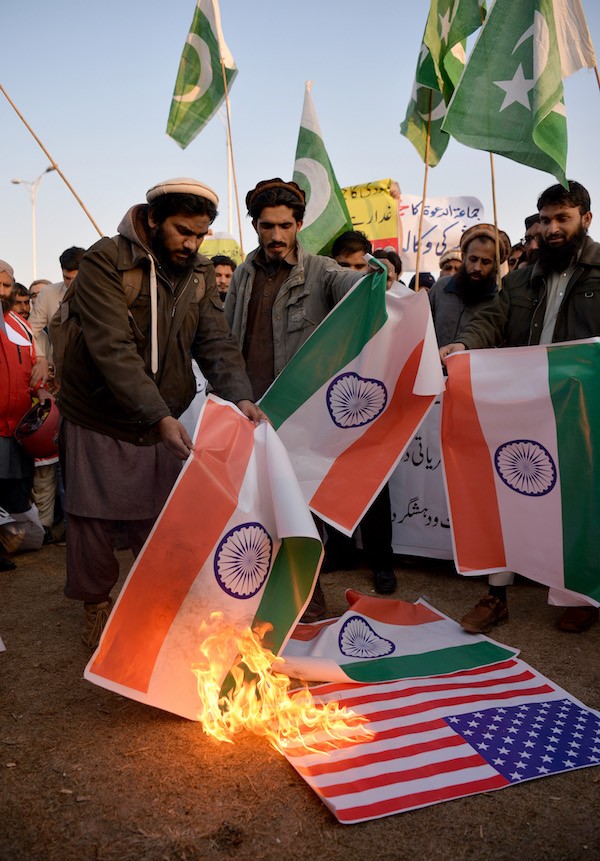 On Tuesday, JuD teamed up with the terrorist group Hizbul Mujahideen to stage a protest on the Pakistan side of Kashmir.
"Kashmiris see Hafiz Saeed as their messiah and they will continue his mission. The government of Pakistan should behave and release him immediately," declared Abdul Aziz Alvi, a local JuD leader.
JuD activists in Islamabad commended the jihadi leader for his alleged charity work.
"One speaker praised Saeed as a champion of the needy and said his supporters are 'civilized citizens' who only perform relief work and 'carry out no illegal or anti-state acts,'" reports The Washington Post.
However, the U.S. Department of State reports,"Shortly after LeT was designated [by the U.S.] as an FTO [foreign terrorist organization], Saeed changed its name to Jamaat-ud-Dawa (JUD) and began humanitarian projects to circumvent restrictions."
While the United Nations has designated JuD a terrorist organization, in the U.S. and India the group is considered a front organization for the Kashmir-focused jihadist group LeT.
The Kashmir-based terrorist group LeT has been blamed for the 2008 massacre in Mumbai, India, that left at least 166 people dead and has also been affiliated with attacks against the U.S.-led coalition in Afghanistan.
In 2012, the U.S. government placed a $10 million bounty on Saeed's head.
An unnamed Pakistani senior security source and Saeed supporters reportedly believe the jihadi leader's arrest came in response to pressure from Trump's administration "as well as a global perception that Pakistan has refused to tackle Islamist groups which pose no risk at home but carry out attacks abroad.
The White House suggested that President Trump's executive order imposing immigration limits on Iran, Iraq, Libya, Sudan, Yemen, Syria, and Somalia may be extended to Pakistan.
India, Afghanistan, and the U.S. have repeatedly accused Pakistan of harboring terrorists who carry out attacks on neighboring Indian and Afghan soil.