WASHINGTON – Over one hundred people protested outside Congress on Wednesday to call for the liberation of Venezuela and Cuba from socialist rule.
The event, which was organized by Victims of Communism Memorial Foundation, was attended by Congresswoman Ileana Ros-Lehtinen (R-FL), as well as Ofelia Acevedo, the wife of the late Cuban dissident Oswaldo Payá, who was killed in mysterious circumstances in 2012.
As part of #CaptiveNations Week, I joined @VoCommunism + @CUBADECIDE for No Che-Noche. Che was nothing more than a despicable murderer! pic.twitter.com/kCu7Ac91vP

— Ileana Ros-Lehtinen (@RosLehtinen) July 20, 2017
Check out the photos from yesterday's No Che Noche at https://t.co/tzSz1PGuRx pic.twitter.com/ODkxrgPkQX

— Victims of Communism (@VoCommunism) July 20, 2017
The event, entitled "No Che Noche," also sought to bring attention to the crimes of communist revolutionary Ernesto "Che" Guevara, whose role in the Cuban revolution led to the murder and persecution of hundreds of thousands of political dissidents.
One of the attendees included Baptist minister Mario Felix Lleonart, who fled from Cuba in 2016 as a result of religious persecution, and has now written a book entitled Cuban Confessions.
"Last year I was accepted by the USA as a refugee for political and religious persecution in Cuba. Thank God I was able to save my family. One of the experiences that I suffered most in Cuba was to see how they forced the children to shout: 'Pioneers for communism, we will be like Ché!' I cannot stand imposing a murderer as a hero of our children. And neither is that failed ideology that is communism. That's why my little girl Rachel accompanied me to the event No Ché Noche summoned by the Victims of Communism Foundation. She represented all Cuban children."
Participamos en evento No #Che #NoChe convocado por @VoCommunism con nuestra admirada Ofelia Acevedo, en homenaje @oswaldopaya y @HCepero pic.twitter.com/dhcgJpazY1

— Mario Felix Lleonart (@maritovoz) July 20, 2017
"We came out here to take a stand against socialism and inform people of what socialism has done to Venezuela," said 20-year-old Isaac Edikauskas. "It is a proven fact that people die because of socialism. It looks great to people but doesn't work when implemented."
Formerly one of the richest countries in the world, Venezuela, which has been under left-wing rule for nearly twenty years, is now facing an unprecedented humanitarian crisis. Basic resources such as food and medicine are now scarce supply due to seismic levels of inflation,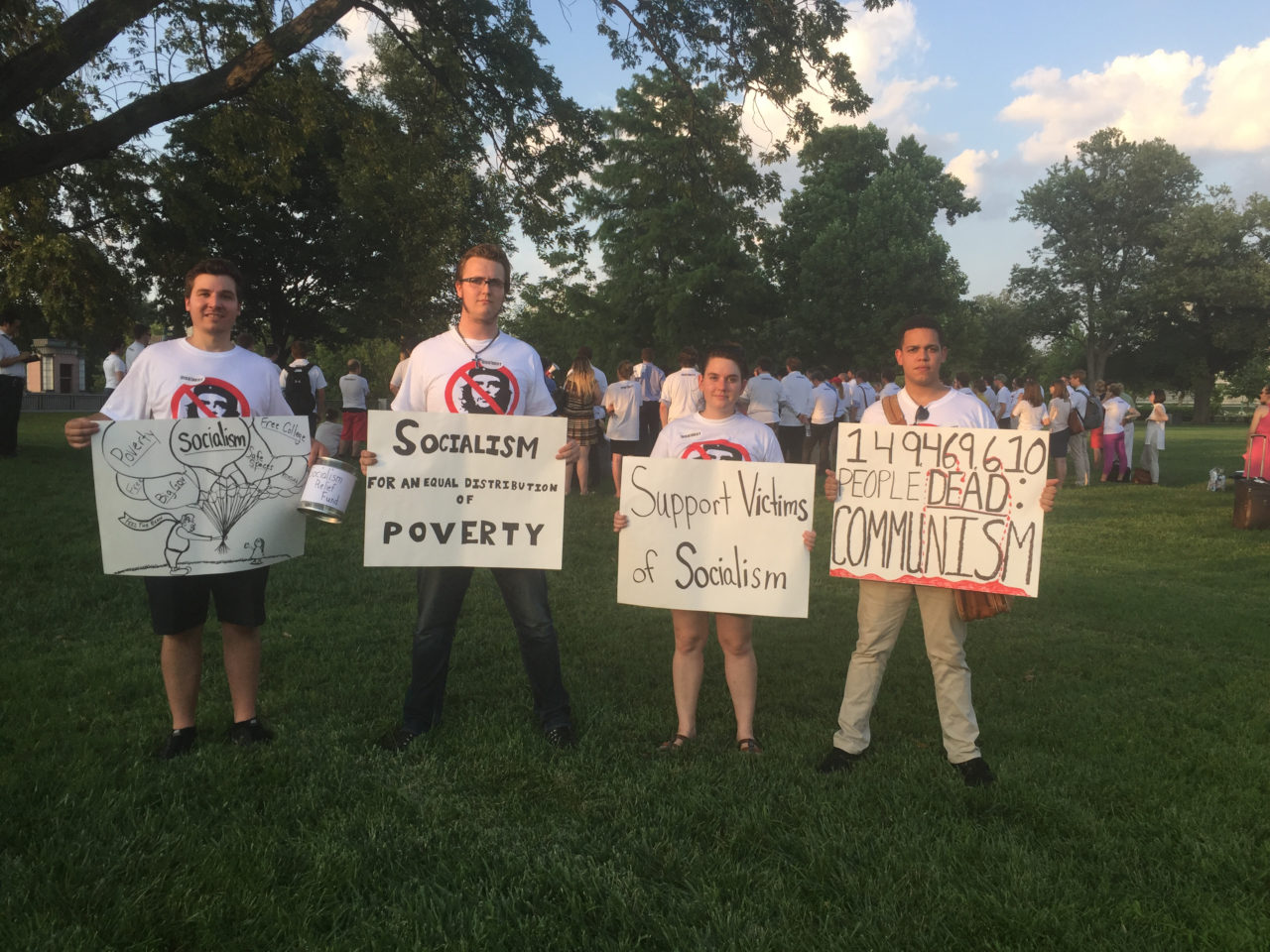 "Having lived in Venezuela for 16 years, it makes me sick to see people wearing Che Guevara t-shirts or going mad for Bernie Sanders," said Maikel Hernández, a Venezuelan student at Georgetown Universiy. "They have no idea what real socialism looks like."
In recent months, the foundation has lobbied the Trump administration to reimpose sanctions on Cuba, which were partially lifted as part of Barack Obama's "Cuban Thaw." In June, Trump announced a series of travel restrictions to Cuba designed to reduce tourist spending that only benefits the communist regime.
"Now that I am president, America will expose the crimes of the Castro regime and stand with the Cuban people in their struggle for freedom. Because we know it is best for America to have freedom in our hemisphere, whether in Cuba or Venezuela, and to have a future where the people of each country can live out their own dreams," Trump said in a speech to Cuban-Americans in Miami.
"We will not be silent in the face of communist oppression any longer," he continued. "With God's help, a free Cuba is what we will soon achieve."
The Victims of Communism Memorial Foundation (VOC) is a Washington-based, non-profit educational and human rights organization which aims to commemorate the more than 100 million victims of communism around the world and to obtain freedom for those still living under totalitarian regimes. To find out more about the Foundation, visit their website at victimsofcommunism.org or follow them on Facebook and on Twitter.