Just when Canadian Prime Minister Justin Trudeau seemed to have smoothed out the rough patches in his relationship with India, he ignited another firestorm by inviting a convicted terrorist from a Sikh separatist movement to dinner.
The Canadian government swiftly rescinded the invitation to Indo-Canadian businessman Jaspal Atwal, claiming an unexplained failure in the vetting process was responsible for his invitation to a dinner reception in New Delhi.
Atwal and three accomplices were convicted of attempted murder against Malkiat Singh Sidhu, a minister from the Punjab province, which separatists believe should be detached from India and converted into a Sikh religious state called "Khalistan." Another team of Sikh militants eventually succeeded in murdering Sidhu five years later.
Atwal was a member of what amounts to the youth wing of the Khalistani movement when he participated in the ambush of Sidhu, who was shot twice during the incident. He was sentenced to 20 years in prison, but the verdict was overturned on appeal. He later admitted to a parole board he was the triggerman in the attack.
It is more than a little strange that the Canadian government overlooked all of this when inviting Atwal to dinner, since the terrorist attack he participated in occurred while Sidhu was vacationing on Vancouver Island.
The International Sikh Youth Federation outfit Atwal belonged to remains a banned terrorist group in both Canada and India, as well as the United States. Complaints have previously been lodged with the authorities when Atwal attempted to participate in Canadian politics.
"This individual should never have been invited to any event on the program, and his invitation has been rescinded. We are in the process of looking into how this occurred," the Canadian prime minister's office said after rescinding the dinner invitation.
Unfortunately for them, Atwal had already attended an event in Mumbai and taken photographs with Trudeau's wife Sophie, and Indian media has been broadcasting photos of the personal dinner invitation sent to the problematic businessman by Canadian High Commissioner to India Nadir Patel:
Jaspal Atwal, a convicted Khalistani terrorist who was active in the banned Int'l Sikh Youth Federation, photographed w/Canadian PM's wife Sophie Trudeau at an event in Mumbai on 20 Feb. He was also invited for formal dinner with Canadian PM, invite being rescinded now (CBC News) pic.twitter.com/pT7P3eLq1L

— ANI (@ANI) February 22, 2018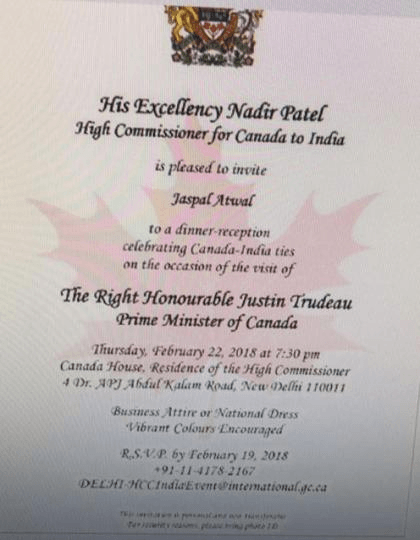 Jaspal Atwal's name became a trending hashtag on Twitter overnight as Trudeau critics uncovered all sorts of inconvenient details, including the fact that Justin Trudeau appears to have known with Atwal for quite a long time:
Found one more photo of Justin Trudeau with Jaspal Atwal. Judging by Trudeau's long hair, they've known each other for a while. pic.twitter.com/Sx12fBSSo8

— Candice Malcolm (@CandiceMalcolm) February 22, 2018
It turns out that Atwal was charged with targeting another politician for death in the Eighties, a proponent of Indian unity named Ujjal Dosanjh. Atwal was acquitted on charges of attempting to beat Dosanjh to death in a parking lot in 1985. A parking lot in Canada, that is. Dosanjh is the former premier of British Columbia. He belongs to Justin Trudeau's political party.
Dosanjh is still very much alive, although he narrowly missed boarding a plane that was bombed by Sikh extremists the same year he was pummeled in the parking lot—a bombing that has long been considered Canada's worst mass murder, as all 329 passengers and crew were killed. He is not happy about Trudeau's administration inviting Atwal to dinner.
"It is troubling to know that a man who was convicted for an assassination attempt is in the delegation led by Canadian PM," Dosanjh said in an interview with WION on Thursday. "I know that he may not be part of the official delegation but he is visiting India at the same time and was invited to the official dinner in PM Trudeau's honor by the Canadian high commission. Therefore, I assume that he is somewhat known to the PM's delegation as well as the high commissioner."
Dosanjh said Trudeau's trip to India has been "marred by these kinds of incidents."
"One is baffled by the fact that Atwal, who had attacked someone like me back in the '80s, is included in the high commissioner's dinner. He is fairly well known. He was acquitted of the charges but then he again tried to kill the visiting Punjab cabinet minister, and I believe that kind of man who served time in jail as a result of that conviction ought to have been known to the Prime Minister's Office," he said.
Dosanjh also mentioned that Atwal has been investigated in connection with an insurance fraud case involving stolen cars, which he actually thought was an even better reason for not inviting Atwal to dinner than the old terrorism charges against him. He added that he was deeply concerned about the Trudeau government appearing to coddle Khalistani separatists.
Canadian officials grew visibly uncomfortable fielding questions from Indian media about the alleged gaffe, as the mood in India began ticking over from stunned disbelief to outrage and the Canadian government scrambled to conduct damage control operations.
"Invitation to a known terrorist and criminal by the Canadian High Commissioner to receptions hosted on Indian soil in honour of Prime Minister Trudeau is shocking and unprecedented to say the least," India's former High Commissioner to Canada, Vishnu Prakash, told Vice News on Thursday.
Carleton University professor Vivek Dehejia called Trudeau's visit to India a "slow-moving train wreck" that "well and truly went off the tracks" with the Atwal affair.
The search for someone to take responsibility for the invitation settled on Canadian MP Randeep S.Sarai, who issued a statement claiming he alone facilitated the request and "should have exercised better judgment." Sarai somehow managed to avoid referring to Atwal by name in his apology:
.@randeepssarai takes responsibility for inviting Jaspal Atwal and apologizes. Full statement here. #cdnpoli pic.twitter.com/4nVdkBuxWz

— Abigail Bimman (@AbigailBimman) February 22, 2018
Trudeau himself repeated his government's standard line on Thursday, complete with the same reluctance to say Jaspal Atwal's name, saying simply that "the individual in question should never have received an invitation" and "the person and department responsible will take full responsibility for his actions."
The government of Indian Prime Minister Narendra Modi has also come under criticism for issuing a visa to Atwal to attend the events he was invited to.