As a presidential candidate in 2008, Barack Obama disavowed any connection with former domestic terrorist Bill Ayers, the Weather Underground radical who was one of Obama's early backers and his colleague on the board of the Woods Fund in Chicago. We now have proof that Obama's association with Ayers continued even after Obama had been elected to represent Illinois in the U.S. Senate–in the form of a now-scrubbed blog post placing Obama at the home of Ayers and his wife, fellow radical Bernardine Dohrn, on July 4, 2005.
Dr. Tom Perrin, Assistant Professor of English at Huntingdon College in Montgomery, Alabama, was a graduate student at the University of Chicago at the time, and maintained a blog called "Rambling Thomas." He lived next door to Ayers and Dohrn in Hyde Park. He wrote at 8:44 a.m. on July 6, 2005:
Guess what? I spent the 4th of July evening with star Democrat Barack Obama! Actually, that's a lie. Obama was at a barbecue at the house next door (given by a law professor who is a former member of the Weather Underground) and we saw him over the fence at our barbecue. Well, the others did. It had started raining and he had gone inside be the time I got there. Nevertheless.
Dohrn is a Clinical Associate Professor of Law at Northwestern University, and Chicago did, in fact, record rainfall on the Fourth of July holiday in 2005.
Breitbart News attempted to contact Dr. Perrin for further comment: 
Dear Dr. Perrin,

My name is Joel Pollak, and I am the Editor-in-Chief of Breitbart News.

We came across your blog entry from July 2005 in which you mentioned that then-Senator Obama had been a guest at the Ayers/Dohrn house next door. 

http://ramblingthomas.blogspot.com/2005_07_01_archive.html

I was wondering if you could provide more detail. 

Many thanks,

Joel Pollak
Dr. Perrin did not respond. He did, however, delete his entire blog from the Internet.
Of course, Breitbart News had saved a screen grab of the blog beforehand: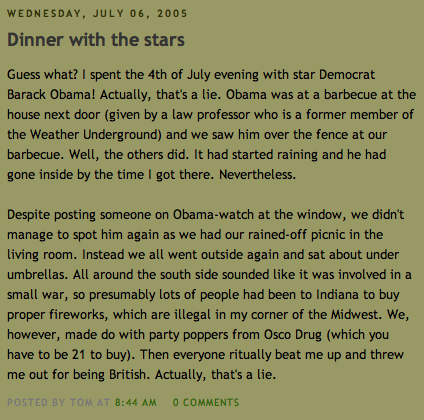 Obama's presence–as a U.S. Senator–at the Ayers barbecue has been confirmed by another source, who told Breitbart News: "I too saw Obama at a picnic table in the Ayers/Dohrn backyard, munching away–on the 4th of July."
The fact that Obama socialized with Ayers and Dorn contradicts the statement that Obama campaign spokesman Ben LaBolt gave the New York Times in 2008: 
Mr. LaBolt said the men first met in 1995 through the education project, the Chicago Annenberg Challenge, and have encountered each other occasionally in public life or in the neighborhood. He said they have not spoken by phone or exchanged e-mail messages since Mr. Obama began serving in the United States Senate in January 2005 and last met more than a year ago when they bumped into each other on the street in Hyde Park.
That statement now appears to be "Clintonian" in its dance around the truth. Obama and Ayers may not have emailed or spoken by phone, but they had, we now know, spoken face to face–at least on July 4, 2005, and perhaps at other times as well.
The continued connection between Obama and his radical, domestic terrorist associates until mere months before he launched his presidential campaign is sharply at odds with the way Obama minimized the relationship, as well as the way the media largely sought to portray it as an insignificant part of Obama's past.
Whatever differences may have emerged between Obama and Ayers–and other far-left fellow travelers–since Obama took office and grappled with the realities of governing, Obama's migration towards the mainstream of American politics is very recent, and likely opportunistic. His intellectual and political roots remain extreme.