We are only at the beginning of the ObamaCare fallout, but already President Obama has plunged to record highs and lows in the Real Clear Politics poll of polls that records Obama's approval ratings. Monday, Obama's disapprove jumped to a record high of 54.3%; and with it, his approval sank to a record low of 41.2%.
The Huffington Post does a similar averaging of Obama's approval ratings. Below is a screencap of their chart. As you can see, Obama's approval is so low it literally dropped off the chart:
—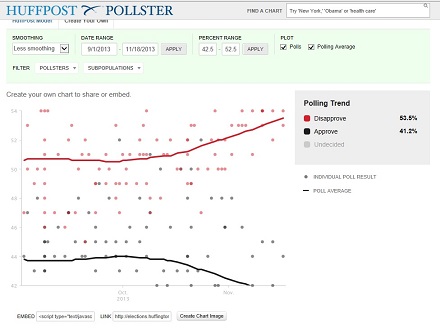 —
Other than the incompetent rollout of his signature health program, polling also shows that ObamaCare itself is increasingly unpopular. The Real Clear Politics poll of polls that looks at ObamaCare's approval rating shows that only 39.4% approve, with 53.6% disapproving.
That is ObamaCare's highest disapproval rating in over a year.
Rasmussen's latest polling shows that 55% want ObamaCare repealed, with 58% viewing the law unfavorably.
These numbers are unlikely to get better. In the coming months, if the website improves, many of the five million Americans who have lost their health insurance will get a taste of higher costs, higher deductibles, and the loss of their doctors.  
Before the end of next year, right before the midterm election, when tens of millions in the employer-market are likely to see premium increases and cancellations, today will look like the good old days for President Obama and his defenders.
Follow John Nolte on Twitter @NolteNC