Former Alaska Governor Sarah Palin hammered Jesse Ventura for winning a $2 million defamation lawsuit this week against Chris Kyle's widow. 
After Kyle's death, Ventura continued with the lawsuit that stemmed from a passage from Kyle's book in which Kyle claimed he knocked out an unnamed Navy SEAL for trashing the troops. During his book tour, Kyle said that was Ventura. But after Kyle was tragically killed in 2013, many felt that Ventura, who has done a lot to damage his own reputation over the years, should have dropped the lawsuit.
"Hey tough guy, Jesse Ventura, your feelings were hurt because you perceived your reputation was besmirched by words in a book?" Palin said on her SarahPalinChannel. "So you turn around and sue, expecting $2 million from a military widow and her fatherless children? Yeah, like that is going to help your reputation, jackass."
Chris Kyle was a true American patriot — the soldier who stood up for his country and saved so many lives by doing the job his Commander-in-chief gave him, taking out the bad guys. For his extraordinary work, Chris was known as "The American Sniper." He was senselessly murdered on our own soil while helping a military brother. His widow and young children will forever feel a lot more "hurt" than you will, Jesse, after a sad verdict in your ridiculous lawsuit against Chris. You went after the bereaved family, whining that you, a public figure, were defamed in Chris's book, "American Sniper," even though Chris never wrote your name in the book. Since when are public figures immune from hearing something we don't like, anyway? Chris always stood up for every American. Now we're standing up for him.
In a video on her new SarahPalinChannel, Palin recalled how Kyle was on the security detail in Pella, Iowa in 2011 for the premiere of Stephen K. Bannon's film, The Undefeated. She reminisced about her husband, Todd, meeting and getting to know Kyle on Mark Burnett's Stars Earn Stripes show, where they co-starred. She also gleefully recounted how her son Track, who is also in the military, said even though he was privileged to have met many celebrities after Palin as John McCain's running mate, "Chris Kyle was the one" celebrity he wanted to meet. "That says a lot," she said.
Before Palin attended Kyle's funeral service in February of 2013, Palin said President Barack Obama should "pay his respects" to Kyle with at least a "gesture of condolence."
She also accused Ventura of "shaking down" a widow and hoped the "appalling and shameful" decision could be "overturned on appeal."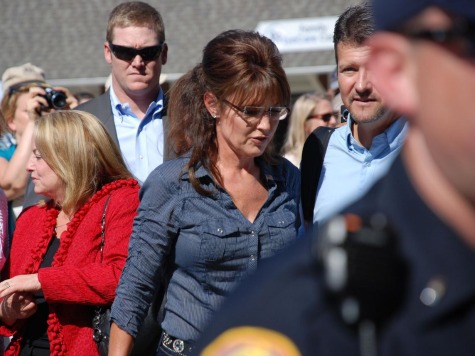 Palin called Kyle "a great patriot and a wonderful human being" who died "exactly as he lived"–helping out a fellow American struggling with PTSD. She said she was "sickened" by Ventura's "ridiculous lawsuit" that took $2 million from Kyle's widow and children.

Unlike others who took Jesse Ventura's side, Tammy Bruce echoed the sentiment, writing in her column this week that "there is a difference between the things we can do and things we should do":
The revulsion many felt surrounding this adventure stems from the fact that Mr. Ventura opted to continue with the lawsuit after Kyle was murdered at a shooting range by a veteran he was trying to help cope with post-traumatic stress disorder. Mr. Ventura's continuing his fight to the point of dragging the widow and children of the assassinated veteran to court, strikes the conscience as loathsome.

We all, of course, have a right to pursue what we choose. Yet there is a difference between the things we can do and things we should do. After all, when the issue is reputation, it's not as though the very famous Mr. Ventura didn't have options other than pursuing a lawsuit. This is where common decency enters the decision-making process.
Photo: AP/New York Post