More Americans renounced their U.S. citizenship in 2014 than ever before, reports CNBC.
In 2014, 3,415 Americans gave up their citizenship–an increase of 416 individuals from the previous high in 2013.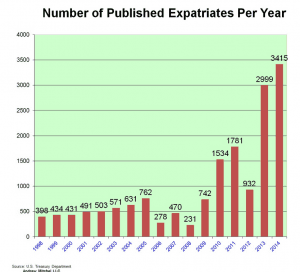 The data, which were compiled by Andrew Mitchel of the International Tax Blog, point to the effects from changes in American tax policy.
The Foreign Account Tax Compliance Act (FATCA) requires foreign banks to turn over information about American accounts that have more than $50,000. As CNBC explains, "The program was designed to catch more wealthy overseas tax cheats. But one of its unintended consequences is that those Americans are simply giving up on being Americans."