Since we reported on the latest Reddit Revolt yesterday, the situation on the web culture giant has only escalated. Over 1400 user-created communities ("subreddits") have gone private, representing a combined subscriber base of over 124,000,000.
Accounting for the fact that Reddit users have multiple subscriptions, it is estimated that over 6 million unique users have been affected. It is the gravest crisis in the history of the site.
It's clear that the firing of popular admin Victoria Taylor was merely the spark that ignited long-simmering tensions between the site's base of users and volunteers, and the increasingly corporate culture of Reddit HQ in San Francisco.  Co-founder Alexis Ohanian and interim CEO Ellen Pao are now under siege by Redditors who think they are steering the site towards disaster.
And they have a point, too.
Reports from anonymous sources within Reddit HQ, copied below, reveal a chaotic environment run by blundering figures who have little to no idea of how to interact with Reddit's unique community.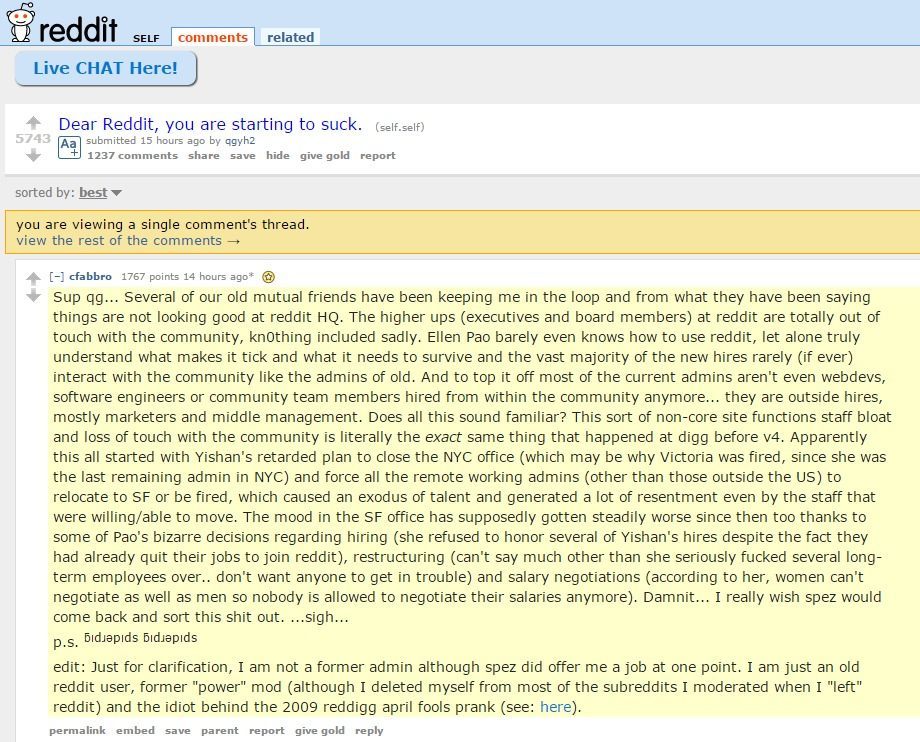 Another ex-Reddit insider, /u/Dacvak, described how Ellen Pao reneged on a promise by former CEO Yishan Wong to let him return to his job after he had recovered from leukemia. Despite allegedly "pleading" with Pao to let him stay at the company, the cancer survivor was let go by the CEO herself.
Angry Redditors, already aware of Pao's track record of dubious behaviour towards colleagues, described the CEO as a "disgrace to humanity".
Soon after the AMA was posted, it was deleted, although there are conflicting accounts of whether it was removed by administrators or /u/Dacvak himself.
and that solves that pic.twitter.com/tdWQHUxFp1

— garkon icky (@garkon_icky) July 3, 2015
The revelations — and the admins' attempt to suppress them — are likely to generate further animosity towards Pao, who is already facing a Change.org petition calling on her to stand down as CEO. It currently has more than 27,500 signatures, with numbers rising fast.
Ellen Pao and Alexis Ohanian seem to be falling foul of the Tarkin Effect: The more they try and clamp down on Reddit and control their users, the more their userbase revolts against them.
Just this morning, a rumor spread that Reddit's management had assumed direct control of the front-page subreddit /r/pics, removing its existing moderators and forcing it back online. Despite it being mere rumor, the response of users was swift and decisive: /r/pics was flooded with images attacking the site management.
The perception of lack of accountability and transparency at the top of Reddit has not been helped by the unexplained firing of another long-serving employee of Reddit, the founder and operator of Reddit Gifts.
Reddit Gifts, like Ask Me Anything, is another user-created Reddit fixture that has grown to the point where it could be monetized. So is this a land grab on the part of the admins?
Commercial Motivations?
As #RedditRevolt began to trend on Twitter, more rumors began to leak about the trends behind the recent string of disastrous decisions by the site's administrators. As many suspected, a focus on building more revenue streams for the site.
According to a post allegedly written by Marc Bodnick, a business and community expert at Quora, the abrupt sacking of Victoria Taylor was due to disagreements over the direction of Reddit's famous "Ask Me Anything"  (AMA) feature.
The post claimed Reddit was looking to take AMAs in a more commercial direction, which Reddit veteran Taylor thought would be a bad idea. This certainly fits in with Reddit's recent decision to launch a phone app dedicated solely to AMAs.
Pressed for new revenue sources, it's possible Reddit wants to exercise more top-down control over one of its more well-known features. That would almost certainly include Ask Me Anythings, and it may well include Reddit Gifts too.
But they badly misjudged the community's response.
Reddit's Greatest Crisis 
Reddit extricated themselves from its first user revolt by presenting a progressive image to the world and framing their on-site critics as "harassers" who made other users feel "unsafe." They can't do that this time.
The relationship between the admins and the moderators appears to have permanently soured. Although the subreddit dedicated to "Ask me Anything" sessions is now back online, its moderators have said they will no longer work with the site management to arrange AMAs.
In a statement, the moderators of the subreddit said that the admins "do not have a plan we can put our trust in" and that administrators have "refused to provide essential information about arranging AMAs with the new team."
A fight between moderators and administrators for the control of Reddit's most popular features may be on the cards. With Reddit's seemingly management bent on monetizing AMAs, the moderators' attempt to go independent puts them in a difficult position. It will surely be the oddest turf war in history, but it seems that the owners and moderators of Reddit are preparing to do battle.
Follow Allum Bokhari @LibertarianBlue on Twitter.