Ashley Madison, the website which encouraged people to cheat on their spouses by connecting with other willing cheaters online, attracted millions of paying male customers but only a tiny handful of women.
The conclusion comes from a detailed look at the hacked, and later leaked, user database by Gizmodo's Annalee Newitz. Newitz found there were 31 million men in the database and only 5.5 million women, but that latter number is actually very misleading.
Though it would not have been obvious to men looking at the front end of the site, looking at the database Newitz found evidence that tens of thousands of the female accounts appear to have been generated in house. Others appeared to have been created by bots using similar email accounts. Ultimately, because accounts for women were free, Newitz was unable to say how many of the accounts were created by real women versus the number created by Ashley Madison staffers or by other means.
However, Newitz was able to identify solid evidence that only a tiny number of the accounts belonging to women were ever used. She identified a data field labeled mail_last_time which remained blank until a user checked their messages. Once the user did check messages, a sign they were interested in communicating with someone, the field then contained the last date on which they checked. Tallying up the numbers, Newitz produced this fantastically lopsided chart: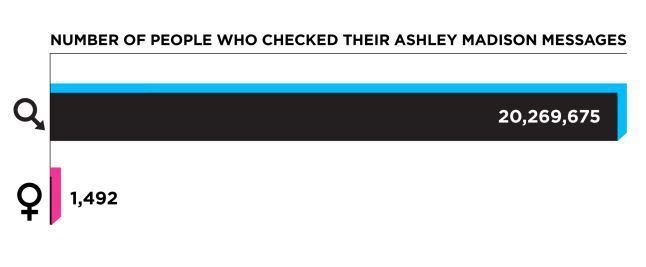 Two other data fields provide very similar results. For instance, a field that recorded who used the chat system found 11,030,920 men had done so but only 2,409 women. Put another way, that's one woman actively using the account for every 4,579 men. As Newitz concludes, "of 5.5 million female accounts, roughly zero percent had ever shown any kind of activity at all, after the day they were created."
There are at least two conclusions that can be reached from this data. The most obvious one is that Ashley Madison appears to have been a colossal fraud. The site's promoters were selling little more than a fantasy to millions of male customers. And then, later, when the men found out they'd been fooled or had second thoughts, Ashley Madison sold them the promise that their accounts would be deleted for a price. Around 175,000 men paid the so-called delete fee according to the database, but Ashley Madison never deleted their information.
The other thing we can probably take from this is a clear sense that men and women are very different, at least when it comes to their interest in having sex with married strangers. The example of Ashley Madison suggests it's not a small difference either. A few million women signed up for a free account, but less than 0.03% of them took any further action. You get the impression these accounts were created on a lark out of sheer curiosity.
By contrast, men not only paid for their accounts but checked their messages and initiated chats by the millions. In short, most of the men on the site wanted to cheat but most of the women did not.