Mohamed Elhassan Mohamed, father of 'Clock Boy' Ahmed, shared another 9/11 'Truther' Facebook post, only this time in Arabic, claiming that the clock incident will lead to spreading Islam in America.
Breitbart Texas reported that the family patriarch, a former Sudanese National Reform party candidate for president of that country, managed a Sudanese reform party Facebook group and posted 9/11 'truther' conspiracy theories on its wall. Last week, Mohamed removed the National Reform page, perhaps in response to Western media sifting through the  content. Prior to it shutting down, Breitbart Texas captured an Arabic language National Reform post that Mohamed shared on Sept. 28 and it appears he wrote it.
The Arabic post was translated for Breitbart Texas by Raymond Stock, Middle Eastern political and cultural affairs expert, a former Guggenheim Fellow with a Ph.D. in Near Eastern Languages and Civilizations from the University of Pennsylvania. He also taught Arabic and Middle East Studies and spent twenty years in Egypt.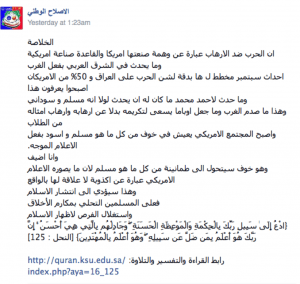 Troubling statements in this Facebook post further the ideology of 9/11 conspiracy theories. The translation suggests that the 9/11 terror attacks were bogus, an inside-job, reading: "That the war against terror is nothing more than an illusion made in America—as al-Qa`ida was made in America, as well as what is happening now in the Arab East at the hands of the West."
The post also alleges that the United States created 9/11 to manufacture the "war on terror." Translated, the words read: "The events of September 11th were planned precisely to launch the war on Iraq, and 50% of the American people are becoming aware of that."
Musing, Mohamed draws a parallel to his "clockmaker" son, asserting Islamophobia at the core of the clock incident, ignoring federal and state zero tolerance and/or safe school act policies behind his son's arrest for bringing into an Irving, Texas, high school a perceived "hoax bomb." According to the English translation, he instead writes: "Moreover, what happened to Ahmed Mohammed would not have occurred were he not Muslim and Sudanese." He insists that it "shocked the West, and made Obama seek to honor him, rather than his terrorizing his fellow students."
Then, the translated post calls Islamophobia the result of American state-controlled and delusional new media news, even claiming that Islamophobia will lead to the spread of Islam. The translation in English reads:
American society has come to live in fear of all that is Muslim or black due to the state-controlled media. And I would add:

It is a fear that will turn into confidence in all that is Muslim, because what the American media present is nothing more than a lie that has no relation to reality.

This will lead to the spread of Islam.

The Muslims are endowed with the noble qualities of their morals—they must exploit every opportunity to reveal the truth of Islam:

"Call the way to your Lord with wisdom and goodly exhortation, and have disputations with them in the best manner; surely your Lord best knows those who go astray from His path, and He knows best those who follow the right way."—scripture from the Qur'an; Surat al-Nahl (The Bee), 16: 125.
The post links to a Collective Evolution article by Arjun Walia, who claims to provide evidence that Al Qaeda was a creation of the CIA, that the World Trade Center was brought down by "controlled demolition," and that most terror attacks are "false flag operations."
Mohamed joined his son this week for a Saudi government sponsored pilgrimage to Mecca where the family continued to push the U.S. Islamophobia narrative. Earlier in October, they toured Qatar's Education, Science and Community Development, founded by Al Jazeera creator Sheikh Hamad bin Khalifa Al Thani, who is closely associated with the Muslim Brotherhood. Ahmed Mohamed's updated itinerary for this week includes a meeting with President Obama, a weekend White House astronomy night, and a Council for American-Islamic Relations (CAIR) gala this week.
Follow Merrill Hope on Twitter @OutOfTheBoxMom.