Sen. Ted Cruz and Sen. Marco Rubio are the only GOP 2016 candidates to have signed a Florida parent group's pledge to end federal implementation of the Common Core standards if elected president.
Out of 14 candidates who participated in the Republican Party's Sunshine Summit last week, only Cruz signed the pledge immediately with Florida Parents Against Common Core (FPACC).
FPACC approached all of the GOP presidential candidates attending the summit and asked them to sign a pledge to eradicate Common Core should they be elected president, reports Sunshine State News.
Cruz offered to sign the petition even beforehand. FPACC did not receive similar contact from any of the other candidates, however.
The pledge states:
I, _______, pledge to the students, parents, teachers, and concerned citizens of the United States of America that I will stop federal involvement in Common Core and that I will oppose any efforts by the federal government to mandate, impose, or influence standards, assessments, or curriculum."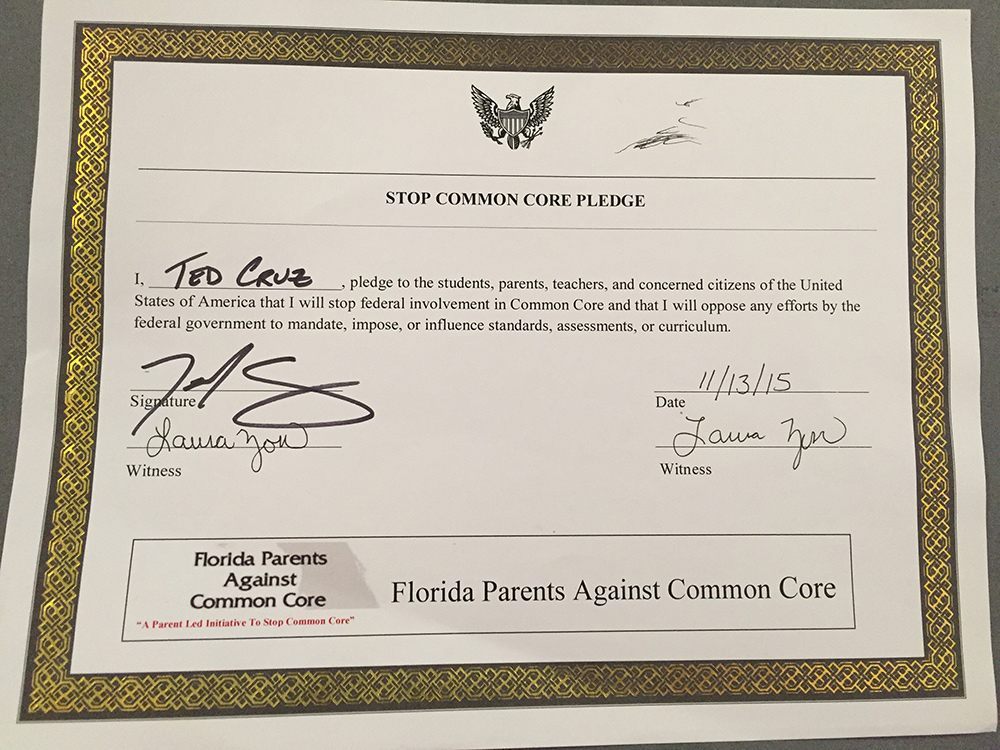 FPACC has been disturbed by the lack of response from Gov. Rick Scott and the Florida Department of Education over repealing Common Core in the state.
"Senator Cruz's pledge provides needed leadership on the critical issue of education that so impacts the many residents and students of the State of Florida," Luz Gonzalez, FPACC coordinator, said in a statement.
On Friday, Rubio also signed the FPACC pledge, and another at the Family Leader Foundation's education initiative at the Presidential Family Forum in Iowa as well.
"Understanding that the massive federal bureaucracy of education must be stopped, and recognizing that the best decision makers for their children's educational needs are their parents, Senator Rubio is committed to reinforcing his long standing support for the student health and school opportunity of each child," wrote Gonzalez.
On Thursday, Sunshine State News reported that Rubio had not responded to FPACC's urging to sign the pledge. After FPACC expressed concerns that GOP presidential candidates were saying they are opposed to the unpopular Common Core standards, but not following with signing the pledge, he came through with his signature.
Cofounder of FPACC Laura Zorc attended the Sunshine Summit in Orlando, but said though her group had reached out to the candidates and their staff before the summit, she did not have access to them after their speeches.
"[The candidates] just weren't accessible," she explained. "They went straight from the stage into the press room and from the press room into their private receptions, so I could never get access to any of the candidates."
The Florida primary is Tuesday, March 15, 2016.