Welcome to Breitbart News's daily live updates of the 2016 horse race. 
Highlights:
•Hillary Clinton up big in South Carolina
•Vatican backpedals on yesterday's remarks widely interpreted a rebuke of Donald Trump
•Rubio wants another third-place finish to be seen as "a big win"
—
11.00: Bernie Sanders nostalgia in time for the Nevada caucus – the Chicago Tribune finds a photo of the 21 year-old Sanders being arrested by the cops.
https://twitter.com/HRHBFD/status/700890889405616128/photo/1
10.13: Feds release more emails from Hillary's server, and the Republican National Committee is happy to comment. "With State Department and FBI investigations into her email in full swing, it's no wonder Americans increasingly see her as too dishonest and untrustworthy to be president, and voters caucusing in Nevada this Saturday will have the opportunity to hold her accountable for her secrecy and poor judgment."
.@GOP Statement On The Latest Court-Ordered Release of @HillaryClinton 's Emails: https://t.co/4uojczKBkz

— Sean Spicer (@seanspicer) February 20, 2016
10.06: Another new arrival in Donald Trump's diverse coalition:
WATCH: Trump greets voter on line in Myrtle Beach, South Carolina who says "I'm a Muslim, I support this man."https://t.co/xx791lkCCT

— ABC News Politics (@ABCPolitics) February 19, 2016
8:12: Scenes from Trump's last rally before voting begins in South Carolina:
https://twitter.com/colvinj/status/700841227281944576
The view from the press riser at Trump's last event before voting begins in the South Carolina primary pic.twitter.com/pmjfvncl2B

— Jill Colvin (@colvinj) February 20, 2016
8:05: Sanders campaign's Devine says Clinton camp is confusing Sanders's "one message" with "one issue"…
8:02: Chris Matthews wonders if a long record in government is now a "rap sheet." He also seems to suggest that Obama should be attending Justice Scalia's funeral because Obama is also head of state.
7:55: Low-level Jeb! Staffers already shopping resumes, per Politico:
Several Jeb Bush campaign workers are already shopping their résumés with Florida political consultants as expectations mount inside his team that their candidate won't push on after South Carolina.
7:48: Cruz facing "birther" lawsuits in 7 states:
Republican presidential candidate Ted Cruz is facing challenges to his appearance on primary ballots in at least seven states, as some are questioning whether he is a "natural-born citizen."

So-called "birther" challengers have filed federal lawsuits in Alabama, Utah and Texas and have filed lawsuits in state court in Vermont and Illinois, where a judge today ordered a hearing for March 1, two weeks before the Illinois primary. The filing dates vary with each lawsuit.

A challenge had been filed in the state election division of Indiana that was denied today.
7:15: Plurality = majority for Trump?
https://twitter.com/nationaljournal/status/700814413067116544/photo/1
7:00: 86% of Republicans Think Trump Can Win General:
AP Poll: GOP voters say Donald Trump can win in November: https://t.co/7Ki3tiA16I

— The Associated Press (@AP) February 19, 2016
Donald Trump has emerged as the front-runner for the GOP nomination by winning over roughly a third of Republicans in the early voting states and in preference polls, packing his rallies with men and women, evangelical Christians and military veterans, blue-collar workers and wealthy retirees.

His critics have argued for months he'll never be able to grow that wide-but-only-so-deep coalition by clashing with Pope Francis, attacking former President George W. Bush and skipping debates like he did once in Iowa. His negatives, they say, are just too high.

But a new AP-GfK poll finds registered Republicans and GOP-leaning voters put Trump at the top of the still-unwieldy GOP field when it comes to which candidate fits best with their stand on the issues. They give Trump the best marks for competence and decisiveness.

Far more Republicans than not say they'd vote for Trump in the general election, and 86 percent of Republican voters think he can win in November– giving him a 15 percentage point advantage over his nearest rival.

If the number of Republican candidates shrinks as expected after Saturday's primary in South Carolina, Tuesday's Nevada caucuses and on Super Tuesday on March 1, the Trump coalition, it would appear, has plenty of room to grow.
6:40: Nevada:
.@davidplouffe: "We got mamboed by the Clinton campaign in Clark Co. 8 years ago. They've got real strength here." https://t.co/OnnWTgQGVN

— Ken Thomas (@KThomasDC) February 19, 2016
More than 2,800 people on hand at @BernieSanders rally in Sparks, Nev. pic.twitter.com/l2Il78OB30

— Ken Thomas (@KThomasDC) February 19, 2016
Friends in Las Vegas have been visited by a Clinton organizer three times in the last few weeks. Never by Sanders. pic.twitter.com/aZDskyi811

— Dan Merica (@merica) February 19, 2016
6:35: Stump for Trump Sisters in South Carolina, Warn Trump Supporters About Dirty Tricks (They want Trump supporters to double check their ballots):
6:30: Castro Bros. Stump for Hillary:
https://www.facebook.com/hillaryclinton/videos/1078632468859948/?fref=nf
6:12: Sarandon doesn't vote with her vagina:
Actress Susan Sarandon opens for @BernieSanders at Nugget Casino in Sparks #NVcaucus pic.twitter.com/GDJPFT92jS

— Ben Adler (@adlerben) February 19, 2016
Dick Van Dyke in the house for Bernie Sanders in Sparks, Nev.

— Kasie Hunt (@kasie) February 19, 2016
Susan Sarandon at Bernie Sanders rally in NV: "I wanted to see what was going on with this crazy ass caucus thing"

— Kasie Hunt (@kasie) February 19, 2016
Oldie time for @TedCruz: french fries coming back to school cafeterias, he promises kids in the Columbia SC crowd. Always a winning line.

— Todd J. Gillman (@toddgillman) February 19, 2016
5:55: Todd says operatives from other campaigns have told him that the Pope helped Trump immensely by forcing him to get back on message re: immigration.
5:38: Chuck Todd asks how the Rubio campaign can spin a third-place finish as a "win" with so many high-profile South Carolina endorsements…
5:25: Sanders top strategist Devine tells Chuck Todd that they will "prove a point" in Nevada that Sanders can potentially win a diverse state like Nevada. Even if Sanders loses narrowly to Clinton, it seems like Sanders is ready to spin that he is a candidate who doesn't just appeal to left-wing whites. When asked about Sanders's brothers comments about Bill Clinton, Devine says "Bernie loves his brother very much" but his brother Larry, who has lived in England, does not speak for Bernie or the campaign. Devine says Bernie disagrees with his brother's characterization of Bill Clinton as a rapist.
5:20: Clinton pollster Joel Benenson says Sanders is "not being straight" with voters re: his wanting to primary Obama. Tough for Clinton to argue that someone is "not being straight" with voters after all of her calculations. But Clinton's line of attack against Sanders re: his lack of support for Obama seems to be resonating with black voters in South Carolina.
4:55: Trump the builder:
https://www.facebook.com/DonaldTrump/videos/10156655304665725/
4:45: Strong argument from Cruz:
Winning in defense of the cross, Ten Commandments, #2A & Pledge of Allegiance#ChooseCruz: https://t.co/HJE6u6E1El pic.twitter.com/oZmrJd1hVj

— Ted Cruz (@tedcruz) February 19, 2016
4:35: Trump threatens to only use Samsung if Apple doesn't unlock the terrorists's iPhones:
I use both iPhone & Samsung. If Apple doesn't give info to authorities on the terrorists I'll only be using Samsung until they give info.

— Donald J. Trump (@realDonaldTrump) February 19, 2016
Hopefully others will follow suit. Our country needs & should demand security. It is time to get tough & be smart!

— Donald J. Trump (@realDonaldTrump) February 19, 2016
4:15: Jeb!'s new ad:
NEW VIDEO: It's time we send a tested, proven conservative to turn around Washington.https://t.co/gxFCigIVh3

— Jeb Bush (@JebBush) February 19, 2016
4:13: Rubio warns of dirty tricks from Cruz campaign:
Asked what Cruz "dirty tricks" Team Rubio is watching for in SC, @AlexConant said they saw the following in IA: pic.twitter.com/YVwzVmkt1r

— Alexandra Jaffe (@ajjaffe) February 19, 2016
4:10: Rubio picks Frank Luntz (who has TRASHED Rush Limbaugh and Mark Levin) over conservatives:
Tim Scott explained why Rubio missed CR convention last night: Had to hit a Frank Luntz focus grp: https://t.co/QHFMACAGnq

— Alexandra Jaffe (@ajjaffe) February 19, 2016
4:00: Sanders challenges Hillary to release Wall Street transcripts:
"Sen. Sanders accepts Clinton's challenge. He will release all of the transcripts of all of his Wall Street speeches. That's easy. The fact is, there weren't any. Bernie gave no speeches to Wall Street firms," spokesman Michael Briggs said in a statement. "He wasn't paid anything while Secretary Clinton made millions, including $675,000 for three paid speeches to Goldman Sachs."
3:47: Trump says he won't play much golf as president because there is so much work to be done. He slams Obama for playing more golf than people on the PGA Tour and blasts Obama for his "carbon footprint" hypocrisy.
3:45: Trump: Karl Rove is "close to incompetent." He says George Will, Stephen Hayes, Charles Krauthammer, and George Will are "petty," "jealous" and "bad guys" with "a lot of problems." He says they are "very bad for the Republican Party" and we "need to have new thinking."
3:43: Jermaine Jackson not happy with Trump:
'Friends' don't pay tribute by peddling b.s. theories about Michael's 'loss in confidence'. This fool Trump needs to sit down.

— Jermaine Jackson (@jermjackson5) February 19, 2016
3:41: Trump says police officers tell him that it is so hard to do anything against illegal immigrants and "they don't go after them in the same way." He vows to end sanctuary cities.
3:40: One South Carolina poll has Rubio surging into second place
3:35: Dolores Huerta keeps attacking Sanders on immigration:
I like Bernie. He's a nice guy. I have no doubt he means well. Latinos matter in this election, and he knows it. But my question for Bernie is, where the heck was he for the last 25 years? Where was he on immigration reform? On indefinite detentions? On vigilante justice against undocumented workers? He was nowhere. That's where.
3:28: Trump: Boycott Apple until they allow access to the San Bernardino terrorists's phones. He accuses Apple CEO Tim Cook of "looking to do a big number" to "show how liberal he is."
3:25: The dating site for Sanders supporters is getting so many visitors that it keeps crashing. 
3:20: Trump praises police officers, saying a few bad apples prevent the public from seeing the 99% of the good work that they do. He also praises Tom Brady.
3:18: Trump warms at the event that "Mexico is going to be the car capital of the world."
3:15: Trump says Cruz "cheated like a dog" in Iowa. He is wary of caucuses where people go into "spin rooms," but he thinks he will do very well in Nevada and the SEC primary states.
3:12: Trump says he is for "self-preservation" re: smart trade policies at a Pawleys Island, SC campaign event. He again blasts Carrier for moving to Mexico.
"We're not going to be called dumb anymore," Trump says. "We're going to be the smart country."
3:11: Trump won primetime ratings battle last night:
Donald Trump won primetime last night among cable news networkshttps://t.co/Rfp2AcLFcG

— Deadline Hollywood (@DEADLINE) February 19, 2016
3:10 Trump says it takes "guts" to run for president. "It isn't easy."
3:09: Rubio team won't let Cruz campaign get away with shenanigans on Saturday
Rubio spokesman Alex Conant warns of shenanigans: "We will not allow Ted Cruz to do to Marco in SC what he did to Ben Carson in Iowa."

— Matt Viser (@mviser) February 19, 2016
3:08: Trump's bringing in new voters:
An "establishment" R at Trump event in SC: "the biggest political rally I've seen here & I didn't see a soul I knew"https://t.co/mNUGvkKtoR

— erica orden (@eorden) February 19, 2016
2:52: Trump leads another South Carolina poll:
Latest Emerson Poll shows @realDonaldTrump up 17 in South Carolina. https://t.co/7eAS1eFDPh

— Corey R. Lewandowski (@CLewandowski_) February 19, 2016
2:50: Dem insiders predict Hillary win in Nevada. GOP insiders concede Trump win in South Carolina.
2:45: Sanders campaign features former NAACP president Ben Jealous in new ad:
2:40: Haley cuts ad for Rubio:
2:35: Another example of Andrea Mitchell being in the tank for Hillary and drinking the Hillary Kool-aid. Mitchell actually tried to compare a robotic Hillary Clinton moment at Thursday's debate to her husband's interaction with an African-American questioner at at 1992 town hall event that may have arguably won Bill Clinton the election. She tried to make the case that Hillary came across as empathetic as her husband. There is no comparison. Yesterday, Hillary addressed a woman who wanted the 10-year immigration bar on her husband lifter in order to DODGE a question about her opposition to driver's licenses for illegal immigrants in New York in 2007 (her exchange with the late Tim Russert on that issue arguably started her demise eight years ago). What in the world is Mitchell thinking?
Here's Hillary's exchange last night.
And here's Bill in 1992:
2:30: Indiana Commission dismisses challenge against Cruz as well:
Indiana Election Commission votes 3-1 to dismiss citizenship challenges against @tedcruz. Heads up @realDonaldTrump.

— Tony Cook (@indystartony) February 19, 2016
2:20: Hillary running out of ca$h?
Hillary Clinton's campaign had planned for any number of troubles on her path toward the Democratic nomination; money was never supposed to be among them.

[…]
Clinton's rainmakers have grown anxious. She began the year with $10 million more in the bank than Sanders, but that cushion is disappearing fast.

"The pond is getting fished out. Everyone is sending invitations to the same group of people. And those people have already given as much as they are allowed to give," warned a Clinton loyalist in Los Angeles who has raised tens of thousands of dollars for the campaign.

"There are only so many people in Hollywood with $2,700 to give. Eventually you burn through them," said another political insider, an advisor to wealthy donors in Los Angeles. Both spoke on condition of anonymity to comment on the fraught issue of cash.
2:15: As a Chicago judge gets ready to hear the "natural-born" case against Cruz, Indiana's election commission rejected a citizenship challenge against Rubio:
BREAKING: Republican presidential candidate Marco Rubio stays on Indiana ballot, commission rules https://t.co/UTsCVumR96

— Greg Weaver (@BizWeaver) February 19, 2016
2:07: After his Super PAC bought radio ads in Nevada yesterday, Kasich will apparently skip the Nevada caucuses:
John Kasich to skip Nevada Caucus, focus on states voting in March https://t.co/FAx2Ee7pE7 pic.twitter.com/BOSTOPhFET

— Jamie Dupree (@jamiedupree) February 19, 2016
2:03 – Tampa Bay Times says superdelegate Alan Grayson may switch his support from Clinton to Sanders.
Now, Grayson is asking people to vote online whether he should cast his superdelegate vote for Clinton or Bernie Sanders.

"Instead of selling my superdelegate vote to the highest bidder — like most members of the unDemocratic party these days — I am offering up my vote to you. You decide: Hillary Clinton or Bernie Sanders. The choice is, literally, yours. Go vote now,": he says on GraysonPrimary.com, a site set up by his Senate campaign.
2:00 – Cruz speaking in Charleston after Sanford's endorsement:
.@TedCruz recalls @marksanford walking into the S.C. Legislature with a live pig. "That's a man who's willing to cut some pork," Cruz says.

— Patrick Svitek (@PatrickSvitek) February 19, 2016
After heaping praise on his new endorsers, @TedCruz goes into his pre-S.C. primary stump on the Supreme Court and national security.

— Patrick Svitek (@PatrickSvitek) February 19, 2016
@TedCruz warns "we are one vote away" from Supreme Court striking down every abortion restriction of last 40 years #SCPrimary

— David Lightman (@LightmanDavid) February 19, 2016
.@tedcruz — "One more liberal justice on the Supreme Court will LITERALLY write the 2nd Amendment out of the Bill of Rights" #SCPrimary

— Christian Datoc (@TocRadio) February 19, 2016
1:59 – Sanders stumps.
Bernie Sanders, in a small school gymnasium in rural Nevada, speaks for more than an hour. pic.twitter.com/KI53Ka7S07

— Paul Lewis (@PaulLewis) February 19, 2016
1:58 – What.
A copy of Karl Marx's "Capital" signed by Carly Fiorina is being auctioned to raise money for Bernie Sanders https://t.co/nTndYIeRNe

— Salon (@Salon) February 19, 2016
1:43 – Mark Sanford endorses Ted Cruz.
U.S. Rep. Mark Sanford endorsing Texas Sen. Ted Cruz in #SCPrimary. https://t.co/BhxQMJibtJ per @brindge. pic.twitter.com/GWXPkpM3L1

— Mitch Pugh὏ (@SCMitchP) February 19, 2016
1:36 – High fashion designers all in for Clinton:
A T-SHIRT stole the show on the last day of New York Fashion Week yesterday. Fashion designers Tory Burch, Public School and Marc Jacobs have teamed with American presidential candidate Hillary Clinton to each create a T-shirt to support her campaign to become the first female president – the latter of which was worn by Anna Wintour front row at Jacobs' show and also by the man himself as he took his bow.
1:34 – Rep. Peter Welch, Vermont's only U.S. Congressman and a Democratic superdelegate, endorses Bernie.
1:24 – Bernie supporters crash a man's website mocking Hillary's dodge on the transcripts of her big bank speeches. Via AP:
A 40-year-old Kansas man is behind a website that notes how long it has been since Hillary Clinton said she'd "look into" whether she can release transcripts of her paid speeches to big banks.

Jed McChesney says he was annoyed by the Democratic presidential contender's dismissive remarks on the subject and has become a supporter of Bernie Sanders.

On Thursday night, Sanders tweeted a link to McChesney's website, iwilllookintoit.com, to his 1.5 million followers. The ensuing traffic temporarily crashed the site.

The Sanders campaign did not contact him before the tweet. McChesney was surprised to see a reference to his site on an MSNBC program Friday morning.

McChesney says the Clinton-questioning website took him five minutes to put together and is the most successful thing he has ever done.
1:22 – New York Times focusing on the big issues.
What does Donald Trump's failure as a pro football team owner tell us about his candidacy? https://t.co/2wjDYL0JbU pic.twitter.com/ZcfzXeGtSp

— The New York Times (@nytimes) February 19, 2016
1:14 – Jeb drops a Spanglish saying that means "this is going from bad to worse."
Line I didn't expect to hear from @JebBush in South Carolina: "This is going from Guatemala to Guate-peor." (Re British columnist asking Q)

— Patricia Mazzei (@PatriciaMazzei) February 19, 2016
1:08 – Clarification: reporter's earlier tweet didn't have exact Trump quote on Obama & black voters.
"People don't know I'm a unifier. You know, Barack Obama, African-American. If I were African-American, I would be so angry at him."
TRUMP: If I were black, 'I would be so angry' at Obama https://t.co/8p20QVjAHl

— Politics Insider (@Politicsinsider) February 19, 2016
1:06 – Cruz hits the stump in Charleston.
.@tedcruz says "the old Reagan coalition" helped him win Iowa. pic.twitter.com/lyAJHzIe9Y

— Stacy Jacobson (@StacyJacobsonTV) February 19, 2016
.@tedcruz — thank God my daughters look like my wife #SCPrimary

— Christian Datoc (@TocRadio) February 19, 2016
.@tedcruz — "It's easy to say Make America great again" but harder to deliver #SCPrimary

— Christian Datoc (@TocRadio) February 19, 2016
1:04 – Cruz targets Nevada voters with promise to "return full control of Nevada land to its rightful owners–its citizens." Hits Trump on this issue:
1:03 – National Review declares Donald Trump a "9/11 Truther" just like Rosie O'Donnell.
Hey @Rosie & @realDonaldTrump — you guys finally have something in common! https://t.co/Ia1qAsLjm0 pic.twitter.com/IFPMSbdB8l

— National Review (@NRO) February 19, 2016
12:59 – Hillary's first TV ad for Texas:
12:53 – Jeb! gives a big heckle to Rubio.
Jeb Bush in Greenville: "This is not a Rubio town hall. We actually answer questions here."

— Beth Reinhard (@bethreinhard) February 19, 2016
As a man starts to shout a Q, @JebBush says don't worry: "We'll have more than one question. This isn't a Rubio event." #SCPrimary #burn

— Brad Mielke (@TheBradMielke) February 19, 2016
12:49 – TRUMP GOES THERE. "If I were African-American, I wouldn't like [Obama] very much."
Donald Trump on President Obama: He's African American. If I were African American, I wouldn't like him very much.

— Jenna Johnson (@wpjenna) February 19, 2016
12:44 – Actual CNN headline: "Marco Rubio's South Carolina strategy: Another 3rd place victory"
Rubio's campaign is playing the same expectations game it did going into the Iowa caucuses: Don't predict a win or even second-place finish, pick up as many delegates as you can, and stay in the race.

Just like Iowa, Rubio wants a third place finish in South Carolina to be perceived as a big win. [emphasis added]
12:43 – A reminder that the National Enquirer has some hot takes on the 2016 race.
Boozin' Ted Cruz Fixin' To Lose — Judge Rules On Citizenship As His Wild Past Is Exposed! https://t.co/pRRkc36fFy pic.twitter.com/7zeX5bT43F

— National Enquirer (@NatEnquirer) February 19, 2016
12:32 – Cruz said that Duck Dynasty's Phil Robertson would be a great UN Ambassador in a campaign appearance this morning:
Ted Cruz Thinks 'Duck Dynasty' Star Phil Robertson Would Make a Great UN Ambassador (Video) https://t.co/IXDuU7UNBz pic.twitter.com/c2sjllJFkM

— TheWrap (@TheWrap) February 19, 2016
12:30 – Nate Silver's FiveThirtyEight predicts Hillary has a three-in-four chance of winning the Nevada caucuses.
https://twitter.com/fmanjoo/status/700733285157117952
12:16 – What happened to Britney Spears' face? Also, she met up with Hillary in Vegas.
12:08 – Via Jordan Schachtel: "Hundreds here at Jeb Bush event in Greenville. No seats left. Staff bringing more chairs to accommodate extras."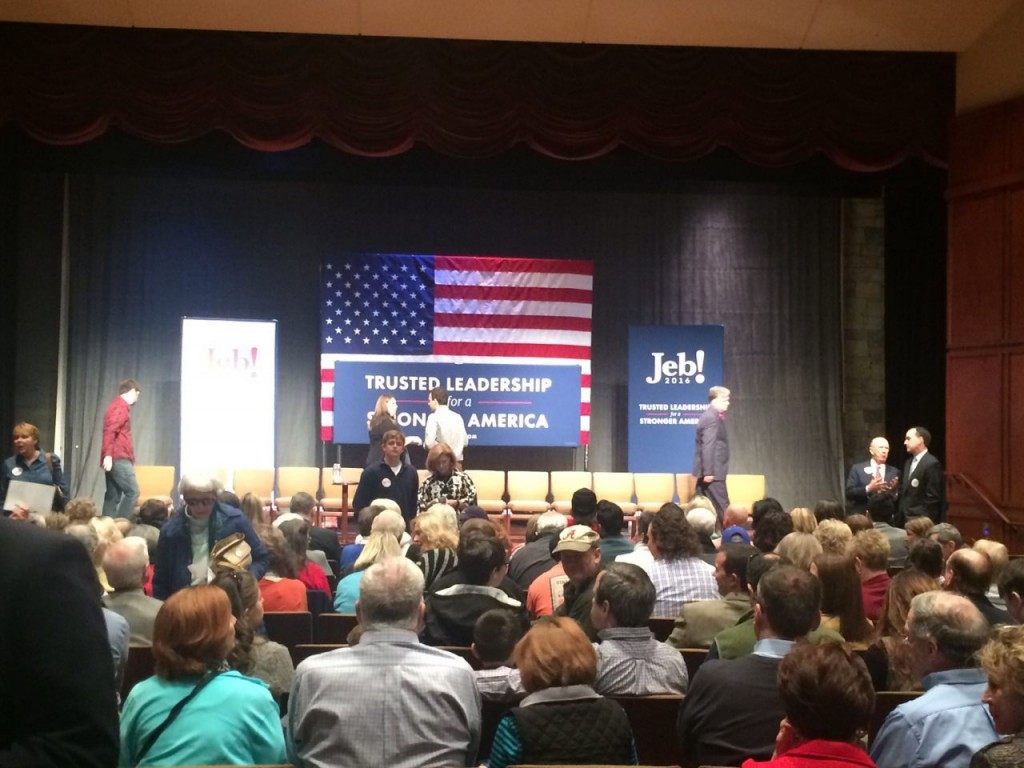 12:02 – Texas Lieutenant Governor heading to Nevada to campaign for Cruz.
.@DanPatrick will be in Nevada from Sunday to Wednesday to campaign for @tedcruz, per Patrick's political shop.

— Patrick Svitek (@PatrickSvitek) February 19, 2016
12:00 – Local newspaper shilling pretty hard for Rubio.
Harbinger? The @postandcourier front page has sure been good for @marcorubio #FITS #SCPrimary pic.twitter.com/bw7N8eaTku

— Manuel Roig-Franzia (@RoigFranzia) February 19, 2016
11:54 – Video of chairs getting packed up at Rubio's canceled event.
https://twitter.com/Lisa_Gresci/status/700724598707507200/video/1
11:49 – Hillary Clinton gets MORGAN FREEMAN to narrate her latest campaign ad:
11:42 – Via AP, Ted Cruz is becoming his enemy to defeat his enemy:
Ted Cruz is channeling his inner Donald Trump as he looks for votes ahead of Saturday's South Carolina's presidential primary.

The Texas senator told several hundred supporters Friday in Myrtle Beach that in a Cruz administration, there would "be winning so much, we'll get tired of winning."

He didn't specifically name his rival, but the reference was clear as it's a phrase repeatedly used by the billionaire businessman.

Cruz also took a shot at Trump's campaign motto, featured on hats, T-shirts and bumper stickers. The senator said "it's easy to say, 'Let's Make America Great Again.'" But, he asked, "Do you understand what made America great in the first place?"
11:38 – Rep. Jim Clyburn endorses Hillary Clinton.
JUST IN: South Carolina Rep. Jim Clyburn endorses Hillary Clinton | https://t.co/YbdFYRPB44 #scnews #sctweets pic.twitter.com/XTWuMV8kG7

— News 19 WLTX (@WLTX) February 19, 2016
.@Clyburn explained his head vs. heart comment: "My heart has always been with Hillary Clinton. But my head had me in a neutral corner."

— Liz Kreutz (@ABCLiz) February 19, 2016
11:36 – Plane trouble, it seems. Cruz campaign already snarking.
Marco Rubio is apparently having plane trouble. His event in Pawleys Island has been canceled and disappointed supporters now leaving.

— Matt Viser (@mviser) February 19, 2016
.@chuckschumer Help us out. Have you seen @marcorubio?

— Rick Tyler (@rickwtyler) February 19, 2016
11:32 – Reports claim Rubio has canceled a campaign event. Not a good look after skipping the Conservative Review town hall last night–and not sending surrogates.
Marco Rubio event is cancelled ! Due to engine trouble. pic.twitter.com/ReSFJpwbvb

— Lisa Gresci (@Lisa_Gresci) February 19, 2016
11:25 – A Chicago court will hear oral arguments today on Ted Cruz's eligibility for the Illinois ballot.
11:22 – The Washington Post drills down on another lede from Rubio's CNN interview yesterday. NOW he says he will undo Obama's executive amnesty "on my first day in office."
10:24 – Pope backs away from Trump comments, "wasn't a personal attack."
A spokesperson for Pope Francis clarified the pontiff's criticism of Donald Trump's plan to build a border wall, saying that the remark wasn't "a personal attack."

On Thursday, the pope told reporters on his plane that building walls "is not Christian."

But the pontiff's spokesperson said it's a comment he's made before, adding that the pope wants to avoid weighing in on American politics
—
10:13 am – Daily News back to pathetic trolling.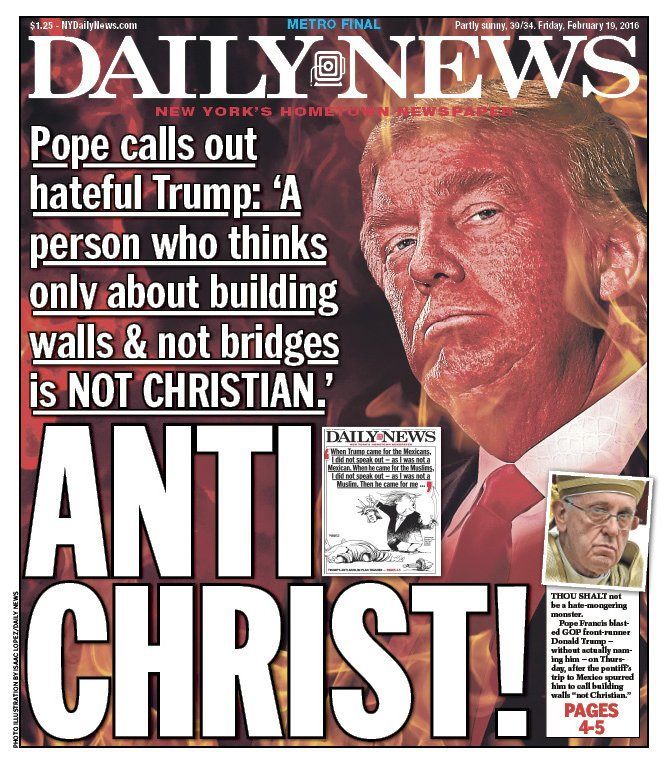 8:55 am – 72% of Dems believe Bernie Sanders can win the general election.
The more Democrats learn about Bernie Sanders, the more they appear to like him.

A greater percentage of Democratic registered voters view the Vermont senator as likable, honest, competent and compassionate than they did just two months ago, according to a new Associated Press-GfK poll. Seventy-two percent now believe he could win the general election, a 21 percentage point increase from the last time the survey was conducted in December.
8:43 am – Former Politico hack Alex Burns writes anti-Trump, front page, NY Times hit-piece:
Republicans in South Carolina have in recent years raced ahead of the national party in presenting an inclusive face to voters: Since 2010, the state has elected an Indian-American governor and the country's only black Republican senator, and its Republican-controlled Legislature voted last summer to remove the Confederate battle flag from the grounds of the Capitol.

So, for party leaders and mainstream voters here, it may come as a kind of deflating climax if — as is widely expected — Donald J. Trump easily wins the state's presidential primary on Saturday.
8:22 am – Politico writes Jeb Bush's obituary. Seems a bit premature considering the volatility of the polls in SC. A weak showing in SC could, however, doom him.
—
8:11 am – Trump on ObamaCare: "I like the mandate."
—

—
8:04 am – Cruz's closing ad against Rubio in South Carolina is one of the best of the season. Voting begins tomorrow.
—

—
7:47 am – Although they tied in Iowa and Bernie stomped her by 20 points in NH, the rigged Super Delegates in the Democrat Party have almost already made it mathematically impossible for anyone but Hillary Clinton to win the nomination:
So much for Bernie Sanders' big win in New Hampshire.

Since then, Hillary Clinton has picked up endorsements from 87 more superdelegates to the Democratic National Convention, dwarfing Sanders' gain from the New Hampshire primary, according to a new Associated Press survey. Sanders has added just 11 superdelegate endorsements.

If these party insiders continue to back Clinton overwhelmingly — and they can change their minds — Sanders would have to win the remaining primaries by a landslide just to catch up. He would have to roll up big margins because every Democratic contest awards delegates in proportion to the vote, so even the loser can get some.
  —
7:35 am – The NBC News/WSJ has a rare spot of good news for Hillary Clinton. She is +28 points ahead of Bernie Sanders. Voting in SC for Democrats does not begin until NEXT week Saturday.
—
7:27 am – NBC News/WSJ poll shows a tightening race in SC. Trump up only +5. Trump 28%, Cruz 23%, Rubio 15%, Bush 13%, Kasich 9%, Carson 9%.
In light of the bizarre NBC/WSJ outlier poll that showed Trump losing his national lead to Cruz, some people might look skeptically at this SC poll. The RCP average shows Trump's lead dropping 5 points over the last few days but he is still maintaining a 14 point lead. Obviously, the only post-Pope poll will be the voting tomorrow. There is little doubt, though, that the race appears to be tightening.