Welcome to Breitbart News's daily live updates of the 2016 horse race. 
—
1.35: Ben Carson says he's being offered money to quit the 2016 race.
.@RealBenCarson: I've Been Offered Money, Political Support to Drop Out @MariaBartiromo https://t.co/sToE3PIt2e pic.twitter.com/oYZDi7g582

— FoxNewsInsider (@FoxNewsInsider) February 28, 2016
1.30:  Sen. Marco Rubio fends off protestors at his rally who call him an "empty suit."
"Marco Rubio empty suit" protesters stand up in his rally. "My suit wasn't made in China!" he says. Crowd erupts.

— Sabrina Siddiqui (@SabrinaSiddiqui) February 28, 2016
2:20: Gov. John Kasich gets an endorsement from the Detroit Free Press.
Another big endorsement. This one from the Detroit @freep.

"…one reasonable choice…"https://t.co/JEJtGDKKQh pic.twitter.com/VYPa4upaVK

— John Kasich (@JohnKasich) February 28, 2016
11.55: Sen. Rubio gets an endorsement from the CEO of Hobby Lobby.
Hobby Lobby CEO David Green endorses Rubio because he "regularly exhibits humility and gives the glory to God."

— Anna Palmer (@apalmerdc) February 28, 2016
11:40: Planned Parenthood touting its support for Hillary Clinton.
Planned Parenthood brags about how much money they will spend on Hillary Clinton https://t.co/Ev6VPn8Tc9 #prolife pic.twitter.com/qCARTcrvaj

— Right to Life (@nrlc) February 28, 2016
11:00 A.M: Donald Trump, up early and tweeting.
Lightweight Senator Marco Rubio is polling very poorly in Florida. The people can't stand him for missing so many votes – poor work ethic!

— Donald J. Trump (@realDonaldTrump) February 28, 2016
Little Marco Rubio, the lightweight no show Senator from Florida is just another Washington politician. pic.twitter.com/NsLrHrqjdx

— Donald J. Trump (@realDonaldTrump) February 28, 2016
Mitt Romney didn't show his tax return until SEPTEMBER 21, 2012, and then only after being humiliated by Harry R! A bad messenger for estab!

— Donald J. Trump (@realDonaldTrump) February 28, 2016
Mitt Romney didn't show his tax return until SEPTEMBER 21, 2012, and then only after being humiliated by Harry R! A bad messenger for estab!

— Donald J. Trump (@realDonaldTrump) February 28, 2016
As I stated at the press conference on Friday regarding David Duke- I disavow. pic.twitter.com/OIXFKPUlz2

— Donald J. Trump (@realDonaldTrump) February 28, 2016
10:30: A Mexican-American voter in Texas tells MSNBC that she is for a border wall and will be voting for Trump on Tuesday. How did this narrative-busting voter get airtime on MSNBC?
10:00: New York Times: Messrs. Rubio, Schumer convinced Fox News to give pro-amnesty Gang of Eight Senators "breathing room" on comprehensive amnesty bill:
A few weeks after Senator Marco Rubio joined a bipartisan push for an immigration overhaul in 2013, he arrived alongside Senator Chuck Schumer at the executive dining room of News Corporation's Manhattan headquarters for dinner.

Their mission was to persuade Rupert Murdoch, the owner of the media empire, and Roger Ailes, the chairman and chief executive of its Fox News division, to keep the network's on-air personalities from savaging the legislation and give it a fighting chance at survival.

Mr. Murdoch, an advocate of immigration reform, and Mr. Ailes, his top lieutenant and the most powerful man in conservative television, agreed at the Jan. 17, 2013, meeting to give the senators some breathing room.

But the media executives, highly attuned to the intensifying anger in the Republican grass roots, warned that the senators also needed to make their case to Rush Limbaugh, the king of conservative talk radio, who held enormous sway with the party's largely anti-immigrant base.

[…]

The dinner at News Corporation headquarters — which has not been previously reported — and the subsequent outreach to Mr. Limbaugh illustrate the degree to which Mr. Rubio served as the chief envoy to the conservative media for the group supporting the legislation. The bill would have provided a pathway to American citizenship for 11 million illegal immigrants along with measures to secure the borders and ensure that foreigners left the United States upon the expiration of their visas.

It is a history that Mr. Rubio is not eager to highlight as he takes on Donald J. Trump, his rival for the Republican presidential nomination, who has made his vow to crack down on illegal immigration a centerpiece of his campaign.
Flashback: Rush: 'Quite Telling' Fox Didn't Want Me to Criticize Immigration Reform
9:55: Huckabee: Trump scaring "daylights" out of insiders
On @FoxNews @GovMikeHuckabee says @realDonaldTrump is "running away with the nomination and it scares the daylights out of the insiders."

— Sarah Sanders (@SarahHuckabee) February 28, 2016
9:47: Sanders says his campaign is "listening to women" and pivots to pay equity. He rails against old-fashion "sexism" that women still face. He also says "this campaign is listening to the African-American community. They are asking how does it happen in this country… that we have more people in jail than in any other country on earth." He rails against institutional racism. He says his campaign is also listening to our "brothers and sisters in the Latino community" who are tired of being exploited, living in the shadows, and seeing their friends and family get deported.
9:42: Sanders says his campaign is doing well because "we are listening to the pain and the needs of ordinary people and  not to the needs of billionaire campaign contributors."
9:35: In Minnesota, Sanders says the campaign is about "transforming America" and "thinking big." He says that in the last 30 years, there has been a massive redistribution of wealth in the wrong direction. Sanders accuses Republican lawmakers of making it harder for people to vote to "get out of politics and get another job" if they fear free and fair elections.
This was the large line #WaitingForSanders as the motorcade pulled into the venue in Rochester, Minnesota. pic.twitter.com/om5rruP5cJ

— Danny Freeman (@DannyEFreeman) February 28, 2016
9:30: Enthusiasm gap. Four states in a row:
#SCPrimary turnout

2008 Dem: 532,468
2016 Dem: 359,066 (98.2% reporting)

2008 Rep: 445,677
2016 Rep: 737,924

— Paul Fairie (@paulisci) February 28, 2016
9:16: Minnesota: Star Tribune paper endorses Clinton
9:12: On CNN, Van Jones, again revealing some inconvenient truths in these post-election panels, says Trump is like Teflon while Clinton seems like velcro because so many charges just stick to her.
9:08: Cruz also releases "tax returns."
Romney said "voters have a right to see tax returns." Wondering if he thinks two-pagers Rubio and Cruz released is enough. He did much more.

— Matt Viser (@mviser) February 28, 2016
Cruz's campaign points out that "it's possible Trump has been a significant donor to left-wing organizations, such as Planned Parenthood, which would seriously undermine his claim to be pro-life. He has repeatedly said that he thinks Planned Parenthood 'does wonderful things.' Moreover, for decades, Trump donated to the most liberal members of the Democratic Party, so it is reasonable to question whether he has given to some of the most radical left-wing organizations as well."
"It's time for Trump to come clean and release his tax returns," Cruz said. "If he's not been completely honest or has supported the most radical left-wing groups in America, voters deserve to know."
8:56: SC delegate count:
Current allocation of SC delegates, per @robyoon:
Clinton – 36
Sanders – 11
TBD – 6

— Dan Merica (@merica) February 28, 2016
8:50: Left-wing reporters and pundits on CNN/MSNBC are praising Clinton for motivating "angry" black voters who were outraged by police shootings/killings/brutality. They make "anger" seem constructive/good re: Hillary and something destructive when speaking about Trump supporters who are "angry" at Washington.
Flashback: Anger gets people to the polls:
A 2011 University of Michigan study found that anger actually motivates people to vote.

"Anger in politics can play a particularly vital role, motivating some people to participate in ways they might ordinarily not," Nicholas Valentino, the study's lead author and a professor of communication studies and political science, said. "We normally think people with a lot of resources and political skills are the ones who participate, but many citizens in this category regularly abstain from politics. Furthermore, many citizens with few resources can be mobilized if they experience strong anger."

Valentino added that "anger leads citizens to harness existing skills and resources in a given election. Therefore, the process by which emotions are produced in each campaign can powerfully alter electoral outcomes."
8:43: That's why they do it.
Some of the most popular GOP pundits on TV/in print are those that bash the GOP. Guaranteed a return engagement!

— Kellyanne Conway (@KellyannePolls) February 28, 2016
8:41: Poor O'Malley:
Willie Wilson beating O'Malley for third. This is the same Willie Wilson that got 10% in the Chicago mayoral race. pic.twitter.com/l5oJ46GTHk

— (((David Shor))) (@davidshor) February 28, 2016
8:35: On MSNBC, Chuck Todd and Andrea Mitchell reveal that Clinton aides worry about potentially running against Trump because Trump doesn't play by the traditional political rules. Mitchell says a Trump candidacy could be a "big problem" for Clinton.
[Tony Lee: What the GOP political pundits (and their equivalents on the left) who want to attack the Democrats's "War on Women" campaign with "binders full of women" and powerpoint presentations do not understand is Hillary Clinton is that kid in high school who just memorizes all of the answers to the test. But she short-circuits if there is a pop quiz or anything on the test that she has not prepared for in advance. She won't be able to gameplan for Trump like she can for predictable candidates like Rubio and Cruz because, frankly, Trump is so unconventional. That type of candidate is the worst nightmare for robotic candidates like Clinton.]
8:03: Clinton says we need more "love and kindness" in America.
8:01: Begala cheers on Clinton. But he seemed a bit nervous when crediting Trump earlier in the evening. Begala said the GOP had one of the most talented presidential fields in history and Trump steamrolled them to date. Begala said Trump has to be given credit for that.
7:59: Even bigger Clinton victory in South Carolina:
Updated SC exits w/final interviews give Clinton even BIGGER lead among AfAm vote (87-13) and she now LEADS among white Dems (53-47). Wow

— Chuck Todd (@chucktodd) February 28, 2016
7:55: Slamming Sanders, Clinton says America is more than a single-issue country. Middle-class Americans need a raise. The country needs better jobs. Clinton says don't let anyone tell  you you can't  make things in America. I know we can and I know we will. Clinton also rails against "systemic racism" that still "plays a significant role in determining who gets ahead in America and who gets left behind." She talks about criminal justice reform and immigration reform. "Opportunity, dignity, and justice" for everyone she says. She also thanks five mothers whose sons were killed by police/gun violence–including Trayvon Martin's–who campaigned for her across South Carolina.
7:52: Clinton says corporations/Wall Street will "pay a price" if they turn their backs on America.
7:51: Clinton also says this victory for the entrepreneur who told her more dreams die in the parking lots of banks than anywhere else. Clinton says that's especially true for women and people of color.
7:49: Clinton claims "grassroots donors are powering this campaign."
7:46: Hillary: Tomorrow, this campaign goes national.
In South Carolina, Hillary says she is so gratefully appreciative of South Carolinas. She says "if we stand together, there is no barrier too big to break." Clinton congratulates Sen. Sanders on running a great race and "tomorrow, this campaign goes national." She says she is not taking anything and anyone for granted. She thanks Clyburn and the 850,00 people who have contributed to her campaign.
7:42: Rep. Clyburn on the stage at Clinton's victory party getting ready to introduce Clinton. His endorsement–and political machine–helped Clinton big time to say the least.
7:30: Clinton dominates with black voters over 65:
SC exit:
Black voters under 30: 56-43% Clinton
Black voters over: 96-3% Clinton

— Steve Kornacki (@SteveKornacki) February 28, 2016
7:25: Priebus highlights Democrats's low enthusiasm/terrible candidates.
Dem voters forced to make an impossible choice between 1 candidate facing FBI investigation & another that's a self-proclaimed socialist

— Reince Priebus (@Reince) February 28, 2016
Momentum & enthusiasm is clearly w/ GOP. GOP contests have record turnout while Dems lag behind & fallen far short from turnout 8 yrs ago

— Reince Priebus (@Reince) February 28, 2016
7:18: Tough map for Sanders going forward:
If Sanders is going to lose black vtrs like Clinton '08, he'll need to do as well among white/Hispanic voters as Clinton '08–to get a tie.

— Nate Cohn (@Nate_Cohn) February 28, 2016
Results in #SCPrimary show hill 4 @BernieSanders: In total 08 exits @HillaryClinton was +16 whites, +26 Latino; O won 82% of AA & beat her.

— Ronald Brownstein (@RonBrownstein) February 28, 2016
7:15: Hillary thanks South Carolina Dems:
To South Carolina, to the volunteers at the heart of our campaign, to the supporters who power it: thank you. -H pic.twitter.com/JFTUZ2yBxf

— Hillary Clinton (@HillaryClinton) February 28, 2016
7:13: Sanders concedes South Carolina.
In his concession statement, Sanders says he is proud of the campaign he ran and his grassroots supporters.
Let me be clear on one thing tonight. This campaign is just beginning. We won a decisive victory in New Hampshire. She won a decisive victory in South Carolina. Now it's on to Super Tuesday," Sanders said in his concession statement. "In just three days, Democrats in 11 states will pick 10 times more pledged delegates on one day than were selected in the four early states so far in this campaign. Our grassroots political revolution is growing state by state, and we won't stop now."
7:08: Hillary overwhelmingly winning black voters in South Carolina. Sanders wins Whites 58-42.
Exit polls: among white voters, 47% say Clinton not honest/trustworthy. They go for Sanders 9 to 1. How does this play on #SuperTuesday?

— Jo Ling Kent (@jolingkent) February 28, 2016
Right now Clinton winning black #SCPrimary voters 84 – 15% over sanders according to CBS exit polling

— The Root (@TheRoot) February 28, 2016
7:00: No surprise. Networks project Hillary Clinton win South Carolina's Dem. Primary.
6:55: Trump keeps hammering Rubio about his credit card scandal. He says he is self-funding his campaign and is not beholden lobbyists.
6:53: Rubio campaign backdrop tonight:
That's a rocket ship! And also Rubio speaking about the press cheering on Trump pic.twitter.com/gd2NzSedhn

— Alexandra Jaffe (@ajjaffe) February 27, 2016
6:50: Rubio releases "tax returns."
Rubio camp admits to @gabegutierrez that it didn't release everything in today's tax rollout pic.twitter.com/1jOX5ULcxf

— Mark Murray (@mmurraypolitics) February 27, 2016
6:45: SC Dems believe race relations have gotten worse under Obama:
Nearly 1/2 white and black Dem #SCprimary voters say race relations in US have gotten worse https://t.co/Oyp5pcmbgL pic.twitter.com/8RMi8CIOHF

— CBS News Politics (@CBSPolitics) February 27, 2016
6:39: Yahoo report: Sanders staffers told Charleston NAACP President that he should support Sanders because "Sanders is for Welfare." Typical liberals engaging in stereotypes:
Dot Scott, the president of the NAACP's Charleston branch, was similarly critical of Sanders' team. Scott, who admitted being family friends with Clinton's South Carolina state director, said she only had one contact with the Sanders campaign, and it went "sour."

Like many South Carolinians, Scott has received calls at home from phone bankers. She said one of these entreaties from the Sanders campaign led her to go off on a 10-minute tirade and demand an apology.

"One of my experiences that I think I won't forget for a long time is a call that I got from the Sanders campaign. This person that called asked me was I voting for Sen. Sanders. I said no. I was voting for Secretary Clinton. The phone went silent for a little bit," Scott recounted. "You could hear this person struggling to come up with what they're going to say next. … They call that a real pregnant pause, nine months' worth of pregnant pause. And he finally came back and he says to me, 'You know, Senator Sanders is for welfare.'"

This did not provoke a positive reaction from Scott.

"I lost it. So you're going to assume either from my voice or from my selection that the most important thing that Senator Sanders is going to be working on that would interest me is more welfare?" Scott said. "I went on to read him the riot act. Listen, I'm not only a college graduate; I've got a masters. My daughter is a college graduate. I have never had one ounce of welfare before. I ain't never lived in public housing. None of those things."

According to Scott, the Sanders supporter who called her "didn't know what to say."

"By the time he hung up, it was t10n minutes later," she said. "I got one of the managers to call me back and apologize."
6:35: Sanders far away from South Carolina:
We're awaiting #SCPrimary results in Minnesota, where @BernieSanders arrives tonight. Our @CNN coverage starts now. pic.twitter.com/uVeJDrfU9T

— Jeff Zeleny (@jeffzeleny) February 27, 2016
6:30: New York AG accuses Trump of "racial demagoguery":
See my statement on today's comments on our suit against Donald Trump: pic.twitter.com/88UAomZlHk

— NY AG Underwood (@NewYorkStateAG) February 27, 2016
6:02: Trump up in Massachusetts:
Suffolk University Mass. poll of likely Republican voters shows Trump (43) over Rubio (20), Kasich (17), Cruz (9) and Carson (4) with 7 und.

— David Paleologos (@davidpaleologos) February 27, 2016
5:58: Jack Welch with lots of praise for Cruz:
.@jack_welch: truth and trust go with Ted Cruz.

Join the #CruzCrew: https://t.co/XKeU2HUmCYhttps://t.co/kSodO0BvQv

— Ted Cruz (@tedcruz) February 27, 2016
5:55: Rubio releases "tax returns."
Marco Rubio just released his 1040s but not his full tax returns.

— Steven Dennis (@StevenTDennis) February 27, 2016
5:52: CNN's Acosta makes a good point here. It would be better for Trump to point out that he is criticizing national/Beltway reporters. Voters like their local reporters.
A lot of the reporters at Trump event are local reporters just doing their jobs.

— Jim Acosta (@Acosta) February 27, 2016
5:50: Big crowd for Trump in Tennessee:
Crowd in Millington, TN waiting for Trump to fly in pic.twitter.com/RLhCeo8jX4

— John Santucci (@JTSantucci) February 27, 2016
5:40: Exit Polls: SC Dems Trust Clinton on Race Relations:
More than eight in 10 trust Clinton to handle race relations, while fewer, more than six in 10, trust Sanders on the issues. Among blacks, trust for Clinton to handle race relations peaks at nine in 10, and trust in Sanders falls to half. It's a concern: nearly half say race relations have gotten worse in the last few years, and eight in 10 say it was an important factor in their vote today.
5:36: SC Dems want to continue Obama's policies:
Seven in 10 voters in #SCprimary preliminary exit polls want the next president to continue Obama's policies vs. going more liberal.

— Ryan Struyk (@ryanstruyk) February 27, 2016
5:35: Advantage Clinton:
Dang. Preliminary exit polls show six in 10 voters are black and six in 10 voters are women in Democratic #SCprimary.

— Ryan Struyk (@ryanstruyk) February 27, 2016
5:30: South Carolina exit polls: SC Dems Think Clinton More Honest than Sanders:
Clinton isn't having as many problems on the honesty front as she's seen elsewhere. More South Carolina voters think Clinton is honest than say so about Sanders – more than seven in 10 in her case vs. more than six in 10 in his. In New Hampshire, by contrast, twice as many saw Sanders as trustworthy than said so about Clinton.
5:10: DREAMer asks Rubio question about path to citizenship.
Rubio says her story & others like it are "heartbreaking" but "still can't trump the constitution of United States."

— Alexandra Jaffe (@ajjaffe) February 27, 2016
Rubio's asked by DREAMer "do I have a pathway 2 citizenship" & how it looks. He emphasizes need 4 border security but doesn't give specifics

— Alexandra Jaffe (@ajjaffe) February 27, 2016
Rubio's asked by DREAMer "do I have a pathway 2 citizenship" & how it looks. He emphasizes need 4 border security but doesn't give specifics

— Alexandra Jaffe (@ajjaffe) February 27, 2016
5:09: Ditka for Trump:
https://twitter.com/BretBaier/status/703702893908647937
5:05: Trump v. Clinton:
Attention South Florida reporters: Trump will be in Palm Beach & Clinton will be in Miami on Super Tuesday night

— Jamie Dupree (@jamiedupree) February 27, 2016
4:59: Press now allowed to film Hillary de-planing:
Upon landing in Columbia, SC, press was allowed to shoot Hillary Clinton de-planing.

— Dan Merica (@merica) February 27, 2016
4:55: Rubio insists mainstream media members are pulling for Trump:
Rubio going back to his riff that the media is rooting for Trump to win. Sidebar: pic.twitter.com/u5R2Ta4gTm

— Dave Weigel (@daveweigel) February 27, 2016
4:50: Trump stares down protester in 'KKK' shirt at rally.
4:43: Sanders's wife takes a spill after husband's rally.
4:40: Cruz Super PAC Hammers Clinton and Trump:
4:35: Rubio also accuses the mainstream press that have called Trump a "bigot" of "cheering" for Trump to win the GOP nomination:
Rubio is giving the softer sell here @ Yellowhammer forum on his anti-Trump message—no mocking appearance, spelling, clothes

— Alexandra Jaffe (@ajjaffe) February 27, 2016
4:34: Rubio continues to make the argument that he can across the board support…. but it's Trump that' s winning all demographic groups, including Hispanics, and doing what the elites said Rubio would do in the primary.
4:22: Trump attacks Rubio again on Twitter:
Just watched lightweight Marco Rubio lying to a small crowd about my past record. He is not as smart as Cruz, and may be an even bigger liar

— Donald J. Trump (@realDonaldTrump) February 27, 2016
4:20: Rubio Speaking at Yellowhammer News event. Continues to call Trump a con man:
.@marcorubio speaking at the @yhn forum #secprimary #Election2016 pic.twitter.com/XL3f9zvrIZ

— Samford University (@SamfordU) February 27, 2016
4:11: Kasich: I'm Going Home if I Don't Win Ohio:
"Some of the other candidates, if they can't win their home state, they got to get out, O.K.?" Kasich told the New York Times. "If I don't win my home state, I'll get out. But you know what? I'm going to win Ohio."
4:05: Atlanta Journal Constitution: The question for Marco Rubio: 'Where are you going to win?'
Saturday's reporter scrum with Marco Rubio occurred in the football locker room of the Mount Paran Christian School Eagles, who went 10-2 last year. A great winning season.

Much of the Florida senator's remarks were intended to get under the skin of Republican presidential rival Donald Trump. The phrase "con artist" littered Rubio's locker room session.

But two representatives of the Washington Post double-teamed the senator on a more uncomfortable topic – like the fact that, unlike the Eagles, Rubio hasn't posted a win yet this season, and isn't likely to on Tuesday:

First reporter: How to you make a claim to the nomination if you go zero for 15?

Rubio: Again, we're in the proportional part of the process. So as long as we're picking up delegates – here's the bottom line you need to begin to focus in on. It takes 1,237 delegates to be the nominee of the Republican party. Donald Trump will never have 1,237 delegates. It will not happen. And I will be in this race as long and as hard as I need to be….
4:02: Castro stumping (auditioning) for Clinton in Colorado:
Julian Castro speaking at one of Clinton's Denver offices. Possible VP pick? #copolitics pic.twitter.com/k42K5DuSFS

— Joe St. George (@JoeStGeorge) February 27, 2016
4:00: No Enthusiasm for Dem. Candidates: Reporters noticing low turnout in South Carolina. CNN's Joe Johns is the latest. Anecdotally, he .
3:55: Breitbart's Spiering has the answer:
#NeverAgain https://t.co/zyzKTBE1qR pic.twitter.com/i9OWqvwySA

— Charlie Spiering (@charliespiering) February 27, 2016
Press wanted to watch Clinton board her plane. But they told us she would not be getting out of her car until we got on our separate plane.

— Jennifer Epstein (@jeneps) February 27, 2016
Clinton staff won't allow press to film HRC boarding her charter. We must get on our plan before she gets out of car pic.twitter.com/Rm1Sioin7k

— Liz Kreutz (@ABCLiz) February 27, 2016
3:50: Charlie Sheen rips Trump:
https://twitter.com/charliesheen/status/703579279934685185
3:45: Cruz in Georgia:
Perry, Georgia welcomes @tedcruz !! pic.twitter.com/wcjVf21q2S

— Catherine Frazier (@catblackfrazier) February 27, 2016
3:25: CNN:  Trump: 'Rubio stole from the Republican Party'
Bentonville, Arkansas (CNN) Donald Trump on Saturday accused Florida Sen. Marco Rubio of stealing from the Florida Republican Party and suggested Rubio should have been "indicted" for using a state party American Express card for personal expenses.

"Rubio stole from the Republican Party," Trump said of Rubio, with whom he has recently engaged in a public war of words.

Rubio used a corporate American Express card that the Florida state GOP entrusted to him during his time as a Florida state lawmaker for tens of thousands of dollars in personal expenses, which he later reimbursed.

In November, Rubio released nearly two years of statements for the card, hoping to put to rest any lingering questions of impropriety.

Trump suggested on Saturday that Rubio only reimbursed the funds after he was caught.

"For some reason, he didn't get indicted. Why didn't he get indicted?" Trump asked.
3:10: The real reason why GOP elites may hate Trump and love Rubio:
Opposition to the Trump Wall drives much of the GOP elite's anti-Trump effort. The "temperament" & "electability" issues are a smokescreen.

— Jon Feere (@JonFeere) February 27, 2016
3:05: Cruz also trying to get into Trump's head and throw him off message/his game:
Cruz going HARD after Donald Trump on tax returns:

"Maybe it is that Donald's not as rich as he is."

— Teddy Schleifer (@teddyschleifer) February 27, 2016
3:03: Aaron Carter endorses Trump:
https://twitter.com/aaroncarter/status/703644247862317056?ref_src=twsrc%5Etfw
3:00: Cruz gets big endorsement in Alabama:
Roy Moore's wife has endorsed Ted Cruz in the presidential race: https://t.co/JKdkuvrnh5 #election2016 #alpolitics pic.twitter.com/G0OPap3FOY

— AL.com (@aldotcom) February 27, 2016
2:55: Kingston ripping Trump for "birther" attacks:
Jack Kingston says that Trump's attacks on Cruz citizenship were also an insult to military men and women who have their children overseas.

— Teddy Schleifer (@teddyschleifer) February 27, 2016
Georgia Rep. Jack Kingston, introducing Cruz, says that Trump "has the nerve to" insult foreign-born U.S. citizens with his Birther charges.

— Teddy Schleifer (@teddyschleifer) February 27, 2016
2:49: Why people hate politics. As Rubio attacks Trump University…Bloomberg reported last year:
Last summer, Senator Marco Rubio of Florida asked the U.S. Department of Education to "demonstrate leniency" toward Corinthian Colleges by permitting the wealthy for-profit company to continue accessing millions of dollars in federal financial aid while it was cooperating with a federal investigation.

Ten months later, the company shuttered its remaining 28 campuses, instantly displacing some 16,000 students just days after it was fined $30 million by the Department of Education for a scheme involving "confirmed cases of misrepresentation of job placement rates" for as many as 947 students. The decision to close shop came after years of federal and state investigations into the company.

The top-tier Republican presidential candidate had made his plea in a letter—obtained by Bloomberg Politics—dated June 20, 2014 and addressed to Jim Shelton, the deputy secretary of education, and Ted Mitchell, the undersecretary for post-secondary education.

"It has been brought to my attention that the U.S. Department of Education has recently placed extreme financial constraints on Corinthian Colleges, Inc. by restricting the company's timely access to federal financial aid. It is my understanding the the Department of Education has requested extensive documents be provided by Corinthian Colleges for review, and Corinthian has acted in good faith to try to provide these documents as expeditiously as possible," Rubio wrote. "While I commend the Department's desire to protect our nation's students from fraudulent and malicious activity by any institution of higher education, regardless of tax status, I believe the Department can and should demonstrate leniency as long as Corinthian Colleges, Inc. continues to expeditiously and earnestly cooperate by providing the documents requested."
2:42: Big Rubio crowd in Georgia:
4000+ supporters in Kennesaw to see Marco Rubio @FOX5Atlanta pic.twitter.com/Q3AdctPpoi

— Trevor Shirley (@Trevor_Reports) February 27, 2016
4,500 to 5k would be a good crowd estimate for the Marco Rubio event in Cobb. Headmaster said grandstand holds 3k. https://t.co/td2pMd79T6

— Jim Galloway (@politicalinsidr) February 27, 2016
2:40: Texans have said she is one of Cruz's best surrogates
.@heidiscruz works the crowd after stumping for @tedcruz here at The Woodlands Bible Church. pic.twitter.com/AXItNYlHur

— Patrick Svitek (@PatrickSvitek) February 27, 2016
Heidi Cruz: "Ted will go the distance, regardless of Super Tuesday."

— Patrick Svitek (@PatrickSvitek) February 27, 2016
2:35: Too little, too late?
Rubio increasingly sounding like the guy sent to clear the way for the other guy. Who's the other guy?

— Binyamin Appelbaum (@BCAppelbaum) February 27, 2016
2:32: Jean-Marie Le Pen for Trump:
Jean-Marie Le Pen endorses Donald Trump. And this is the man who won't even endorse Marine Le Pen. https://t.co/9Xg5DSnVMr

— Tim Stanley (@timothy_stanley) February 27, 2016
2:28: Importance of black voters for Clinton underscored:
71% of early voters for today's South Carolina's Democratic primary have been black. https://t.co/9ILzy1Uoxi pic.twitter.com/KggyGoC6DM

— Keith Boykin (@keithboykin) February 27, 2016
2:27: Hutchinson says it's up to Arkansas to stop the Trump show:
"It is up to Arkansas to stop the Donald Trump show." – @AsaHutchinson #arpx #ARNews pic.twitter.com/72YKWsDBsk

— KARK 4 News (@KARK4News) February 27, 2016
2:25: Kasich optimistic:
Kasich in Nashville: "I will beat Donald Trump in Ohio, and that'll be the beginning of a new day."

— Ben Gittleson (@bgittleson) February 27, 2016
2:22: Interesting point by Chuck Todd:
Chances that every elected GOPer mentioned in this piece does at least one rally with a nominee Trump? >75% https://t.co/MZkEdYBAxC

— Chuck Todd (@chucktodd) February 27, 2016
2:19: Sanders says he will win the general election because "love trumps hate":
"Love trumps Hate!" concludes @BernieSanders in TX after detailing why he will defeat Donald Trump as the nominee. pic.twitter.com/QKQty2mrGz

— Danny Freeman (@DannyEFreeman) February 27, 2016
2:17: Trump needs to stop winging it:
Trump calls for Cruz to be disqualified in Iowa and for Rubio to be indicted on a house deal. Then says "I'm so non-litigious it's amazing."

— Benjamin Ramm (@BenjaminRamm) February 27, 2016
2:15: Hugh Hewitt realizes the importance of the Supreme Court, says he will vote for Trump if he is the nominee:
The anti-@realDonaldTrump hysterics r over the top. If he is nominee GOP will support. SCOTUS in balance.

— Hugh Hewitt (@hughhewitt) February 27, 2016
Yes. He specifically named Judges Pryor and Sykes and he answered yes to my "religious liberty litmus test" Q https://t.co/fSR3HgM93s

— Hugh Hewitt (@hughhewitt) February 27, 2016
2:07: Interesting, former Obama campaign manager David Plouffe publicly concedes that Trump could "narrowly" win a general election:
https://twitter.com/davidplouffe/status/703641133738364929
2:05: Every now and then, Fournier gets something right. He blasts smug consultants for again looking down on voters:
Nothing says "out of touch" and "smug" louder than political consultants and journalists blaming Americans. https://t.co/bwc0JFd4qy

— Ron Fournier (@ron_fournier) February 27, 2016
2:02: Sanders, Trump both getting big reactions when talking about fairer trade deals:
One similarity about @BernieSanders and @realDonaldTrump: Both talk a lot about trade policies — and, surprisingly, get a big response

— Brian M. Rosenthal (@brianmrosenthal) February 27, 2016
2:01: Trump says America will have great trade deals because we have deals that are "so bad."
2:00: Trump says Rubio "stole" from the Republican Party. He asks why Rubio has not gotten indicted from "stealing" from the Republican Party by charging personal expenses on his credit card.
1:59: Trump says he may shop permanently at Walmart if he wins Arkansas.
1:57: Trump making same mistake Rubio did yesterday by repeating/broadcasting Rubio's "con man" attack and denying that he is a con man. "I am not a con man," he says. Trump says former Trump University students are suing him because of a "sleaze bag" law firm. Rubio said that many former Trump University students have called his office in recent days and Americans will be hearing from them soon.
.@realDonaldTrump on Trump U case: "I probably should settle it but I just can't do it. I'd rather spend a lot more money and fight."

— Jeremy Diamond (@JDiamond1) February 27, 2016
Trump responds to Rubio's "con artist" attack: "The last thing I am is a con man folks. I built a great business."

— Jeremy Diamond (@JDiamond1) February 27, 2016
1:55: Trump attacks Rubio:
Trump: Rubio has the largest ears I've ever seen. They were protecting him from his sweat on stage.

— Tim Stanley (@timothy_stanley) February 27, 2016
1:53: Trump says he may change libel laws to sue lying politicians like Rubio.
1:50: Trump gets the endorsement of former Arizona Governor Jan Brewer:
Jan Brewer endorses Trump, frets about "our open, bleeding border." pic.twitter.com/BCAMy7wiVV

— Sahil Kapur (@sahilkapur) February 27, 2016
1:45: Rubio fan girl not in the GOP permanent political/pundit class ask Rubio to be her prom date during his rally. She says prom is on March 12 and Rubio quips he may come back to Georgia since that is after Super Tuesday:
Someone asked Rubio to prom #TeamMarco pic.twitter.com/c01SesTGYh

— Cathaholic (@seccathaholic) February 27, 2016
1:40: Rubio says China is stealing our inventions and making Trump's ties. He blasts Trump for claiming he will bring jobs back to America when his shirts and ties are made in China and Mexico. Rubio getting better at using the "freak show" to get his broader message out to a wider audience.
1:35: Rubio calls Trump a "con man" and suggests, like North Korea, America has a "lunatic" trying to get nuclear weapons
Marco Rubio: "We have a lunatic in North Korea w/ nuclear weapons. Some would say we have a lunatic in America trying to do the same thing."

— Jim Galloway (@politicalinsidr) February 27, 2016
In Cobb, Marco Rubio hits Donald Trump as a "con artist." Telegraphs hit on Trump U.. "You're going to be hearing a lot more about this."

— Jim Galloway (@politicalinsidr) February 27, 2016
1:30: Rubio getting more aggressive attacking Trump:
"Donald Trump likes to sue people. He should sue whoever did that to his face," @MarcoRubio says of Trump's spray tan.

— Todd J. Gillman (@toddgillman) February 27, 2016
Marco Rubio is going Donald Trump on Donald Trump. Very ad hominem.

— Jim Galloway (@politicalinsidr) February 27, 2016
11:51 am – As #NeverTrump trends and kitchen sinks fly, a Trump staffer asks….
—
Wouldn't it have been awesome if Reps running scorched earth campaign against @realDonaldTrump would have done the same against Obama in 08?

— Katrina Pierson (@KatrinaPierson) February 26, 2016
—
11:48 am – "Chaos in Cleveland is the only way to stop Trump"
11:37 am – Report: Trump to start fundraising for a general election campaign.
[D]uring a conference call with his donor network, Christie said that "I sense that once we get to a general election campaign, that his posture may become different" with the prospect of "how well-funded Hillary will be on the other side."
11:35 am – Rubio launches Trumpslams.com.
11:22 am – Reuters: In a 3-way race it is Trump 49%, Cruz 26%, Rubio 21%; proving that all this talk about Trump's ceiling and how he will lose once the field consolidates is nothing more than spin, propaganda, and wishful thinking.
Should either Cruz or Rubio drop out, Trump will sail over 50%.
Someone might have a ceiling in that threesome, but it is not Trump.
—
Reuters on three man race: Trump 49, Cruz 26, Rubio 21 with 3 days to go https://t.co/WBCYJlni5B pic.twitter.com/mN6SffIe6N

— HotAir.com (@hotairblog) February 27, 2016
—
10:59 am – Traffic in Arkansas backed up a mile for Trump rally
—
Traffic backed up for nearly a mile for Donald Trump's rally in Bentonville, Arkansas: pic.twitter.com/jCDXyNapCl

— Jenna Johnson (@wpjenna) February 27, 2016
—
10:39 am – Bill Clinton Loses It Over Benghazi Hecklers At Campaign Rally [VIDEO]
10:28 am – Bernie Sanders is winning his home state by +75 points.
Rubio is losing his by -20 points.
10:14 am – Round up of Democrat Super Tuesday polls — RCP average.
Texas – Hillary +26
Georgia – Hillary +37
Massachusetts – Sanders +1
Virginia – Clinton +20
Minnesota – Clinton +26
Colorado – Clinton +28*
Tennessee  – Clinton +23
Alabama – Clinton +28*
Arkansas – Clinton +29
Oklahoma – Clinton +9
Vermont – Sanders +75
*Most recent poll. Not enough polling or recent polling has been done to create an accurate average.
10:03 am – Round up of Republican Super Tuesday polls — RCP average.
Virginia – Trump +15
Texas – Cruz +7
Georgia – Trump +16
Massachusetts – Trump + 27.5
Oklahoma – Trump +7
Alabama – Trump 18
Minnesota – Trump +6
Arkansas – Cruz +4*
Tennessee – Trump +4*
Colorado – Carson +6*
Alaska – Trump +4*
Vermont – Trump +15*
*Most recent poll. Not enough polling or recent polling has been done to create an accurate average.
9:47 am – Hillary hopes to close the deal in SC tonight
The latest poll shows Clinton with a significant lead over Sanders, 58 percent to nearly 32 percent, according to RealClearPolitics.

Saturday's primary is a key step toward Super Tuesday next week, when both parties vote in a dozen states.

CBS News' Nancy Cordes reports the Clinton team sees South Carolina as the state that will finally re-establish her as the indisputable front-runner.
9:35 am – Fascinating NYTs story detailing how Rubio mishandled any chance at winning a Christie endorsement.
Mr. Rubio showed a lack of finesse in dealing with his fallen rivals' injured egos.

Mr. Christie had attacked Mr. Rubio contemptuously in New Hampshire, calling him shallow and scripted, and humiliating him in a debate. Nevertheless, Mr. Rubio made a tentative overture to Mr. Christie after his withdrawal from the presidential race. He left the governor a voice mail message, seeking Mr. Christie's support and assuring him that he had a bright future in public service, according to people who have heard Mr. Christie's characterization of the message.

Mr. Christie, 53, took the message as deeply disrespectful and patronizing, questioning why "a 44-year-old" was telling him about his future, said people who described his reaction on the condition of anonymity. Further efforts to connect the two never yielded a direct conversation.
9:22 am – NYT: The GOP knows they cannot stop Trump; all smoke and mirrors now.
In public, there were calls for the party to unite behind a single candidate. In dozens of interviews, elected officials, political strategists and donors described a frantic, last-ditch campaign to block Mr. Trump — and the agonizing reasons that many of them have become convinced it will fail. Behind the scenes, a desperate mission to save the party sputtered and stalled at every turn.
9:11 am – More desperate Daily News trolling.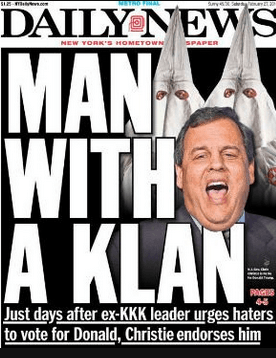 9:01 am – Panicked donors look for third party road map
Conservative donors have engaged a major GOP consulting firm in Florida to research the feasibility of mounting a late, independent run for president amid growing fears that Donald Trump could win the Republican nomination.

A memo prepared for the group zeroes in on ballot access as a looming obstacle for any independent candidate, along with actually identifying a viable, widely known contender and coalescing financial support for that person. The two states with the earliest deadlines for independent candidates, Texas and North Carolina, also have some of the highest hurdles for independents to get on the ballot, according to the research.
8:25 am – Trump seen as winner of last debate by 44% of Americans. Only 30% chose Rubio.
8:16 am – "Chris Christie Delivers Major Blow to Party Elites Resisting Trump"
8:01 am – Latest national Reuters tracking poll: Trump 44%, Rubio 14%, Ted Cruz 21%.
Looks as though Trump's ceiling is now 44%. Nationally, he is beating Rubio by +30 points.
7:44 am – A new poll shows that Rubio loses to Hillary in Florida by -2 points but Trump beats Hillary in Florida by +2 points.
Three polls in a row have shown Trump ahead in Florida. Three polls in a row have either shown Rubio losing to Hillary or tied. Florida is Rubio's home state. 
—
7:31 am – Today Democrats vote in South Carolina. The outcome is pretty much assured. Hillary Clinton has a huge lead over Bernie Sanders, a full  27 points.