Three out of four Republicans believe the party establishment should support Donald Trump if he gets the nomination, whose voter support also has broken through the 50 percent mark, up from 44 percent in late February, according to a new poll from YouGov.
Only 13 percent of the party supporters — or just one in eight voters — say the establishment should oppose Trump if he is nominated, says the March 10 to 12 survey.
"If Trump should win … Republican voters, including those supporting other candidates, want the establishment to support him," YouGov reported.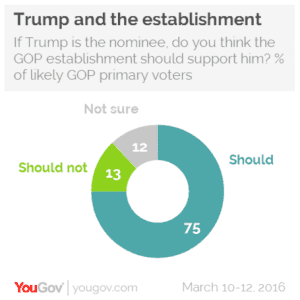 The high level of support for the frontrunner may make it politically impossible for GOP insiders — even when aided by supporters in the establishment media — to derail Trump's nomination by exploiting party rules at the Cleveland convention in July.
The poll also showed a sharp drop for Sen. Marco Rubio, leaving Sen. Ted Cruz in second place, with 22 percent support. But that's far behind Trump's 53 percent backing.
Rubio's support has drastically fallen from near 20 percent in February to just 10 percent, amid publicity over his role in the 2013 cheap-labor-and-amnesty "comprehensive immigration reform" push by business groups and Democrats.
The YouGov survey was conducted for the Economist, whose editors are pro-immigration, pro-free-trade, anti-nationalist, and anti-Trump