Lawyers from First Liberty Institute representing Dr. Eric Walsh filed a federal lawsuit today, after Georgia's Department of Public Health (DPH) fired Walsh allegedly because government agents did not like the sermons he preached in his church.
Walsh is a black medical doctor who holds two doctoral degrees and served on President Barack Obama's Presidential Advisory Council on HIV/AIDS. On May 7, 2014, DPH officials sent an email informing the agency that Walsh accepted a position with DPH as the District Health Director for Northwest Georgia.
Rudd Email Re Walsh Acceptance[4]_Redacted
A Seventh Day Adventist (the same faith as Dr. Ben Carson), in addition to being a doctor, Walsh is also an associate pastor who preaches sermons at his church. Over time, Walsh has preached sermons consistent with his faith's understanding of the Bible on topics including marriage, sexuality, creationism, helping the poor, and other religions.
Georgia officials requested copies of some of these sermons, and on May 14, a team of government agents was assigned to review those church sermons. On May 15, DPH leadership convened what they described as a "hastily arranged" meeting to discuss those sermons, during which DPH's lawyer warned them that taking any action against Walsh because of the religious viewpoints he expressed during sermons would violate federal law.
On May 16, Georgia government officials fired Dr. Walsh.
"I couldn't believe they fired me because of things I talked about in my sermons," said Walsh. "It was devastating. I have been unable to get a job in public health since then."
Speaking exclusively with Breitbart News, Jeremy Dys, senior counsel with First Liberty, said, "The picture of state officials divvying up a pastor's sermons and deciding which state official will review which sermons—in order to fire an employee—ought to send chills down the spine of every freedom-loving American."
Today, First Liberty lawyers filed a federal lawsuit in U.S. District Court for the Northern District of Georgia, alleging that the state violated Walsh's rights under the First Amendment and Fourteenth Amendment of the U.S. Constitution, as well as Title VII of the Civil Rights Act of 1964.
Attachments to the lawsuit, and a website First Liberty Institute set up containing video of the case, contain documents and recordings showing the details of how Georgia officials allegedly violated Walsh's civil rights.
On May 14, Lee Rudd, director of human resources for DPH, sent an email to other government agents, saying, "Ok, I have an assignment for several of us. We have to listen to his sermons on You Tube tonight. If we take a couple of hours each, then we should cover our bases."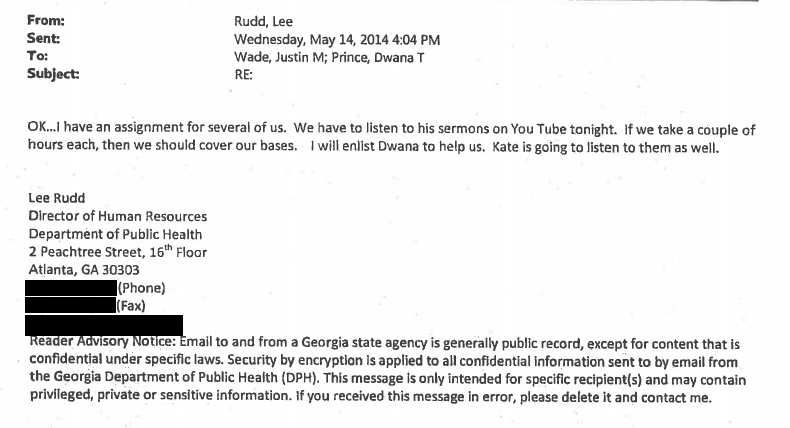 According to the lawsuit, on May 16, after deciding to fire Walsh, two more DPH employees, Patrick O'Neal and Kate Pfirman, attempted to call Walsh on the phone, leaving him a voicemail, a copy of which has been obtained by Breitbart News. In the voicemail, they inform him that they are trying to reach him and are sending him a letter.
They then attempt to hang up the phone and start talking to each other, unaware that the line was still open and the voicemail still recording. They started laughing about how they were firing Walsh, including saying, "There's no warm way to say it—'You're out!'"
The lawsuit seeks back pay and other compensation, as well as a federal court order forcing Georgia to end discrimination against Christians and Americans of other faiths on the basis of their religious beliefs.
Earlier this month, Georgia Governor Nathan Deal vetoed a bill that would have helped protect against such anti-Christian discrimination, even after that bill was watered down to such an extent that it would only partially protect churches and pastors.
"Religious liberty means we should be able to find sanctuary in our sanctuary," added Dys. "If the government is allowed to fire someone over what he said in sermons, then they can come after any of us for our beliefs on anything."