Angry protesters swarmed outside a Donald Trump campaign rally in Costa Mesa, California Thursday night, drawing scores of police in riot gear and on horseback as Trump supporters responded singing God bless America and the Star Spangled Banner.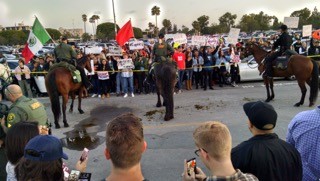 Thousands of Trump supporters were turned away as the venue reached capacity. First hand accounts from those stuck outside counted the initial wave of protesters at 70, but the crowd grew into the hundreds.
Trump supporter Walter Krokosz told Breitbart News, "They were very aggressive. When we were leaving there were a lot of people in cars, Mexican flags hanging out the windows. A guy was doing donuts and the intersection was shut down. We saw people marching through the intersection." Krokosz is a legal immigrant from Poland and a veteran of the U.S. Army, retired Chief Petty Officer.
Trump supporters outside the rally sang patriotic songs. A group of 8 to 12-year-old kids for Trump called out cheers. One cheer blasted Obamacare.
"The Trump supporters were the peaceful people singing patriotic songs, festive and happy, while the protesters were very angry and high aggression. We were in line sharing stories as Wally gave away pins and shared stories of military service," rally attendee Terry Krokosz told Breitbart News.
At least one police car was vandalized, its windshield smashed. A man jumped on top of the vehicle in an effort to cause more damage. Then a group attempted to flip the car, according to CBS News.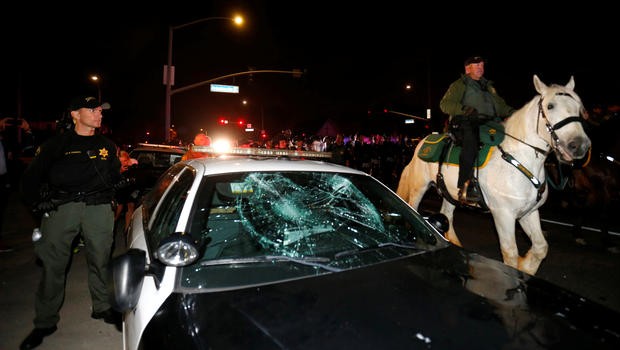 A group of seven or eight Free the Nipple protesters showed up. One had "Dump Trump" written on her abdomen. They were yelling about equal rights for women.
Anti-Trump protesters swarmed in front of the venue entrance, into the parking lot, and out onto the streets.
Reports on local radio 640 KFI from people who were in the middle of the protest controversy said TSA showed up. The radio host announced that protesters were jumping on cop cars and a police report detailed a cop car window being smashed. Another caller reported a protester smashing a car window with a rock and another jabbing someone in the face with a stick.
One man wearing a "F**k Trump" shirt was antagonizing rally-goers as early as three hours before the event.
As the final rally attendees were admitted to the venue, a surge of people pressed forward, prompting authorities to shut the gates. As this journalist approached the gates from inside the venue, what sounded like a warning from a stun gun emitted two short buzzes.
Those inside the rally were shielded from the chaos that broke out during Trump's speech.
Only one report of a minor injury was relayed on local radio. The host commented on seeing four or five arrests but estimated that there must have been more.
Listen to the discussion of this on Breitbart News Daily on SiriusXM:
Follow Michelle Moons on Twitter @MichelleDiana