Welcome to Breitbart News's live updates of the 2016 Democratic National Convention. Bill Clinton will be one of the featured speakers along with the "Mothers of the Movement"–the mothers of Trayvon Martin, Sandra Bland, Eric Garner and others who have formed strong bonds with Clinton–a day after terrorism and law and order were barely referenced.
All eyes will be on Bill Clinton and how disciplined he will be in not responding to potential hecklers and resisting the urge to promote himself–and his legacy–instead of his wife's candidacy. It is also interesting that the "Mothers of the Movement" will follow Clinton given that Clinton lashed out at Black Lives Matter activists in the spring.
All times eastern.
—
11:50: Trump with the winning message, thanks to VA Gov. McAuliffe, who is trying his best to do to Hillary Clinton what Bill Clinton did to her during the 2008 Dem. primary with his "fairy tale" and "Jesse Jackson" remarks:
Just like I have warned from the beginning, Crooked Hillary Clinton will betray you on the TPP. https://t.co/eoNTWK6I8y

— Donald J. Trump (@realDonaldTrump) July 27, 2016
11:45: From Breitbart's Joel Pollak at the Dem. convention: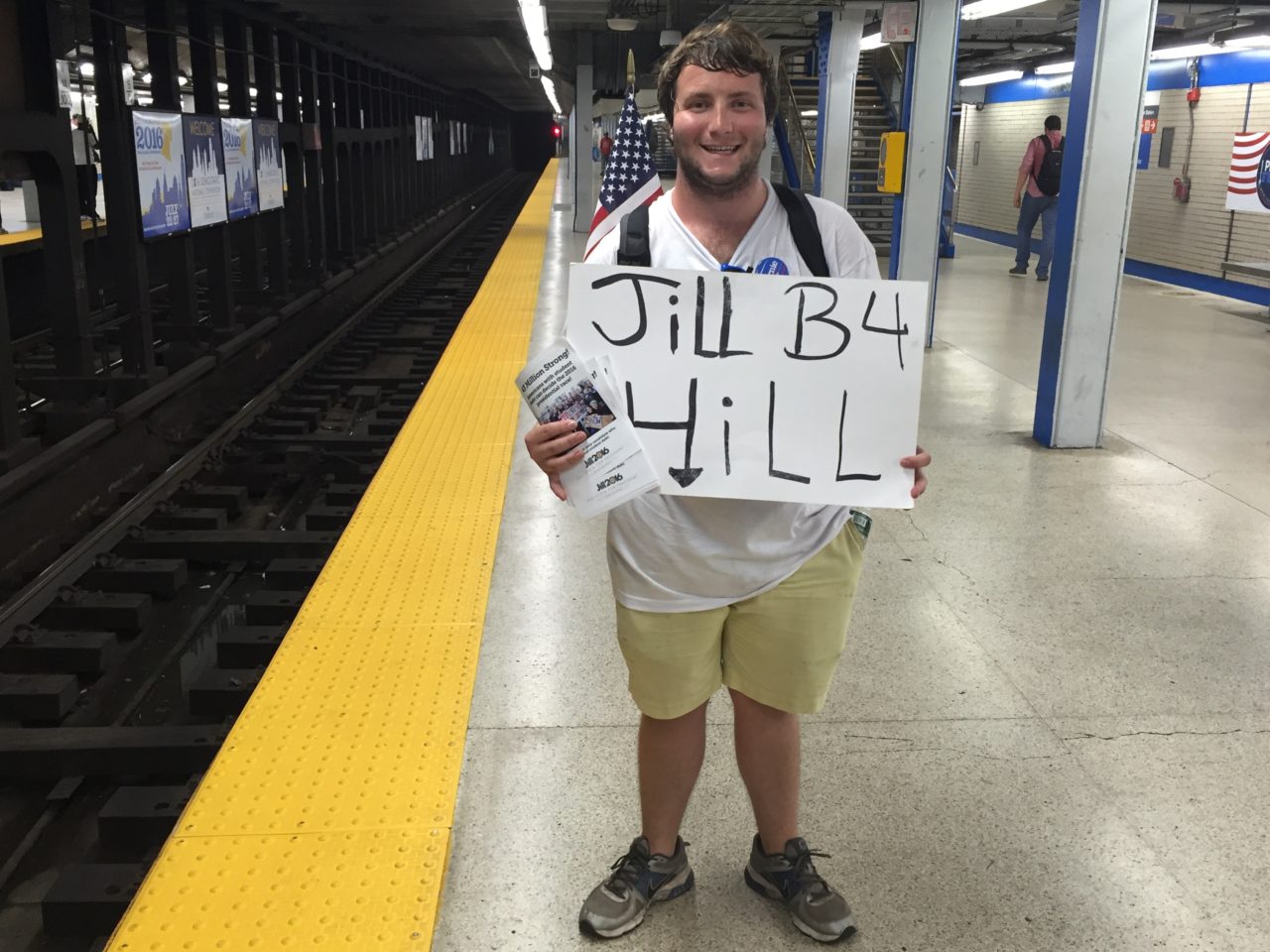 11:35: The left-wing in action, showing their true colors:
https://twitter.com/Breaking911/status/758125419455471616
11:13: In a slickly produced video message, Clinton appears after glass-ceiling montage cracks. She says she can't believe "we just put the biggest crack in the glass ceiling yet." She says if there are little girls who stayed up to watch, she may become the first woman President but "one of you is next."
Hillary Clinton makes address after glass ceiling-breaking montage at the #DemConvention https://t.co/q28pCcd7nc https://t.co/Lli5tTkOr8

— ABC News Live (@ABCNewsLive) July 27, 2016
11:05: Alicia Keys pushes gun control and dedicates the closing song to the Mothers of the Movement. She says we can't claim to be the "home of the brave" until we deal with "gun violence."
11:00: Meryl Streep says Clinton will be the first woman president but won't be the last.
Meryl Streep at #DemConvention: "What does it take to be the 1st female anything? It takes grit and it takes grace." https://t.co/xe5CUZqk1K

— Good Morning America (@GMA) July 27, 2016
10:48: Clinton says "real change is hard" and makes direct appeal to illegal immigrants and Muslims "who hate terror" to vote for Hillary.
Bill Clinton: "If you're a Muslim and you love freedom and hate terror, stay here and help us win." #DemsInPhilly pic.twitter.com/yZCDbtf0dD

— New York Post (@nypost) July 27, 2016
10:43: Clinton says his wife was reluctant about accepting the Sec. of State job because she loved being the Senator from New York so much. He says Clinton accomplished more change before she was 30 than most public officials accomplish in a lifetime. [Bill Clinton wasn't the "Big Dog," but he did not harm, and that's all that Democrats could have asked for.]
Bill Clinton: "How does this square with the things you heard at the RNC?…One is real, the other is made up." https://t.co/7kuErCJ9bg

— ABC News (@ABC) July 27, 2016
Bill Clinton: "Hillary has done a pretty fine job of being a mother…as you saw last night, so has Michelle Obama!" https://t.co/7PdOeRwwrG

— ABC News (@ABC) July 27, 2016
10:30: Clinton touting his wife's experiences re: education standards, etc. Not much different from his "change maker" stump speech.
10:11: He says in the spring of 1971, "I met a girl." They met in a class on political and civil rights. He's recounting his courtship of Hillary. He's now talking about Clinton's history of doing civil rights work throughout the South and Texas.
.@BillClinton recalls first time @HillaryClinton spoke to him: "I'm Hillary Rodham, who are you?" #DemsinPhilly https://t.co/vCbJyW61mb

— ABC News Politics (@ABCPolitics) July 27, 2016
10:10: Bill Clinton now appears on stage.
LIVE on #Periscope: @BillClinton has taken the stage at the #DemConvention! #BETxDNC #DemsInPhilly https://t.co/UP4px1oVAN

— BET (@BET) July 27, 2016
#DemsInPhilly getting ready for @billclinton. pic.twitter.com/WHlGAHStRU

— Elizabeth Patino (@ELIZPATINO) July 27, 2016
10:05: Without any sense of irony, a person in a video about Bill Clinton's economy in the 1990s says that when Clinton said something he believed him.
9:50: Former Secretary of State Madeline Albright says Clinton has Harry Truman's fighting spirit. She says Trump has damaged national security just by running for president. She says a Trump presidency would give the Russians a "green light" and would be a "gift" to Putin.
9:45: Sen. Amy Klobuchar (D-MN) talking about the need to stop sex trafficking.
9:32: Howard Dean accusing Trump of wanting to take Americans back to a time when insurance companies can charge women more for health care and those with pre-existing conditions. Dean, playing on his Dean Scream, says the election is going to be won in Colorado and Michigan…and we're going to the White House."
Howard Dean brings back his infamous scream in #DNCinPHL speech: https://t.co/zI9jlb0nwW

— NBC News (@NBCNews) July 27, 2016
9:20: Crowley rips Trump and calls Clinton a doer of deeds.
Now here is some anti-Trump from Rep. Joe Crowley (D-NY): "He didn't stand in the pile [after 9/11]… He cashed in"

— Mark Murray (@mmurraypolitics) July 27, 2016
9:04: Sanders delegate: This is a "poll tax."
8:58: Sen. Barbara Boxer (D-CA) talks about how Clinton has a "strong sense of empathy" for others. She says the right wing has thrown everything, including the "refrigerator" and the "toaster" and "she's still standing." Boxers says we're not going back to the dark days when "women died in back alleys."
When Sen. Boxer speaks: her grandson is @HillaryClinton nephew. Boxer daughter once married to Clinton brother.

— Lynn Sweet (@lynnsweet) July 26, 2016
8:45: The always vile and heinous Lena Dunham (a complete fraud ) is now on stage. She says, according to Donald Trump, "my body is  like… a two."
8:45: Planned Parenthood's Cecile Richards ("introduced as "Cecil") blasting Trump for wanting to defund Planned Parenthood.
8:33: Crowd keeps chanting "Black Lives Matter!"
8:23: Scandal actor Tony Goldwyn speaks about his work with the Innocence Project and introduces the "Mothers of the Movement." Crowd chants "Black Lives Matter." Sandra Bland's mother talks about needing to vote for a president who will fight for "restoration" and change. Jordan Davis's mom says Clinton isn't afraid to say "Black Lives Matter." Trayvon Martin's mother touting Clinton's support for gun control.
WATCH LIVE: Crowd chants #BlackLivesMatter as Mother of the Movement take the stage https://t.co/wBAcvgfPHF pic.twitter.com/Lpc8fOpunn

— The Hill (@thehill) July 27, 2016
8:20: From Breitbart's Joel Pollak in Philadelphia: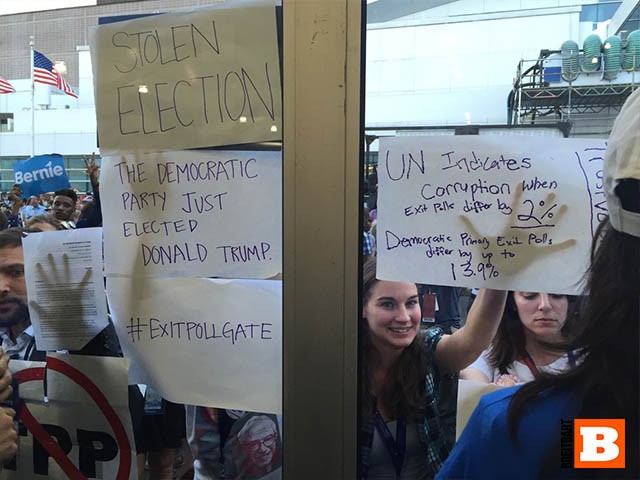 8:15: Seems/feels very out of place at Dem. convention:
#Pittsburgh chief McLay "Controversial officer involved shootings have created tensions…" #DemsInPhilly

— PETER MAER (@petermaer) July 27, 2016
Eric Holder: Black Lives Matter. "We need a president sensitive to these echoes of Jim Crow," he says, railing against modern day poll taxes.
8:06: Former Attorney General Eric Holder is proud to say, "I stand with her." He emphasizes that the nation is "already great" and speaks about assassins targeting "police" and peaceful citizens questioning if "Black Lives really matter… and they do."  He says we have to value officers while they are still alive. Holder says Clinton, whose husband signed the Crime Bill, will end "over-incarceration." He praises Clinton for talking about "system racism."
Cheers for Eric Holder as he speaks to Clinton's social justice causes #DemsInPhilly pic.twitter.com/jtwMBaWI69

— Tal Kopan (@TalKopan) July 27, 2016
7:58: From Breitbart News: Ashley Judd Joins Black Lives Matter March Outside DNC
7:51: Donna Brazile now speaking. She says she no spring chicken and she's "seen some things in her time." She says she lived through and survived the segregated South. "Who dat." And as a grown woman, she saw the first black President. She says when Hillary Clinton was fighting for civil rights out of law school, Trump was facing housing discrimination lawsuit for failing to rent apartments to blacks. She says she met Clinton and Marion Wright Edelman's Children's Defense Fund. She praises Clinton for wanting illegal immigrants to have all of the opportunities as citizens.
7:50: From Breitbart's Joel Pollak in Philadelphia: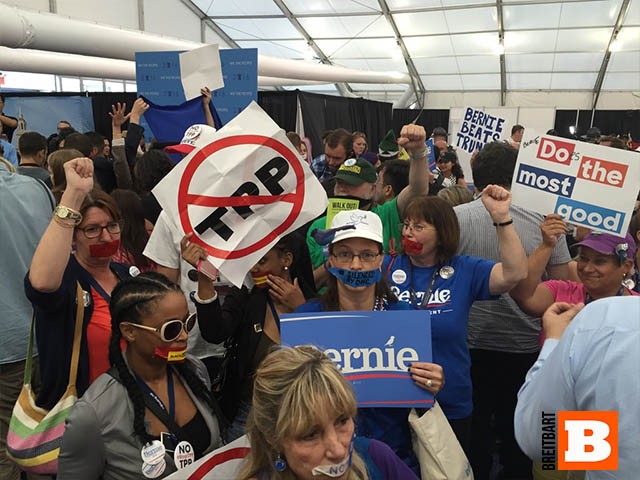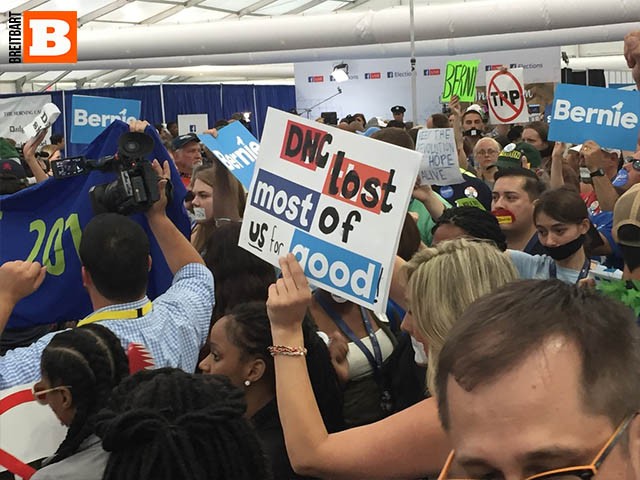 7:45: Assange: More Dem. Email Leaks Coming: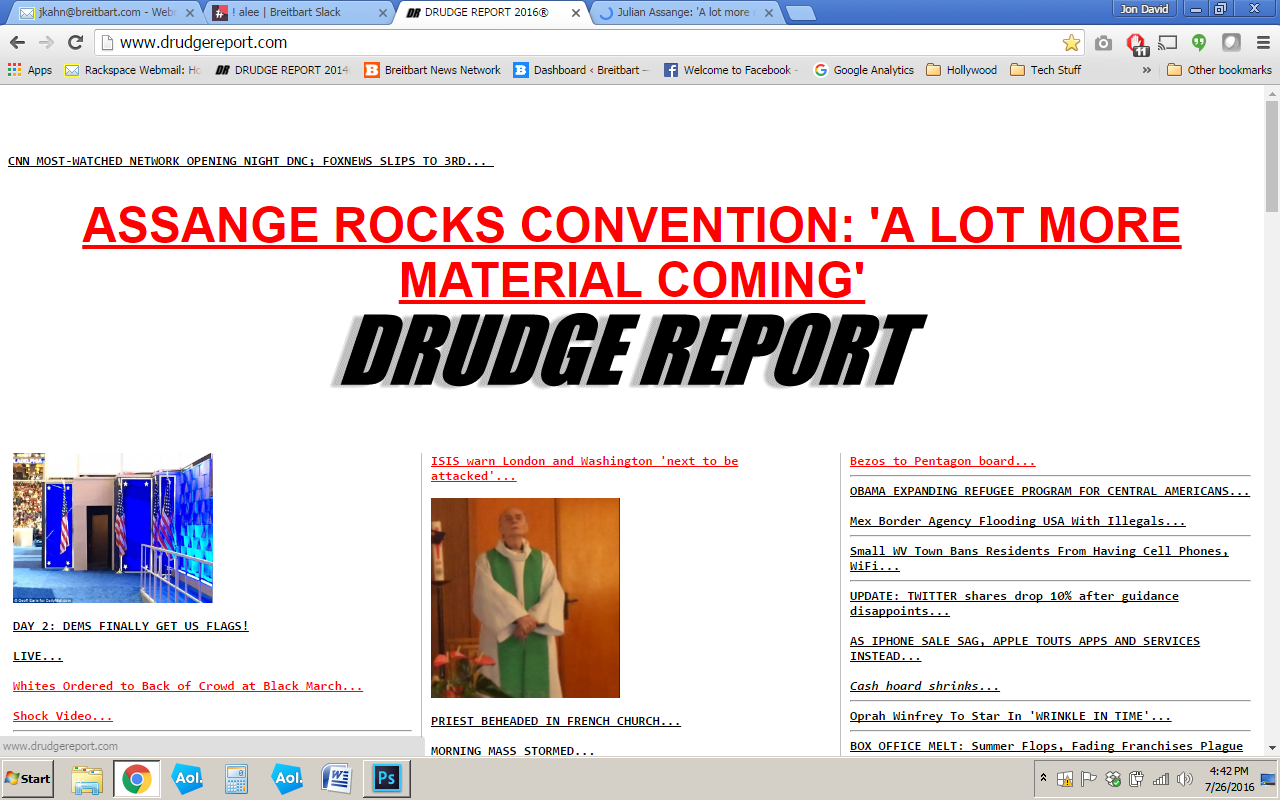 7:43: Sanders delegate explains walk out:
7:37: Actress Elizabeth Banks now speaking. She says Trump is "over the top." She recalls going to a Bill Clinton rally with her boyfriend at UPenn and being amazed by Hillary Clinton, who stole the show.
7:35: From Joel Pollak in Philadelphia: Gagged Bernie delegate tells Breitbart News, "this is what a stolen election looks like."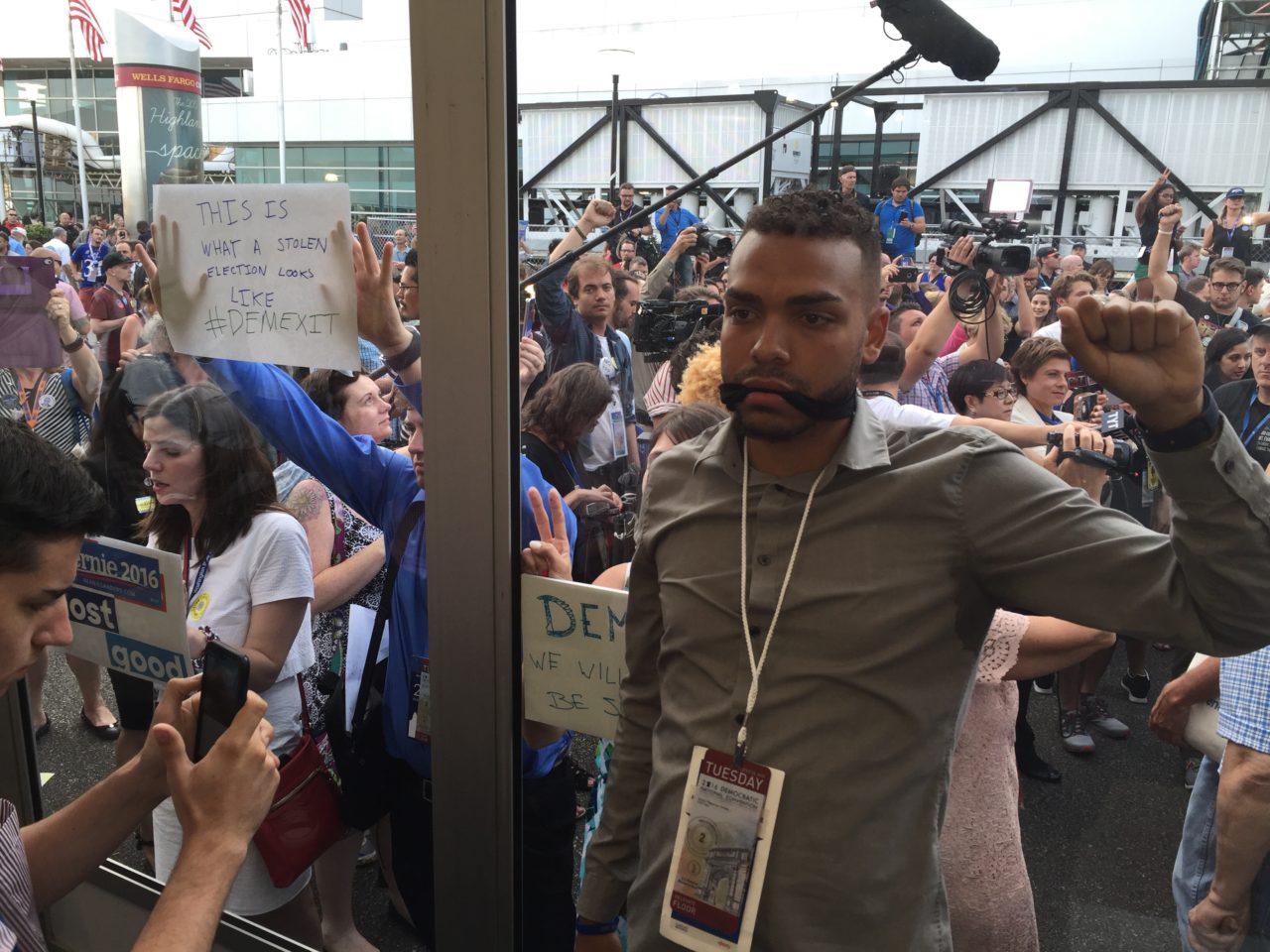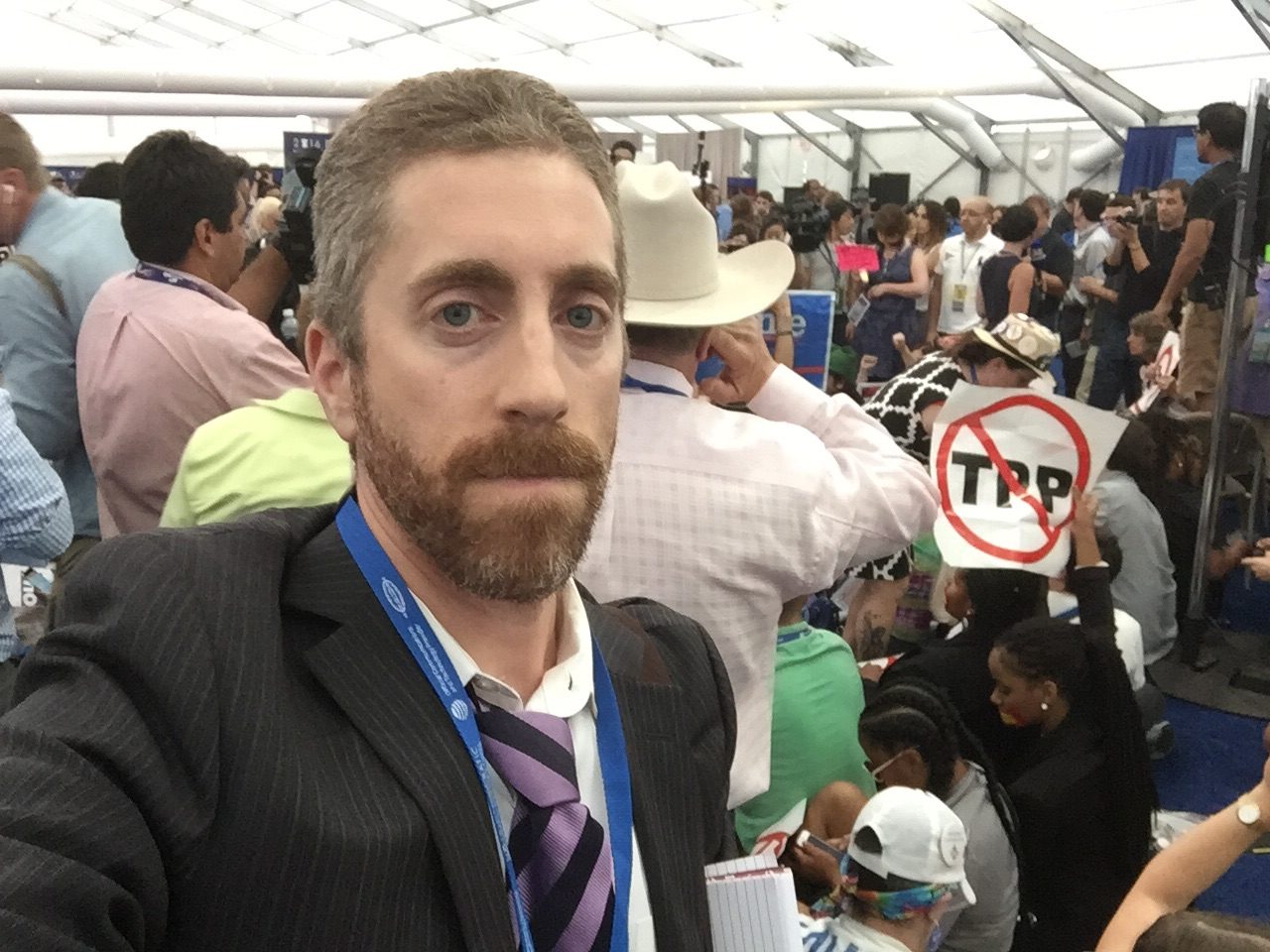 7:29: Sen. Chuck Schumer (D-NY) says this election is about two different versions "of America" and Trump only sees an "angry" America while Clinton sees an America that tries to live up to the promise written here in Philadelphia. He says she believes in an America where we break down walls.
7:27: Former President Jimmy Carter now addressing the convention, urging Democrats to stay "informed" and engaged. He blasts Trump for not having "moral" and "ethical principles."
7:25: Black Lives Matter agitators call cop "Nazi" and don't want people to vote for Clinton because "she's killing black people."
7:15: From Breitbart's Joel Pollak at the convention. Sanders delegates walking out en masse.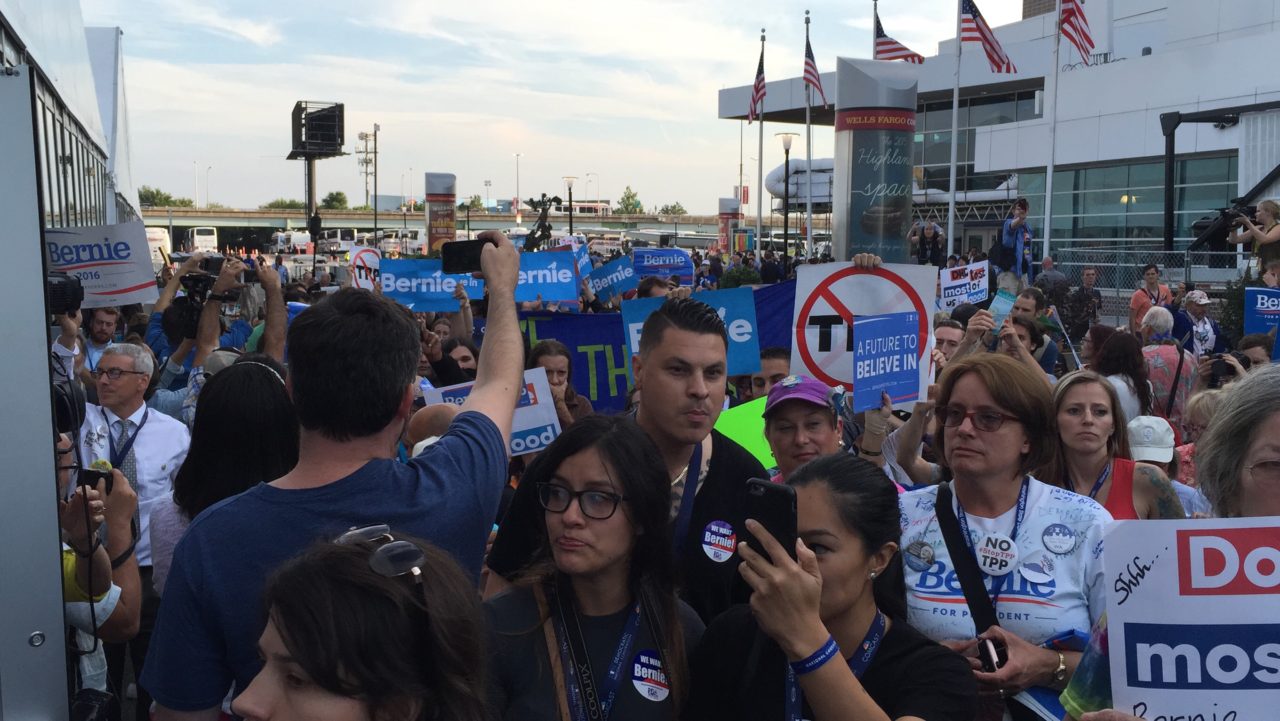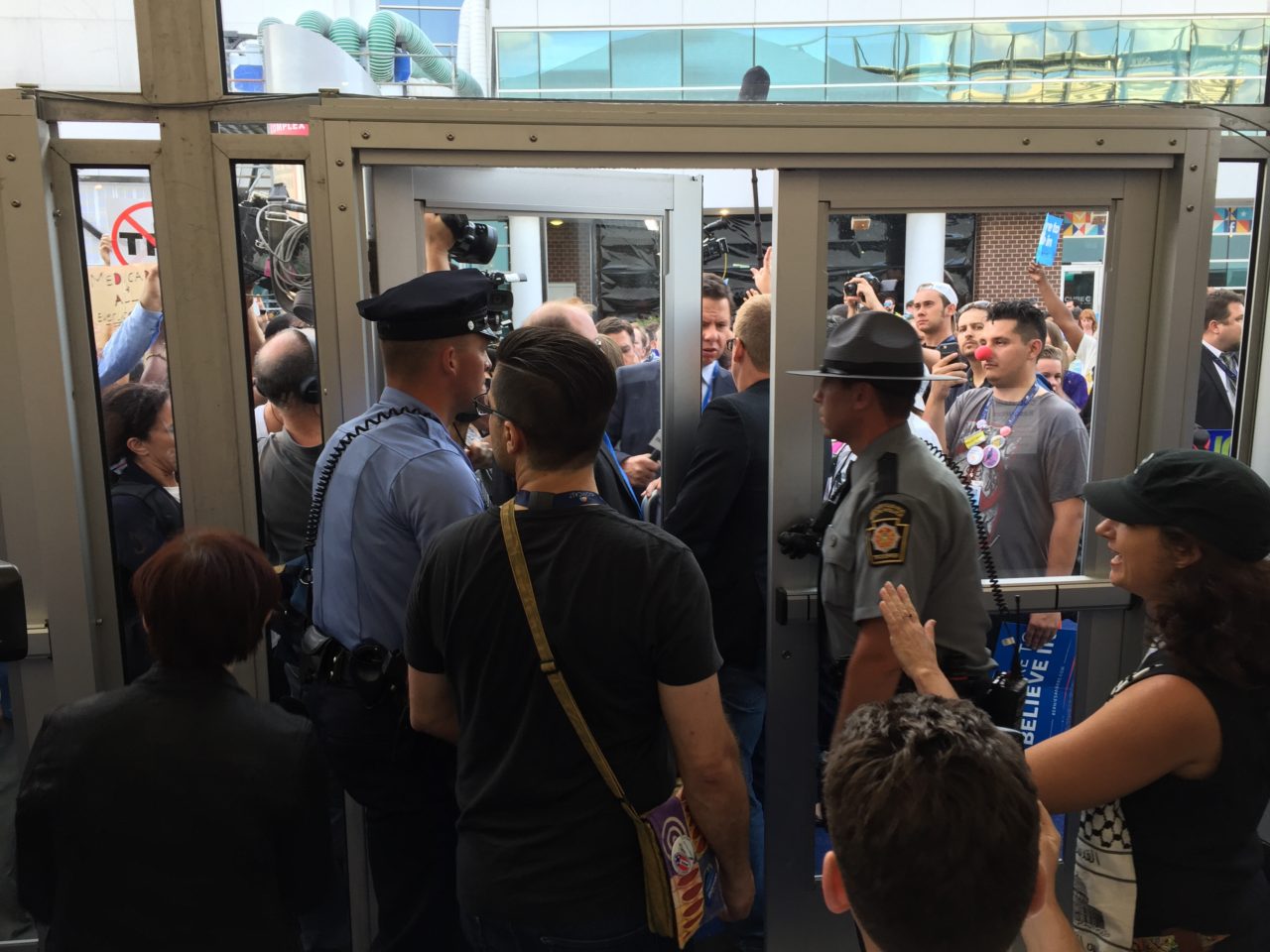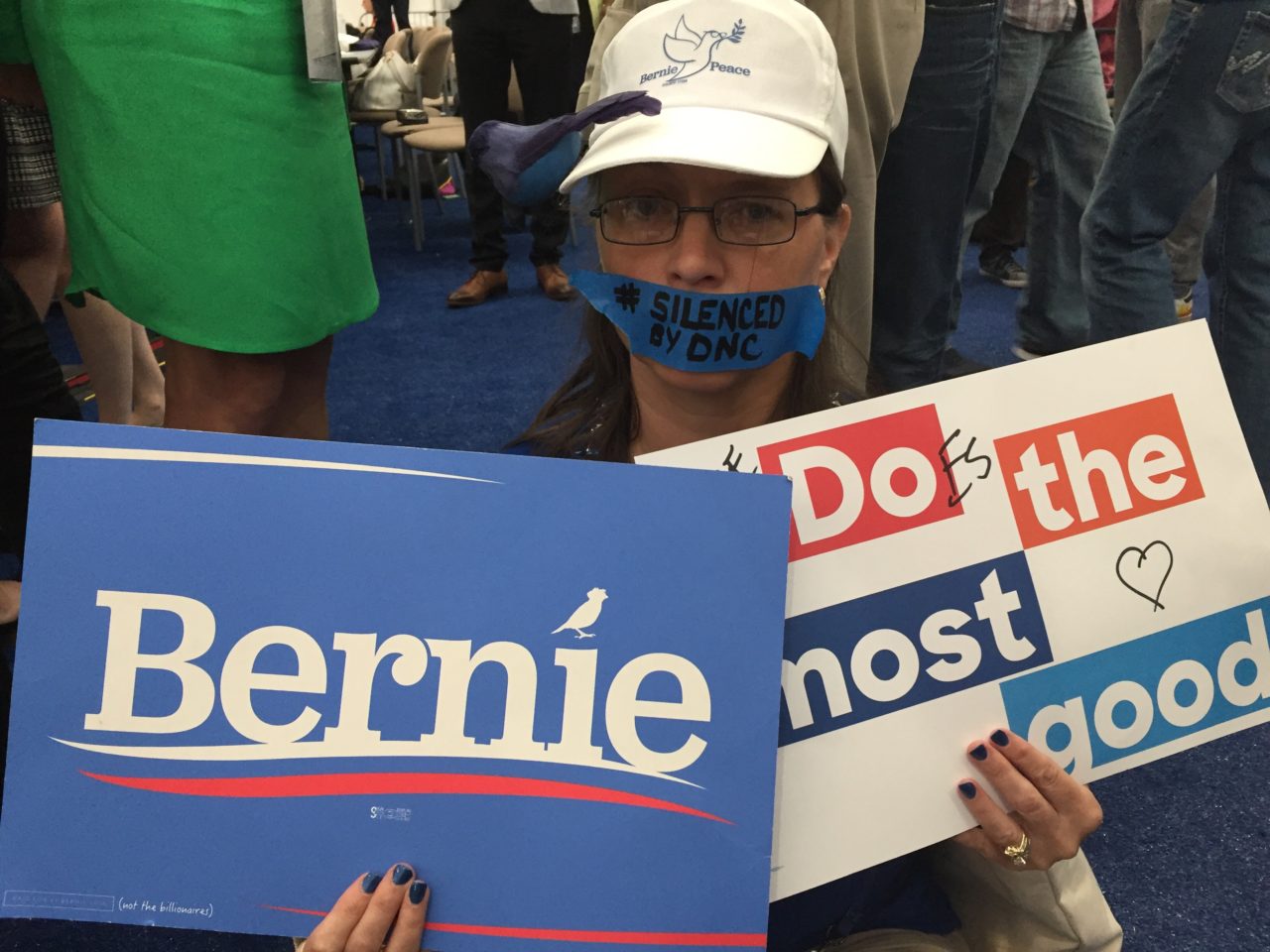 Sanders delegates sitting silent inside media center: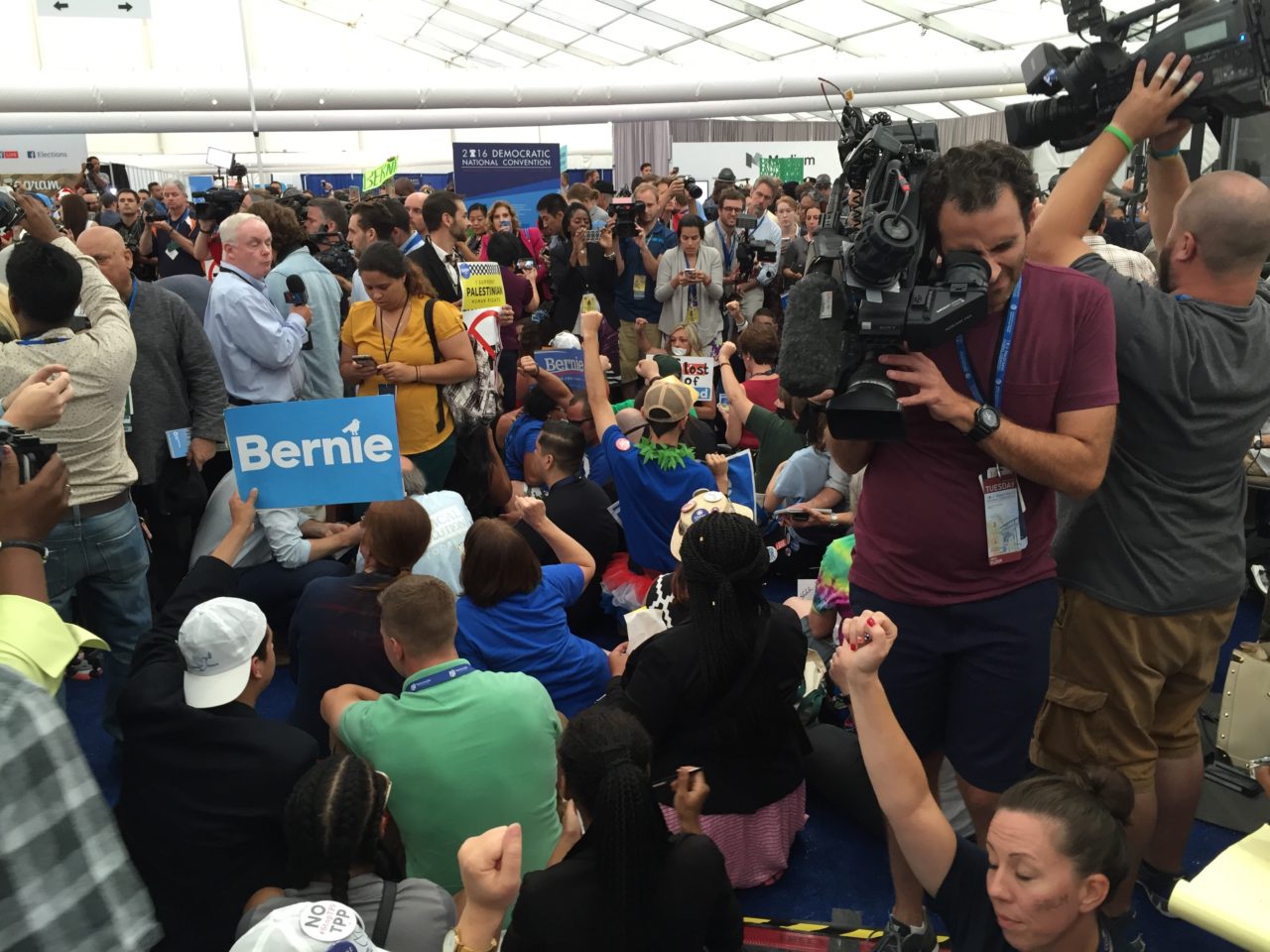 Delegates say they were told if they didn't put Bernie signs away after the vote they would be arrested. They have walked out. #DemsInPhilly

— Laurie Penny (@PennyRed) July 26, 2016
7:07: House Minority Leader Nancy Pelosi (D-CA) says "nothing is more wholesome" that women in government and politics.
Democratic women of the U.S. House of Representatives take the stage at #DemConvention, with @NancyPelosi at the mic

— CQ Now (@CQnow) July 26, 2016
7:05: Former Dem. Presidential Candidate Dennis Kucinich, who wanted a Department of Peace, says tells Breitbart News that Clinton should have chosen Sanders as her running mate:
7:03: From Breitbart's Joel Pollak at the Dem. Convention: "Palestinian" sign.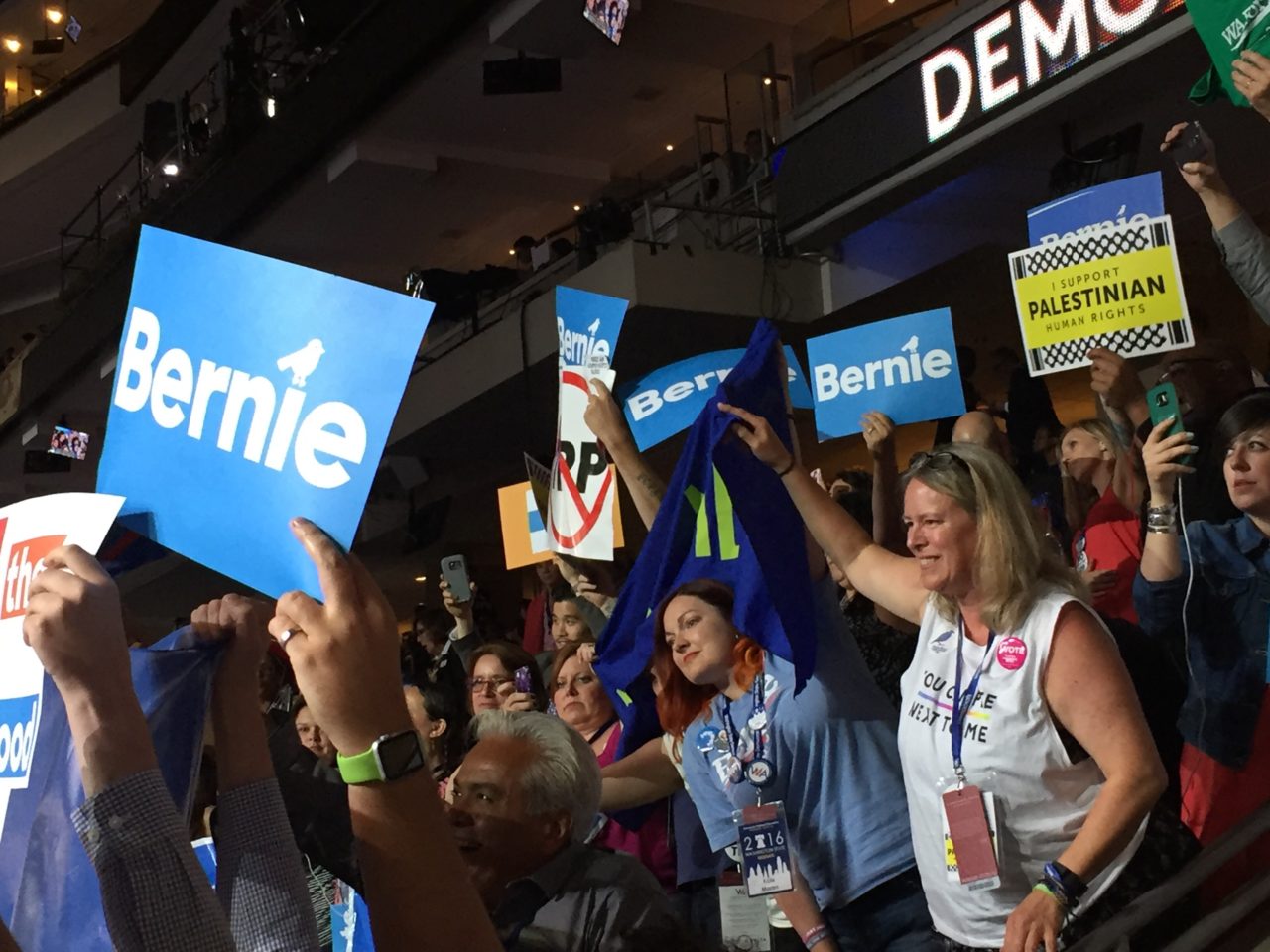 6:59: Virginia Gov. Terry McAuliffe says this is a day everyone at the convention hall will remember. He says Clinton will send Trump back to his "bankrupt casinos, where he belongs." McAuliffe says he has known the Clintons for half his life and he loves this woman.
6:55: Report: Clinton delegate from Tennessee booted after reported assaulting female Sanders delegate.
6:53: On the convention floor, Sanders moves that the convention rules be suspended and Hillary Clinton nominated as president.
6:45: Hillary Clinton officially becomes Dem. nominee for president:
#BREAKING: @HillaryClinton officially becomes Democratic Presidential Nominee. #DemsInPhilly #DemConvention

— CSPAN (@cspan) July 26, 2016
6:38: From Breitbart's Joel Pollak in Philadelphia: Oregon Delegation Is Now a Bernie/Occupy Protest: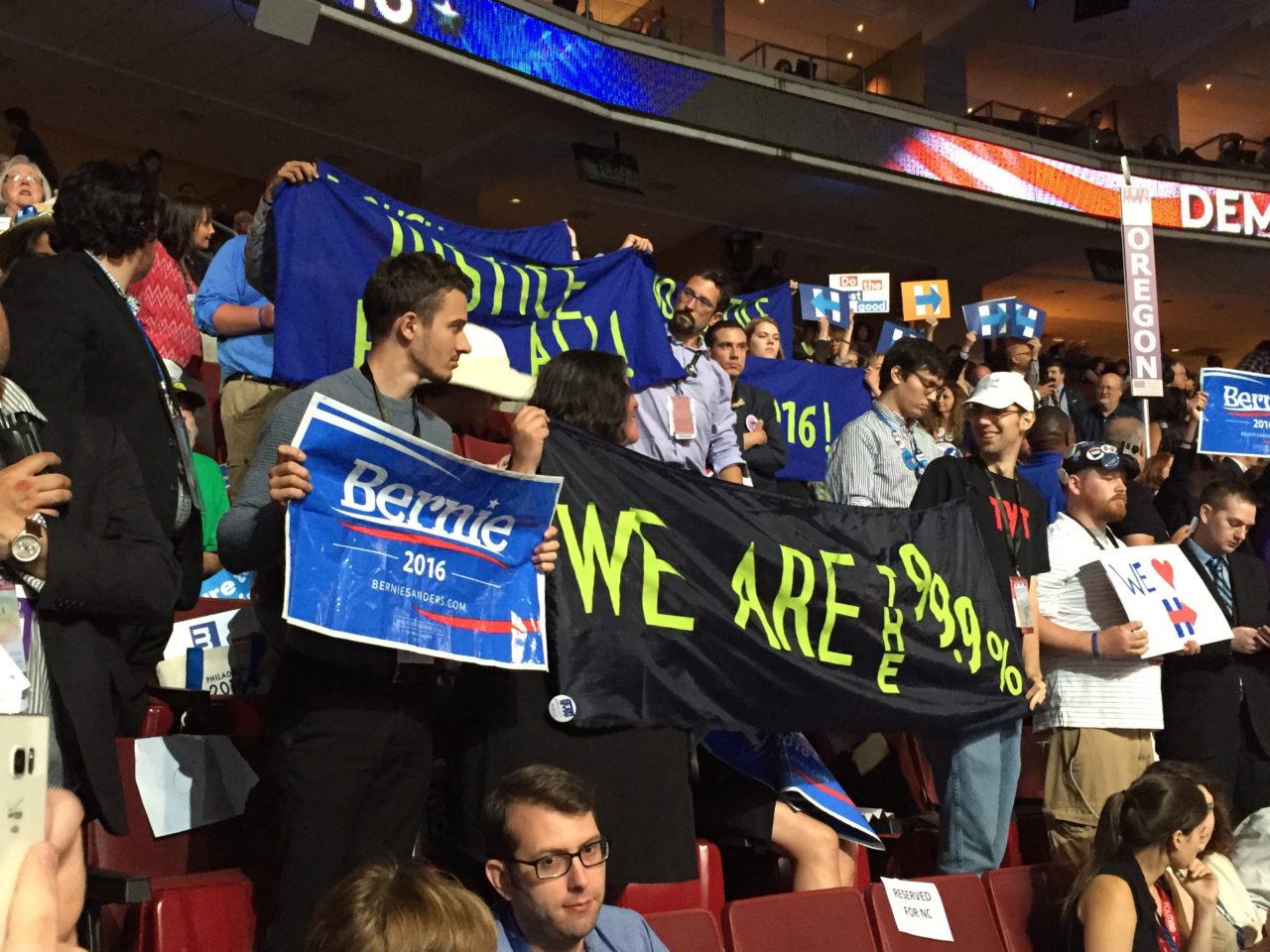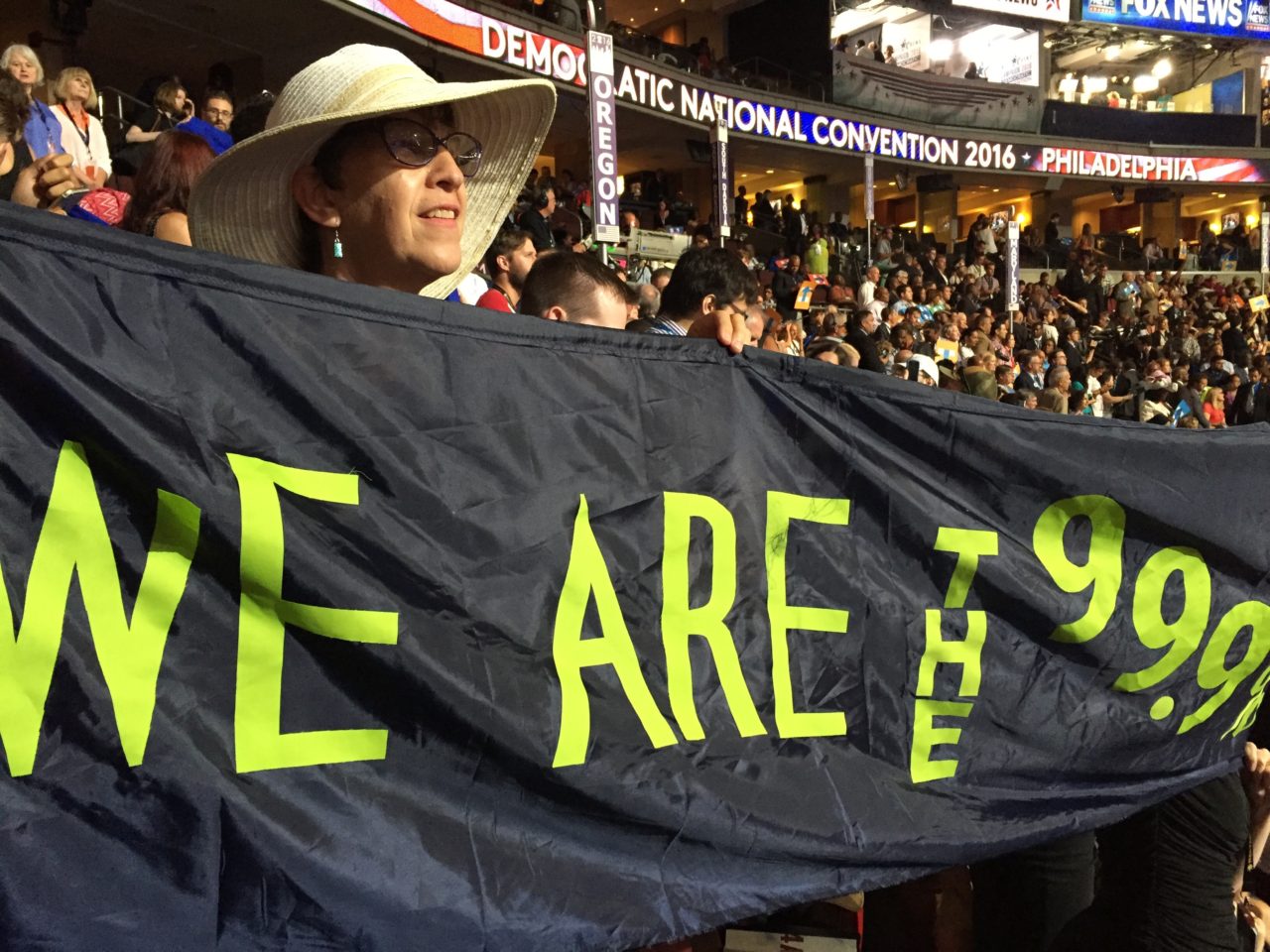 (Joel Pollak/Breitbart News)
6:30: Sanders supporters kept behind wall:
https://twitter.com/Cernovich/status/758065080672157696
6:21: Will Sanders be going to the floor?
#DemConvention ok (for now) w/ us here -waiting to see if @BernieSanders comes to floor – tons of his staff here pic.twitter.com/jE3E2wS27v

— MaryAlice Parks (@maryaliceparks) July 26, 2016
6:15: Sanders supporter vows to vote for Green Party candidate:
6:10: Clinton campaign's top priority is to drown out rowdy Sanders supporters on the floor.
6:05: Sanders's brother and Clinton's childhood friend cast votes:
.@BernieSanders' brother Larry Sanders tearfully casts vote for his brother "with enormous pride" #DemsinPhilly https://t.co/6yHDt8AAVI

— ABC News Politics (@ABCPolitics) July 26, 2016
"This one's for you, Hill." #WeMadeHistory https://t.co/Iq24zuhybS

— Hillary Clinton (@HillaryClinton) July 26, 2016
5:58: From BREITBART CALIFORNIA:  Black Sanders Activist: 'Bill Clinton Made Black Lives Worth Less'
OAKLAND — Civil rights and social activist Viveca Bradley told Breitbart News on Monday that former President Bill Clinton had singlehandedly "made black lives worth less."
Read the rest here.
5:57:
"This one is for you, Hill." Lifelong pal Betsy Ebeling casting Illinois votes for @HillaryClinton

— Lynn Sweet (@lynnsweet) July 26, 2016
5:55: Agitators throw water on Geraldo:
Demonstrators shout at Fox News' @GeraldoRivera. One pours water on him. #DemsInPhilly pic.twitter.com/SXYbMITezZ

— Andrew Desiderio (@desiderioDC) July 26, 2016
5:45: Trump, when asked if Roger Ailes could join his campaign, says, "I would think about it."
5:40:
Here's Olivia Love-Haddlestad from IL-10 at #DNCinPHL @olivialovelier pic.twitter.com/aXwTZHiYrx

— Joel B. Pollak (@joelpollak) July 26, 2016
5:36: From Breitbart News in Philadelphia. Ashley Judd with "Black Lives Matter" sign: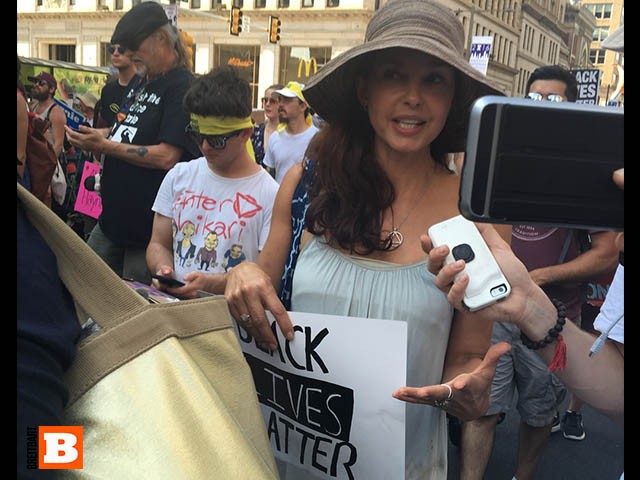 5:35: Bernie fan explains why she feels silenced by Hillary:
5:33: From Breitbart News's Joel Pollak in Philadelphia: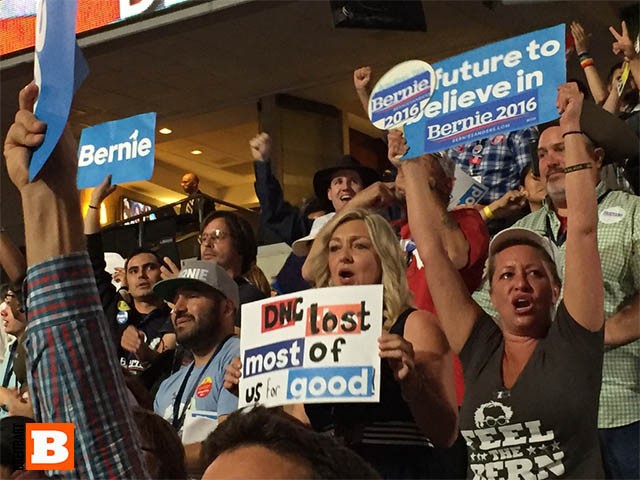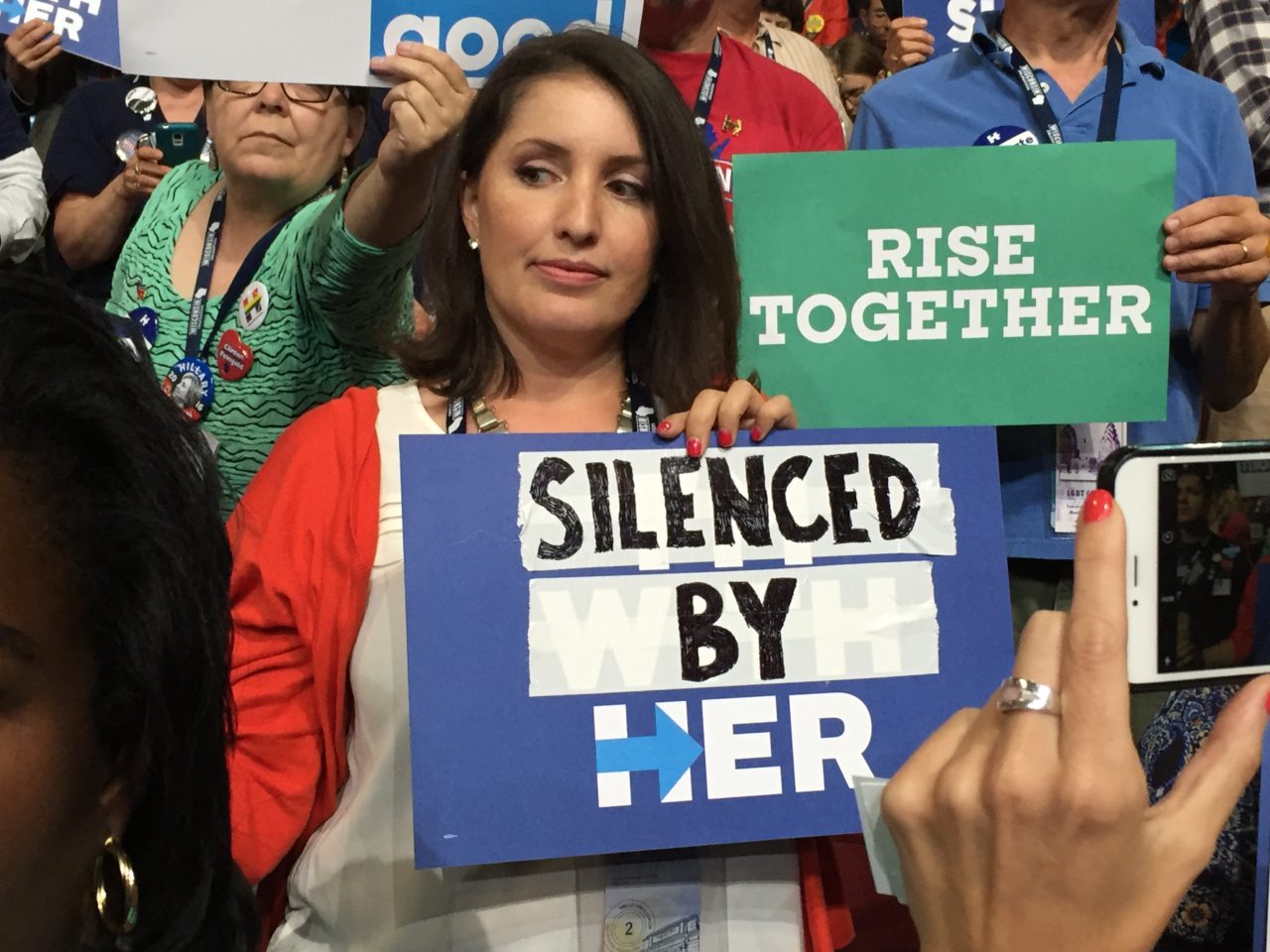 5:29: Arizona proud to be the home state of Cesar Chavez. It casts 34 for Sanders and 51 for Clinton.
5:26: Alabama, the state of champions in college football, up first. State casts 50 votes for Clinton and 9 for Sanders. And one assumed abstention.
"Don't y'all have one more?" DNCC secretary @Mayorsrb to Alabama #DemsInPhilly

— Meg Kinnard (@MegKinnardAP) July 26, 2016
5:25: Roll call of the states about to start.
5:15: Rep. John Lewis (D-GA) to second Clinton's nomination. He says there are "forces" in America that want to take us backward and undo 50 years of progress. "We are not going back," he yells. "We're going forward." He says Dems. must "vote like we've never, ever voted before" in November. Lewis says "we are the party of tomorrow" and vows to shatter the glass ceiling again with Clinton's  nomination  eight years after the party nominated Obama. Lewis says Clinton didn't just want to do "well… she wanted to do good."
Listening to John Lewis #DemsInPhilly pic.twitter.com/Ckco6BwqJz

— Garance Franke-Ruta (@thegarance) July 26, 2016
.@repjohnlewis: Democrats elected first African American POTUS; tonight we will "shatter that glass ceiling again" https://t.co/VzdqlDGZLA

— ABC News Politics (@ABCPolitics) July 26, 2016
Seen on the convention floor. As @repjohnlewis started speaking, a HRC shouted at a Sanders supporter, "He deserves your respect." #DNCinPHL

— Yamiche Alcindor (@Yamiche) July 26, 2016
5:10: Nominating speeches for Clinton next. Sen. Barbara Mikulski (D-MD) speaks of the Founding Mothers and says she is here with a "full heart" to nominate Clinton for president. She places Clinton's name into nomination.
5:09: Vermont Delegate Shyla Nelson seconds Sanders's nomination and says "I'm so proud of Bernie. Our movement continues. Our revolution continues."
5:03: Paul Feeney seconds Sanders's nomination.
Tweeted too soon – Paul Feeney calls to "join together" to elect Hillary Clinton. (delegate caught giving thumbs down)

— Rick Klein (@rickklein) July 26, 2016
Paul Feeney, labor activist seconding Bernie, notes that last night HRC delegates held up "Bernie" signs. #DNCinPHL

— David Corn (@DavidCornDC) July 26, 2016
4:55: Nominating speeches about to occur. Rep. Tulsi Gabbard (D-HI) speaking on behalf of Sanders. Gabbard says the frumpy and grumpy Sanders became the voice of millions because of his "deep love of others" and "our Mother Earth." She calls the Sanders campaign a "movement of love" to care about people whose lives have been ruined by the criminal justice system and people whose lives have been ruined by disastrous trade deals. After quoting Gandhi, she says the movement can't be defeated because "it's fueled by love" and nominates Sanders for president.
WATCH: @TulsiGabbard nominates @BernieSanders at DNC Convention https://t.co/10x0V6795C #DemsinPhilly https://t.co/XvJU9jLsPN

— ABC News Politics (@ABCPolitics) July 26, 2016
Poetic justice for Sanders? No Wasserman Schultz at #DemConvention but Rep Tulsi Gabbard who resigned DNC in protest now on stage

— Chad Pergram (@ChadPergram) July 26, 2016
4:48: Kentucky's Sec. of State Alison Lundergan Grimes talking about her friendship with Hillary Clinton. She is proud to be a part of the "new generation" of the South. She talks about the Hillary she knows who loves HGTV and devours buffalo wings.
Alison Lundergan Grimes describes an "inquisitive", "sincere" #HillaryClinton who "devours buffalo wings". #DNCinPHL @WHAS11

— Chris Williams (@chriswnews) July 26, 2016
4:45: Former Sen. Tom Harkin (D-IA), whose steak fry helped to launch Obama's 2008 candidacy, speaking about disability rights on the floor. Music immediately starts playing as crowd starts chanting "Bernie Sanders!"
4:36: Sherman Jackson, the King Faisal Chair of Islamic Thought and Culture and Professor of Religion at the University of Southern California, says "We are not a perfect country" and  asks God to inspires us to "strive to be a better country" and "grant us the courage to acknowledge and make amends for our errors, including the ways we have devalued, compromised, and stigmatized all too many American lives, especially black lives. "
[He's on point with the day's theme.]
4:33: Rep. Marcia Fudge (D-OH) calls convention back to order.
4:32: Kaine's wife resigns from post in McAuliffe administration after husband selected as VP:
.@timkaine's wife Anne Holton has resigned @VASecofEdu, effective yday, per @TerryMcAuliffe https://t.co/gxylhr3fgd pic.twitter.com/IQbq1F9wWL

— Betsy Klein (@betsy_klein) July 26, 2016
4:30: Dem. convention about to gavel back in with the roll call of the states.
4:25: Black Lives Matter to Hillary: "Delete Yourself"
4:21: Joe Biden: Let Sanders supporters be angry.
Just asked Biden if he's concerned w Bernie backers at DNC; said Ds should "show a little class" and let em be angry pic.twitter.com/1qgPM5AT3R

— Manu Raju (@mkraju) July 26, 2016
4:15: "White media get to the back. Black media, come to the front,"
"White media get to the back. Black media, come to the front," organizer of "Black DNC Resistance March" demands. pic.twitter.com/uqW5vwEWSn

— Shaquille Brewster (@shaqbrewster) July 26, 2016
4:05: Two layers of fencing:
Protesters at #DNCinPHL are now behind two layers of security fencing. They built a "wall," twice. pic.twitter.com/g9WFcz6Hnh

— Joel B. Pollak (@joelpollak) July 26, 2016
3:58: Protesters at anti-police march: "Hillary Has Blood on Her Hands."
Large crowd at "anti-police" Black Resistance March chants "no justice, no peace" #LIVE: https://t.co/3hddgOMoqZ pic.twitter.com/DBlBfXBRaG

— Unicorn Riot (@UR_Ninja) July 26, 2016
Massive protest gathering outside #DNCinPHL chanting "Hell no #DNC we won't vote for #Hillary" Day2 #DemsInPhilly pic.twitter.com/0w8uuoSgmu

— Unicorn Riot (@UR_Ninja) July 26, 2016
3:56: Ryan won't be at Pence's Wisconsin event.
Speaker Ryan won't be at Pence's event in Waukesha tomorrow night – he'll be fundraising for House R's in St. Louis.

— Ben Siegel (@benyc) July 26, 2016
3:55: Hillary to make video appearance?
A senior Dem tells me a circulating draft schedule includes Hillary Clinton patching in via video @ some point tonight post-nomination

— Gabriel Debenedetti (@gdebenedetti) July 26, 2016
3:50: Trump:
The invention of email has proven to be a very bad thing for Crooked Hillary in that it has proven her to be both incompetent and a liar!

— Donald J. Trump (@realDonaldTrump) July 26, 2016
Bernie's exhausted, he just wants to shut down and go home to bed!

— Donald J. Trump (@realDonaldTrump) July 26, 2016
3:49: The Dem. convention, ladies and gentlemen:
All-gender restrooms at the DNC pic.twitter.com/zlKwlNJbkh

— Liz Kreutz (@ABCLiz) July 26, 2016
3:48: Alicia Keys performing before the roll call vote:
DNC house band is quiet, but Alicia Keys is doing an impromptu concert right now pic.twitter.com/6k5HSsTFuW

— Jamie Dupree (@jamiedupree) July 26, 2016
3:45:
Before roll call, last NBC count in Dem race:

Pledged dels
HRC 2219 (55%)
Sanders 1832 (45%)

All dels
HRC 2817 (60%)
Sanders 1879 (40%)

— Mark Murray (@mmurraypolitics) July 26, 2016
3:43: Trumps slamming Anthony Weiner after he mouths off:
.@anthonyweiner on @DonaldJTrumpJr 4 Mayor of NYC: "I'd come out of retirement just to beat him like a rented mule" pic.twitter.com/C9YCDZ74A0

— Joe Toohey (@joetoohey) July 26, 2016
.@anthonyweiner on @DonaldJTrumpJr 4 Mayor of NYC: "I'd come out of retirement just to beat him like a rented mule" pic.twitter.com/C9YCDZ74A0

— Joe Toohey (@joetoohey) July 26, 2016
3:40: Keep in mind that the Philadelphia Police Union is insulted that Democrats are not featuring widows of slain police officers.
3:35: Sen. Bernie Sanders (I-VT) is returning to the Senate as an independent.
Bernie Sanders tells @bpolitics breakfast w/reporters he'll return to the Senate as an Independent, not a Dem: 'I was elected as an Ind.'

— Susan Page (@SusanPage) July 26, 2016