PENSACOLA, Florida — Republican vice presidential nominee Gov. Mike Pence listed several of a multitude of Wikileaks revelations surrounding Hillary Clinton and those close to her as he spoke to several hundred Americans gathered for a Trump-Pence rally in Pensacola, Florida on Friday.
Pence made a commitment that a President Donald Trump's only special interest would be the American people.
"I know the media goes running after…one issue or another when it comes to my running mate," said Pence, adding, "there's an avalanche of pay-to-play politics, an avalanche of political favoritism and outright corruption that's in print in these emails and it gets scant media attention." Pence was speaking of the flow of emails from Wikileaks that involve Democratic presidential nominee Hillary Clinton.
Pence referenced one such email that revealed a paid speech by Clinton to a Canadian company, as released by Wikileaks. "When she was in Canada she called for a system just like theirs," Pence said referring to the country's centralized healthcare system.
He mentioned another of the emails in which she spoke of having both a public and private position on issues.
In another paid speech she told a Brazilian bank that she dreamed of a hemispheric common market with open trade and open borders, said Pence.
Pence referred to the email from Clinton's communications director, whom he said, "made the most contemptible statements about people of the Catholic faith, people of the evangelical faith."
"No apology ever coming from Hillary Clinton or the campaign for those demeaning statements," remarked Pence. Earlier this week Pence called on Clinton to denounce the statements made in emails now released by Wikileaks.
"One of the emails found out that the — Hillary Clinton's campaign was actually in touch with Obama Administration's Department of Justice to get updates on the very investigation of her own email," said Pence. "It said they got a heads up when information was going to go public."
Pence went on to say:
We found out today after Hillary Clinton had said repeatedly that no action that she had ever taken when she was in the State Department ever acknowledged or ever benefitted any of the donors or anyone in their larger political circle. We found out by email this week, ABC News reported this, that in fact after Haiti experienced that devastating earthquake in 2010, and the State Department was overseeing 10 billion dollars in relief efforts. A senior official for the Secretary of State actually sent an email indicating that businesses that were applying for contracts in Haiti should be flagged if they were friends of the Clintons.
He resolved, "That's nothing short of pay-to-play politics on a global scale and it's exactly the kind of pay-to-play politics that's going to a crashing halt the day that Donald Trump becomes President of the United States."
"When Donald Trump becomes your president, his only special interest will be you, the American people, and he's gonna fight for you, for your prosperity and your security every, single day," declared Pence.
"In spite of the willful ignorance in the media," said Pence, "Despite the constant, constant attacks leveled against my running mate in the national press, we're continuing to see momentum all across the country because neighbors are talking to neighbors, coworkers are talking to coworkers," said Pence as he encouraged the crowd to "go tell somebody."
"If you're wearing one of those red hats, don't take it off for 25 days. Sleep in that thing," he said.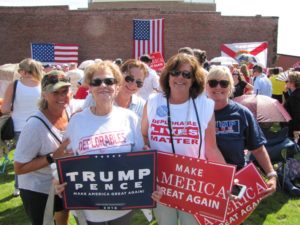 Frank White, candidate for House District 2 in Tallahassee, took the stage shortly before Pence. He remarked about Trump's over 42-year career in real estate, construction, and entertainment and his own experience in the car industry. "One thing you learn quickly in a car lot is a bad deal is a bad deal," said White, who added that Trump will stop the "stupid deals" coming out of Washington, D.C.
"I believe that Trump will abide by the Constitution," local Louise Odom told Breitbart News just as the rally was about to begin. "I'm a firm believer in the Bill of Rights."
Karen Hoston, a vacationer in the area who decided it was important to come out to the rally, said, "I'm voting for Pence as much as I'm voting for Trump. He's a man of character, one we can be proud of."
Follow Michelle Moons on Twitter @MichelleDiana