Bernie Sanders thanked Republican House Speaker Paul Ryan for inadvertently helping Democrats raise over $2 million in 72 hours. Sanders is now encouraging his supporters to similarly thank Speaker Ryan on social media with hashtag #ThanksPaul.
According to Sanders' website, Ryan "helped raise more from small donations for Democrats in three days than he did for Republicans in three months."
As The Hill reported, "Sanders pulled in $2.4 million through fundraising emails that highlighted Ryan's" recent warning that Sanders could take over the Senate Budget Committee "if Republicans lost control of the upper chamber in November."
.@SpeakerRyan with your help we raised more than $2.4 million and received 500,000 contributions to take back Congress! #ThanksPaul pic.twitter.com/bB52bnvDor

— Bernie Sanders (@BernieSanders) October 24, 2016
On his website, Sanders' team writes:
"We heard what Paul Ryan said about Bernie: that if the Republicans lose the Senate, Bernie will be the chairman of the Senate Budget Committee. Thanks to Paul Ryan we raised more than $2 million in 72 hours to take back the House and Senate. What a statement! Now let's thank Speaker Ryan for continuing the political revolution. Let's thank Speaker Ryan for helping us raise $2.4 million this week from 500,000 contributions and show everyone how powerful the political revolution still is by using the hashtag #ThanksPaul across all social media channels today."
Sanders' camp provides supporters with a list of pre-made tweets to "thank Paul for his help" which include:
Paul Ryan said he's worried about @BernieSanders as Budget chair. What happened next? $2.4 million raised for Democrats. #ThanksPaul

Paul Ryan helped raise more for Democrats last Tuesday, Wednesday, Thursday than he did for Republicans in July, August, Sept. #ThanksPaul

.@BernieSanders as Budget Committee Chairman? Best idea Paul Ryan's had in years. #ThanksPaul BernieSanders.com/DonationThanksPaul
The Sanders camp also provides supporters with a "Thanks, Paul!" gif.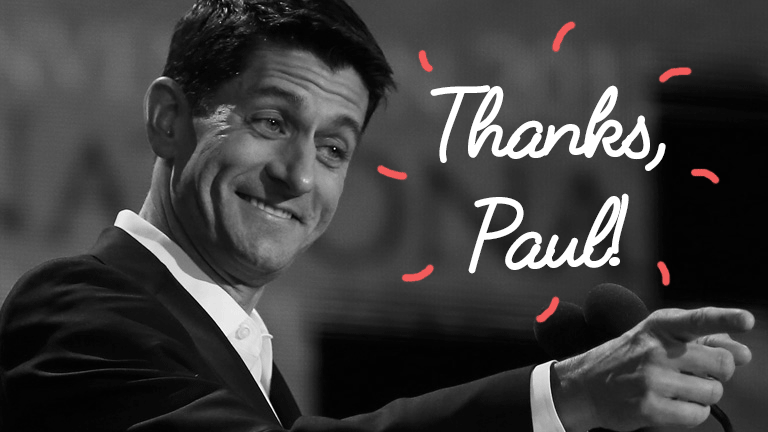 Republican presidential nominee Donald Trump recently suggested that perhaps Ryan "doesn't know how to win" a national election. Indeed, in 2012, when Ryan was on the Republican ticket, the party not only lost the election on a national level, but Ryan also lost his home state of Wisconsin, his hometown of Janesville, and lost the Vice Presidential debate to Joe Biden with a widely-mocked performance in which Ryan was reportedly "overwhelmed" by Biden's "alpha-male" presence.
After Ryan and Romney lost, what some had described as, a "gimme" election in 2012, party consultants not only declared the Republican Party dead, but also felt compelled to issue its "autopsy".