The major networks have essentially ignored the Obama administration's confirmation that Obamacare will offer Americans double-digit premiums and very few choices in insurance plans in 2017.
Even with numerous state exchanges failing, the news broadcasts of ABC, CBS, and NBC "have only devoted 10 minutes and 21 seconds combined to ObamaCare failures," reports NewsBusters. The report continues that the first sign of any Obamacare news at all at ABC and NBC in 2016 was October 3, when Bill Clinton referred to Barack Obama's signature legislation as "this crazy system."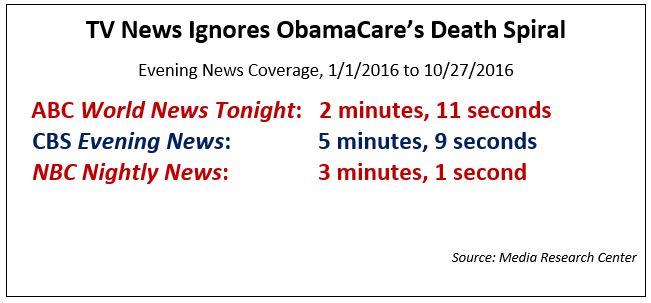 As the chart indicates, since January 1, 2016, ABC World News Tonight has spent only 2 minutes, 11 seconds on Obamacare's failures, while NBC Nightly News has spent 3 minutes, 1 second. CBS Evening News has covered the downfall of Obamacare for 5 minutes, 9 seconds since the start of this year.
When Bill Clinton referred to Obamacare as "this crazy system," ABC spent 58 seconds on this report, CBS 45 seconds, and NBC 37 seconds.
NewsBusters notes that ABC World News Tonight spent 1 minute, 9 seconds on the news that broke October 24 that Obamacare's premiums would be skyrocketing in 2017. NBC and CBS, however, reported this news the next day. NBC spent 2 minutes, 24 seconds on its report, while CBS spent 1 minute, 38 seconds.
A Politico/Harvard T.H. Chan School of Public Health poll released last week finds 79 percent of Hillary Clinton voters say Obamacare is working well, as opposed to 5 percent of Donald Trump voters.
Despite that news of the double-digit premium hikes and significantly fewer insurance plan choices, Obamacare architect Jonathan Gruber said during an interview last week the health care law is working just as it was designed. In 2014, Gruber also testified before the House Oversight Committee that Obamacare's designers took advantage of the "stupidity of the American voter" in creating the program.