Americans working at Carnival Corporation say the company's Christmas gift to hundreds of its college-graduate employees was the news that they are being fired and must train their low-wage foreign replacements.
"I am still processing my emotions and my disbelief," said Matthew Culver, a senior Miami-based IT worker with Carnival. "After twenty years in the industry, this is one of the hardest things I have had to deal with. I never thought this could happen to me after so many years of experience, education, and hard work," he told Breitbart News.
"On December 6, 2016, my coworkers and I were asked to attend a town hall meeting," Culver explained, adding:
We were informed that 200 to 300 of our jobs were being terminated and we were offered jobs with an outsourcing company named Capgemini.  Our last day with Carnival would be February 3rd.  We are going to be training foreign workers inside and outside the United States to take over our jobs; then we are not guaranteed any future with Capgemini.  The workers are in Florida, California and Washington State.  We must decide by December 19th if we plan to train our foreign replacements and work with the outsourcing company in their goal of offshoring the jobs.
The jobs are being transferred because Carnival is outsourcing critical tasks to Capgemini, a French outsourcing firm. The firm has been known to exploit federal guest-worker programs by importing thousands of foreign workers, primarily from India, to work in U.S. jobs that likely would otherwise be filled by middle-class American college graduates.
While Carnival denies the workers' allegations, the anti-American worker business model of outsourcing U.S. jobs to imported foreign labor has received growing media attention in recent years, and has taken place at companies such as Siemens, Disney, Fossil Inc., Southern California Edison, Xerox, Northeast Utilities, and Abbott Labs. The salary-slashing business model is made possible by federal cheap-labor outsourcing programs, which are strongly supported by Wall Street because they convert suburban white-collar salaries into investors' capital gains.
Companies in the United States now employ roughly one million white-collar temporary foreign "guest workers." That total includes at least 650,000 lower-wage graduates on H-1B visas.
In March of 2016, then-GOP candidate Donald J. Trump promised to protect Americans from guest worker programs: "I will end forever the use of the H-1B as a cheap labor program, and institute an absolute requirement to hire American workers first for every visa and immigration program," he said. "No exceptions."
"I will direct the Department of Labor to investigate all abuses of visa programs that undercut the American worker," the President-elect pledged in a recent two-minute video posted on YouTube outlining his plans for his first 100 days in office.
"Originally Carnival was a big family… I feel so deceived and unappreciated," another worker, who asked to remain anonymous for fear of retaliation from the company, said in a statement to Breitbart.  It's "inhuman" and "illogical" for Carnival to now "outsource us to India," the worker said.
The fact that this news "comes merely a few weeks before Christmas… makes the decision that much harder," Culver added. "My coworkers are worried about their families, their health insurance and whether they will be able to find work after they train their foreign replacement. The atmosphere at work is extremely somber. I am stressed and worried and my coworkers feel the same."
A spokesman for Carnival, Roger Frizzell, denied the workers' claim that they are going to have to train their foreign replacements. "The company is transitioning its shore-side IT operations, maintenance and support in North America to an outside firm, Capgemini, to help the company keep pace with the evolving technology environment. All impacted individuals will become employees of Capgemini," Frizzell told Breitbart in an emailed statement.
"Capgemini subject matter experts will be working closely with individuals to conduct operations assessments to understand how work is currently done and identify process improvements," Frizzell added in a separate email. "Once knowledge transfer activities have been completed, Capgemini will look to implement new processes and procedures in order to increase standardization and efficiencies."
Despite Carnival's assurances that the workers' claims are not correct, the workers and their legal representation maintain their charge against the corporation.
"Princess Cruise line was just in the news for illegally dumping oil in the ocean.  I guess it should not be surprising that such a company would also dump their American workers for cheap foreign labor," said attorney Sara Blackwell, whose organization, Protect US Workers, represents high-skilled American workers replaced by low-wage foreign workers.
Blackwell told Breitbart that several of the impacted American workers reached out to her, seeking help following Carnival's alleged announcement.
"The workers are devastated, shocked and angry," Blackwell said.
I met with several of them in Miami and participated in conference calls with workers in California.  I watched mothers cry and one of the workers pleaded with me to find a way to help him save his job because he is the only income source and he needs to work for his wife and children.  They were all scared to refuse to train their foreign replacement because they need to provide for their families but they all want to keep their jobs and they do not want to train the foreign workers.  The American workers were told at a town hall meeting that virtually all of the jobs were going to India.
"The purpose of this decision is to lower labor costs by exploiting the workers in India," Blackwell added. "The IT work of Carnival at the end of this business model will be conducted mostly by Indians in India with a wage that is repugnant and working conditions that are unacceptable and not permitted in the United States… As a result, American lives are destroyed and families will have a very different Christmas holiday than expected."
Carnival denied Blackwell's claim that the jobs will be going to foreign workers, yet Blackwell maintains that American employees:
…are being pressured to sign a document that says they will work for Capgemini, the outsourcing company that is offshoring the work and the company that needs their assistance to train the foreign workers for the offshoring of the jobs to be successful. This document must be signed by December 19th or the workers lose their jobs at Carnival and they do not have any opportunity for the extra months of work with Capgemini. The timing of this required decision is only six days prior to the Christmas holiday. That is an extra nail in the coffin for the hard working American worker and their families.
Breitbart News obtained an exclusive copy of company documents issued to its "transitioning employees."
One document, titled "Frequently Asked Questions for Carnival Corporation Transitioning Employees," details how the workers will have to "assist with knowledge transfer activities."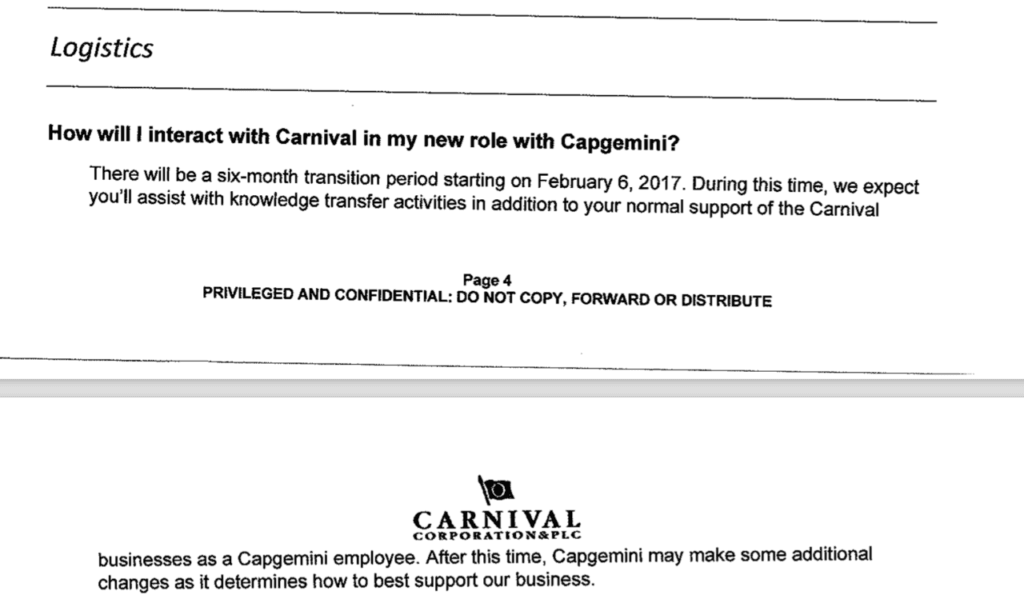 "Knowledge Transfer" is generally the term used when U.S. workers are forced to train their replacements. Howard University professor Ron Hira has explained that the euphemism would be more accurate if it were called "knowledge extraction."
The document also informed employees that "If you do not accept the job offer from Capgemini you will not receive severance."
This is not the first time Carnival has been in the news for alleged ties to expansive guest worker programs.
A CNN report from January of this year documented how Sen. Marco Rubio's 2013 Gang of Eight bill, which would have substantially increased the importation of foreign workers, included provisions that would, in particular, benefit cruise line operations. The report noted that Rubio's chief negotiator for the bill was a corporate attorney who had previously represented the Carnival Corporation. According to Open Secrets, Carnival Corp was one of the top 50 contributors to Rubio's campaign committee between 2009 and 2014.
Throughout his presidential campaign, President-elect Trump was able to distinguish himself from his competitors with his opposition to visa policies that would exacerbate the displacement of American workers.
Indeed, protecting American workers from visa "job theft" helped propel Trump to victory in both the general election and the Republican primary—where he attacked Rubio mercilessly as a "puppet" for enthusiastically championing expansionist immigration policies favored by his corporate donors.
In particular, Trump won the high-profile endorsements of some of Rubio's own Florida constituents, former Disney IT workers who had been laid off by Disney by the hundreds and were forced to train their foreign replacements just before the holiday season in 2014.
"Americans are losing our jobs to foreigners and politicians are supporting and/or promoting this behavior," said Deena Moore, a former Disney worker and Trump supporter, as she spoke at one of Trump's Florida rallies ahead of the state's primary. "I believe Mr. Trump is for Americans first and foremost. He shares our vision, our dreams, and will fight for our futures… here's my mantra: stand up for Americans, stand up with a champion, stand up with Trump."
Moore denounced Rubio as a "great disappointment" who "sabotaged Americans" through his support for corporate-backed legislation that would increase the guest worker visa programs. "Rubio's staff said in 2013 explaining the [guest worker expansions in Gang of Eight] bill 'American workers can't cut it.' Shame on you Marco Rubio," Moore said at the time.
The messaging of Trump's campaign on this issue helped him crush the young Florida senator in the state's primary election by a massive double-digit margin—making Rubio's loss one of the most humiliating defeats in the history of U.S. electoral politics.
Yet despite the role this issue played in Trump's electoral success, new reports indicate that open borders corporatists want to convince Trump to abandon his winning message on pro-American worker immigration controls.
In a piece titled "How Cisco's CEO plans to convince Trump to import more immigrants for US tech jobs," Business Insider reports that Cisco CEO Chuck Robbins, whose company is reportedly one of the top 100 users of H-1B visas in the country, believes he can make the case for importing more foreign graduates to compete with American graduates for U.S. jobs.
Advocates for American wage earners have also expressed concern that Trump's winning message on immigration controls may be co-opted by those being installed in key positions of his administration, such as Andy Puzder, who was recently tapped to be Trump's Secretary of Labor– or by allowing mass migration enthusiast Congressman Paul Ryan to remain House Speaker.
Puzder, who has previously suggested that he prefers foreign laborers to native-born American workers, had previously been supportive of expansionist immigration policies. As immigration attorney Ian Smith has explained, Puzder has backed immigration proposals that would "have brought in millions of semi-skilled foreign guest-workers over the years, replacing our own professionals and crowding out our own graduates."
In 2015, Puzder also joined forces with Disney CEO Bob Iger's open borders lobbying firm, which advocates for legislation that would increase the importation of foreign workers. As the Center for Immigration Studes' Mark Krikorian has explained, as Labor Secretary, Puzder would have a major role in regulating the admission of guest workers as well as helping ICE with worksite enforcement: "Labor is central to the process of certifying and importing all the various categories of guestworkers that undermine the bargaining power of American workers—H1-Bs for the tech industry, H-2As for agriculture, H-2Bs for non-ag cheap-labor employers, and more."
Following a Breitbart report detailing Puzder's record of support for importing foreign workers, Puzder issued a statement pledging to "fiercely defend American workers."
"I will not provide guest worker visas to companies that break the rules, and will support reforms to raise wages for Americans," Puzder wrote, adding that it would be his "moral and constitutional duty" as Labor Secretary to serve U.S. citizen workers and help communities with high unemployment that "benefit the most from clamping down on guest worker programs that compete against them."
Perhaps less significantly, President-elect Trump's Strategic and Policy Forum is also stacked with CEOs who have a history of supporting increased foreign worker admissions, including Disney's Bob Iger, who had supported Hillary Clinton in the 2016 election and who oversaw the firing and replacement of the hundreds of American tech workers in late 2014.
The tension between Trump's pro-American worker immigration platform and the desires of party elites, who support the donor class's open borders agenda, may receive a national spotlight in the coming months—as the Wall Street Journal recently reported, "The business and populist wings of the Republican Party" are set for a divisive battle over the nation's system of legal immigration.
The report notes that the issue of visa dispensations, like the issue of trade, is set to divide "the party's business interests, represented by leaders such as House Speaker Paul Ryan and former Speaker John Boehner, [who] have backed higher visa totals" from the populist wing of the party, represented by Donald Trump and his supporters, who want to protect American jobs and wages from unfair competition.