WASHINGTON, D.C. – It's finally here. Inauguration Week. Donald Trump will become the 45th president of the United States on Friday, January 20. Here are some important details to know if you plan on attending (or watching) the transition of power.
When & Where: Most of the festivities will take place Thursday, Jan. 19 through Saturday, Jan. 21 – with Friday being the official seal-the-deal date. Unofficial events, however, will be taking place all week across the nation's capitol.
Here are the basic need-to-knows, from the welcoming ceremony, to the swearing in, to the parade.
Transportation: DON'T DRIVE. Whatever you do, do not attempt to drive around downtown D.C. later this week. Between the barricades, road closures and sheer amount of spectators, driving will be next to impossible. Take the metro instead and pick up a limited edition SmarTrip card commemorating the inauguration (while supplies last).
This fancy $10 card (a 30% savings, mind you) comes pre-loaded with a one-day pass for unlimited Metrobus and Metrorail rides. What's even better is you can keep the card: it's valid both before and after Jan. 20. Add money to it by going online at wmata.com.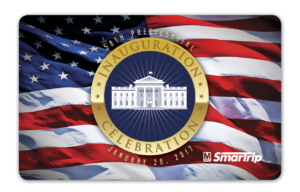 Note: A few metro stations will be closed within the security perimeter. For all the metro specifics, click here.
For those who choose to use a ride sharing app like Uber or Lyft, be warned: there will be a geofence in place around the security perimeter. According to USA Today, "the security perimeter will go into effect 48 hours before the ceremony and last until Sunday morning in some areas." But never fear, "Uber has worked with officials for months to prepare for Inauguration Day, the company said. Its engineers altered its navigation systems to account for road closures and blackout zones and changed dispatch algorithms, so vehicles won't be matched with riders on the other side of a barrier."
Bottom line: Leave early and pack patience.
Accommodations: If you don't already have a place to stay, good luck.
List of Prohibited Items: Ammunition, explosives, weapons – you know, the usuals. But careful, selfie-sticks and balloons also make the long list of "no-no's". Click here for a complete list of prohibited items.
Weather: Latest weather forecast models indicate that Trump's big day may be warmer than normal, with current predictions of temperatures in the 50s and 60s. One would be wise though to come prepared for a chilly few days. Wear layers and don't forget comfortable shoes: all public events take place outside. Oh, and don't forget an umbrella, there's a chance of rain!
Security Measures – for the curious: Homeland Security Secretary Jeh Johnson has said officials expect from 700,000 to 900,000 attendees this week, with 99 groups expected to demonstrate either for or against Donald Trump. With a price tag of tens of millions of dollars, a lot of security measures are coming together, and it's not just the usual metal detectors and bag checks — though there will be plenty of that. Rooftop snipers, boat restrictions in the Anacostia and Potomac rivers, and "multilevel perimeters" along the viewing areas and parade route will be set in place. Manhole covers are being welded shut, and light poles, trash cans, and even mailboxes are being removed from the area.
Officials say there will be some 28,000 security personnel dedicated to keeping spectators safe. In addition to local law enforcement officers, and those being brought in from out-of-town, this includes help from the Department of Homeland Security, Secret Service, Transportation Security Administration, and Coast Guard, as well as troops from the National Guard.
Staying Safe: Despite the beefed up security, there are still some safety precautions one can take. Don't carry a ton cash, use a purse with zippers (or even better, a cross body bag), and pack photocopies of all your important documents (think ID, credit cards, airline tickets, etc.).
With such an influx of people, its bound someone is going to get lost. Be sure all children, disabled and elderly people carry an information card, including their name, address, emergency contact info, and medical information.
There is also the potential that some protests may get violent. If this happens, move away from the action as calmly and quickly as possible. Avoid becoming involved and keep your loved ones close. Move into a safe, enclosed area and stay alert.
To sign up for alerts text INAUGURATION to 888777 to receive updates from Park Police on road closures, missing persons, crime and emergencies. To report emergencies, call 911 or Park Police at (202)-610-7500.
Glitz-and-Glam: For all the balls, galas, receptions and parties, check out these guides. Many of these are invite-only, but tickets may be purchased for several.