Thursday night and Friday morning were but warm-up acts for Loserpalooza, which erupted into violent riots and crazy stunts after Donald Trump took the oath of office and formally became President of the United States. Some scenes from the madness on Friday afternoon:
Vandalism against vehicles, especially limousines, became all the rage. Anarchist graffiti was scrawled on this one after its windows were smashed:
"We the people" #DCProtests #NBCBoston pic.twitter.com/NxdxAiMLyr

— Nick Emmons NBC10 Boston (@nicknbcboston) January 20, 2017
Another limousine was looted for water by thirsty thugs:
Wrecked limo being looted for water pic.twitter.com/UpPgCTnfkI

— dorkasaurus_rex (@dorkasaurus_rex) January 20, 2017
Even Larry King's wheels were vandalized, evidently while his driver was still inside:
Protestors in DC smashed the windows of my hired SUV & many other cars. I was working in-studio & am ok, but my driver is a bit rattled.

— Larry King (@kingsthings) January 20, 2017
Outside the offices of the Washington Post, the brownshirts took things to a new level by setting a limousine on fire:
They just lit this limo in front of The Washington Post on fire. Massive black smoke. #inauguration pic.twitter.com/EiymUAteOk

— Tauhid Chappell is building his own table (@TauhidChappell) January 20, 2017
Limo on fire pic.twitter.com/l1J5NjCyOB

— Dad (@fivefifths) January 20, 2017
And, of course, a Fox News vehicle was targeted:
https://twitter.com/SteveKopack/status/822552364154519554
The "protesters" have shown such a predilection for attacking Starbucks coffee shops that all of their locations in D.C. closed for safety:
All DC Starbucks shops are closed for safety concerns after riot damage, according to one of the managers pic.twitter.com/jvlJf0zmrp

— Emily Shire (@eshire) January 20, 2017
The rioters are also fond of taunting the police, revealing links to Black Lives Matter and the rest of the left-wing anger machine:
Protesters yelling "cops, pigs, murderers" pic.twitter.com/hhl7ns6JY1

— Igor Bobic (@igorbobic) January 20, 2017
As noted previously, they're brimming with respect for America's armed forces, too. They spray-painted "PIGS" on an Army truck:
Army truck leaves after someone spray paints "pigs" on it pic.twitter.com/G3D2vRbZLT

— Robbie Gramer (@RobbieGramer) January 20, 2017
The madness isn't confined to Washington, D.C. An anti-Trump protester was caught on video spitting in the face of a police officer in Cleveland:
Caught on video: Anti-Trump protester spits in Cleveland officer's face https://t.co/5ijzdWDPCc pic.twitter.com/7smr1VeuLr

— fox8news (@fox8news) January 20, 2017
While Cleveland settles for spit, D.C. thugs are throwing bricks of cement at the police:
MORE: Protesters throwing bricks of cement at police officers in D.C. as situation devolves, @jeffpeguescbs reports https://t.co/AsjUerEVmy pic.twitter.com/8uCvPWRymj

— CBS News (@CBSNews) January 20, 2017
As WFAA News documents, it hasn't been the most dignified day for some: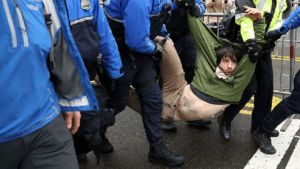 The demonstrators are really into starting fires, because nothing says "respect for democracy and freedom" like setting a blaze. Trump supporters stepped up to put some of the fires out…
Trump supporter tries to stamp out trash fire set by a anti-Trumpers. pic.twitter.com/vEr3rBXivm

— Kevin Johnson (@bykevinj) January 20, 2017
… only to be assaulted for their trouble.
Someone in a MAGA hat just put out the K St. fire, amid resistance, and that hat was taken by a protestor pic.twitter.com/PMgwuRaBQP

— Mark W. Smith 💁🏻‍♂️ (@markdubya) January 20, 2017
The Media Research Center put together a vandalism supercut:
The anti-Trump goons did a good job of shutting down vital intersections, which makes them feel powerful, but annoys the heck out of hard-working citizens with jobs to do. Also, it helped left-wing blogs get their precious "Trump inauguration was under-attended!" meme rolling.
#BREAKING: Protesters block traffic on SE-SW Freeway near 6th Street exit in #DC: https://t.co/f7sKEwcKjD #inauguration (via @JDLand) pic.twitter.com/QKIAoy8a7i

— ABC 7 News – WJLA (@ABC7News) January 20, 2017
https://twitter.com/Breaking911/status/822509480030171137
The chaos was not without its moments of levity. Here we see bemused authorities dealing with a gang of protesters who duct-taped themselves together:
Some protested have duct taped selves together pic.twitter.com/ayVDJ65C82

— Andy Sher (@AndySher1) January 20, 2017
Let it be known that capitalism is alive and well in the midst of the chaos:
This dude has anti-Trump buttons for sale with pro-Trump swag on the flip side of his display pic.twitter.com/2FazdplmGt

— Hunter Walker (@hunterw) January 20, 2017
The Satanists showed up to declare war on Trump, too:
https://twitter.com/Breaking911/status/822549258876358656
Best of all, there was the viral video of an anti-Trump supporter just plain losing it when the new President was sworn in:
An anti-Trump protester screams 'no' as Donald Trump is sworn in as the 45th US President pic.twitter.com/qmsaFmMSkr

— ITV News (@itvnews) January 20, 2017