A poll released by Quinnipiac University National Poll on Wednesday found that a majority of voters say President Donald Trump "does not care" about average Americans.
Nearly two-thirds, or 59 percent, say the president does not care about the average American, compared to 38 percent who say he does. But voters are deeply divided on this question: 83 percent of Republicans say he does, whereas 89 percent of Democrats says he does not. A third of independent voters, or 33 percent, say he does, and 64 percent say he does not.
A majority of white men, 51 percent, say he does, while 45 percent say he does not. As for white women, only 39 percent say he cares about average Americans, while 58 percent believe he does not.
Since the election, the number of voters polled by Quinnipiac who say Trump cares about the average voter has steadily declined. After the election, 51 percent said he does, but that percentage has dropped to 38 percent in May. Meanwhile, 59 percent say he does not care, compared to 45 percent in November: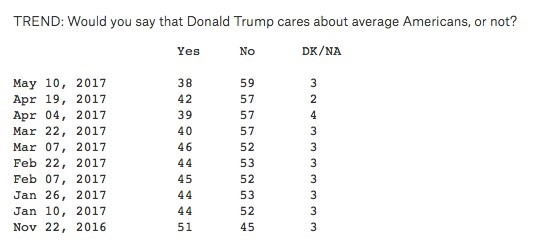 The numbers come amid a debate over the revised healthcare bill passed by House Republicans that has garnered little support. While many like some individual provisions of the bill, significant numbers believe it will allow insurance companies to deny policies to those with pre-existing health conditions and will make the U.S. healthcare system "worse."
Part of voters' disapproval could stem from hysterical, almost uniformly negative media coverage of Trump and his administration, and the way he responds to them. A majority of voters, 58 percent, said they disapproved of the way the media covers him. Another 65 percent said they disapprove of the way Trump talks about the media.
Pollsters questioned 1,078 voters from May 4 to May 9. The poll has a margin of error of plus or minus three percentage points.