"Republican Wins Special Election Despite Assault Charge," Reuters headlined its Friday morning article.
Despite?
Republican Greg Gianforte won election Thursday as Montana's sole representative in the House in a special election marked by special behavior.
The victory over Rob Quist came 24 hours after Gianforte assaulted a journalist. Ben Jacobs, the ragdolled reporter, says the candidate (for the WWE Hall of Fame?) bodyslammed him. Fox News reporters described the maneuver as more of a chokeslam. Whether an Ultimate Warrior gorilla press or an Undertaker-style chokeslam, the finishing move worked as advertised for Gianforte.
Sure, Trump won Montana by 20 points and the last time a Democrat captured its at-large House seat MSNBC did not exist to applaud. But really turning Bozeman into Suplex City did it for Gianforte.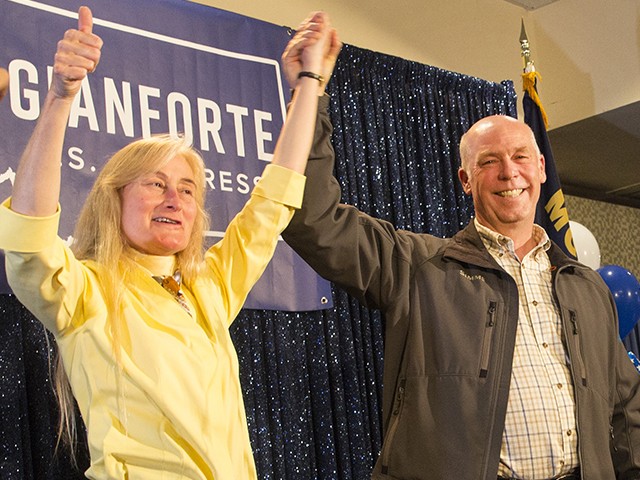 In case you never noticed, whenever one dude tosses another dude to the ground on TV the live crowd cheers. The people most loudly booing Gianforte don't watch that particular cable-television program on Monday nights, so perhaps we should excuse them for imagining the good politics of body slams as bad form.
No matter how desperately the scriptwriters tried to turn Gianforte heel and pass off Jacobs as the babyface, the audience would not accept that. Making a journalist a babyface in politics works about as well as making that guy with a Middle Eastern accent the fan favorite in the WWE. Voters hate journalists the way the ticketholder with four teeth in Row 21, Seat B hated the Iron Sheik in 1983.
The candidate's move immediately recalls those of a politician from the American future: President Dwayne Elizondo Mountain Dew Herbert Camacho. But really a president from our past prefaced it. A young Abraham Lincoln famously chokeslammed a wrestling opponent in New Salem, Illinois, in 1831. He ran for the state legislature the following year. Though he lost the election, voters in New Salem gave him 277 of their 300 votes.
Lesson? The chokeslam is a winning move.
With this in mind, Republican candidates might model all future campaigns on the party's most recent victor and its most famous figure.
Clothesline Chris Hayes. Challenge Matt Yglesias to a test of strength after he asks a challenging question. Entice Hornswaggle or the Haiti Kid to take on Paul Krugman. Demand a five-count on King Kong Bundy Michael Moore. Twist that guy from Channel 4 into a figure four.
Don't stop there.
Change the focus of campaign rhetoric from policy to personal boasts, informing voters of the "rolex-wearing, kiss-stealing, wheeling-dealing, limousine-riding, jet-flying, styling-and-profiling son of a gun" before them. Ditch suits. Instead wear long, colorful robes bedizened in glitter. Fire Mark Hanna. Hire the Grand Wizard, Classy Freddie Blassie, Paul Bearer—someone like that.
When poll numbers go south, reach for a foreign object or tag out. Save campaign funds by instructing supporters to bring handmade signs to rallies. Whenever you lose your train of thought, say "Woooo!" Always speak in the third person. Flex. Cup your hand next to your ear when seeking the audience's approval. After an ally endorses, turn on him when he's not looking. Interrupt your opponent's points by loudly shouting, "It doesn't matter what you think!"
Somebody, apparently, already beat me to the punch here. The Rock recently admitted that he ponders running for president in three years, unveiling a "more poise, less noise" campaign slogan on Jimmy Fallon and appearing with runningmate Tom Hanks on Saturday Night Live.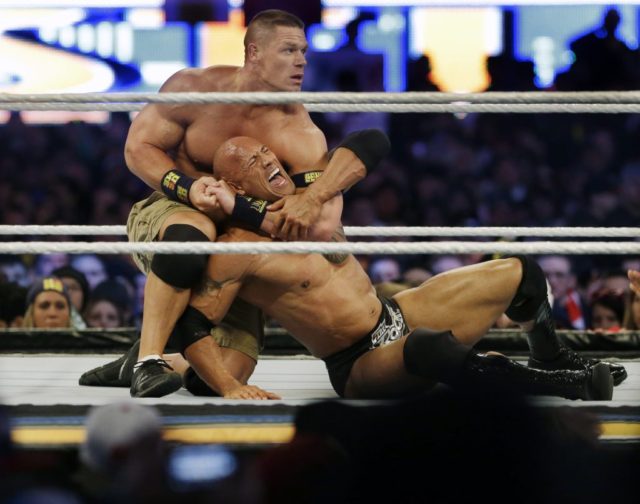 The Rock, like Gianforte the Giant, enters the political arena as the candidate of the future—500 years into the future, where farmers water crops with Brawndo and Ow My Balls! rules the Nielsen ratings. The future? The frontier? You say President Lincoln, I say President Camacho. Muscle-ocracies predate Gianforte, The Rock, and Honest Abe. They outlive Dwayne Elizondo Mountain Dew Herbert Camacho.
Surely Greg Gianforte could smell what The Rock's been cooking long before the stench hit the raised nostrils of his critics. Perhaps what The Rock's been cooking has been cooking for longer than we care to admit.
It's still early for 2020. But it's later than you think. It's always been.