Mainstream media reporters and left-wing pundits resoundingly mocked President Donald Trump on Thursday when Trump said he was elected to represent "Pittsburgh" and not "Paris" while announcing that the United States was withdrawing from the Paris Climate Accord. They immediately—and gleefully—pointed out that Hillary Clinton carried Pittsburgh in 2016.
But it turns out that Trump actually carried the Pittsburgh metropolitan area.
Even Pittsburgh Mayor Bill Peduto, the Democrat who vowed that his city would follow the Paris Accord's guidelines, told CNN's Wolf Blitzer on Thursday that Trump "may be talking about all of western Pennsylvania" when he referenced Pittsburgh.
As CityLab points out, "If we consider Pittsburgh as a metropolitan area (and Trump could easily have meant it that way) the president actually ekes out a victory."
According to CityLab's analysis, "with 50.2 percent of the vote in the Census-defined metropolitan statistical area, Pittsburgh was the second-largest metro area where Trump won a majority, topped only by Dallas-Fort Worth. Tampa-St. Petersburg-Clearwater and Phoenix-Mesa-Scottsdale are the only larger metros where he garnered plurality of the vote."
The Pittsburgh metropolitan area, according to the Census, "includes Allegheny county and the nearby counties of Armstrong, Beaver, Butler, Fayette, Washington, and Westmoreland."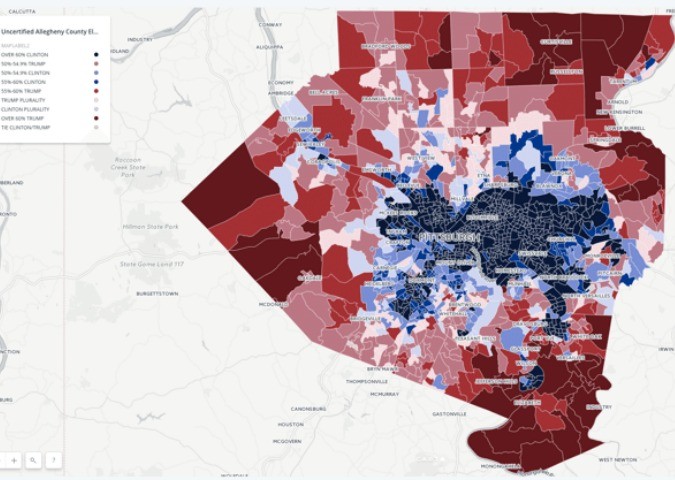 The left-leaning CityLab analyst still took a jab at Trump, saying there still are "legitimate concerns surrounding Trump's understanding of the places he won."
But "on this one," CityLab concedes, Trump "might just have a point."
"I was elected to represent the citizens of Pittsburgh, not Paris." (Trump lost Pittsburgh!) pic.twitter.com/Nw7Vkx7ygF

— Eli Yokley (@eyokley) June 1, 2017
Funny that #Trump mentioned Pittsburgh. Clinton carried Allegheny County 363,017 to 257,488 for Trump. https://t.co/gG4MOenSv5

— EJ Dionne (@EJDionne) June 1, 2017
As the Mayor of Pittsburgh, I can assure you that we will follow the guidelines of the Paris Agreement for our people, our economy & future. https://t.co/3znXGTcd8C

— bill peduto (@billpeduto) June 1, 2017