Colorado GOP Rep. Mike Coffman is trying to create a congressional quasi-amnesty for more than 800,000 illegal immigrants now protected by former President Barack Obama's DACA amnesty.
He is trying to collect signatures from 218 Democratic and Republican members for a "discharge petition," which would ensure his amnesty bill will get a debate and a vote in the House.
Discharge petitions rarely work, in part, because both parties' leaders use their power to ensure that ordinary members cannot collect the 218 votes to take temporary control of the floor schedule.
Coffman, who has a D+ rating from the NumbersUSA immigration reform group, announced his plan on Thursday, via his Twitter account: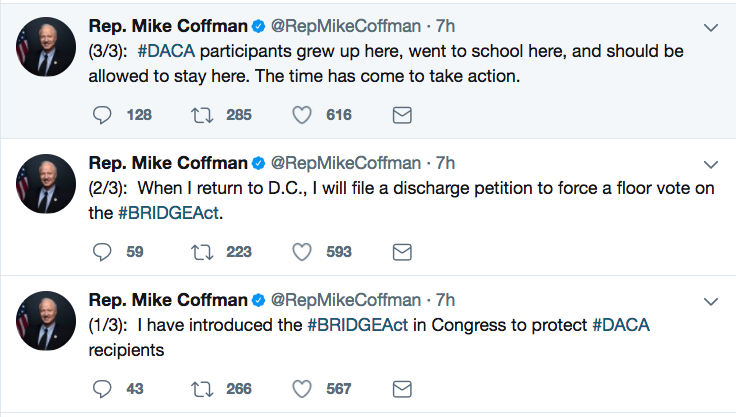 Coffman is a strong supporter of Obama's DACA amnesty for younger illegals, partly because the GOP and the state's business and agriculture establishments have long encouraged large-scale immigration of Latino workers in Colorado. Those legal and illegal immigrants are a growing political force, and many — plus their children — are now voting for Democrats. Their votes ensured that Coffman's Sixth District was won by President Barack Obama in 2012 and by Hillary Clinton in 2016.
Coffman says he wants a vote on his "Bridge Act," which would provide immediate help to roughly 800,000 illegals who were brought into the United States as minors by their parents. His quasi-amnesty would grant a work permit and protection from deportation to qualifying illegals if they have a GED or better, are aged 18 to 36, and have not committed major crimes.  The bill's provisions create a second-class status for the illegals because it would provide them with Green Cards or a track to citizenship.
Researchers say another 1 million illegals could qualify for the DACA amnesty when they are adults and if they graduate from high school.
Each year, the government awards Green Cards to roughly 1 million legal immigrants, and it hands out almost 3 million short-term work permits to foreign workers. These permits include roughly 330,000 one-year OPT permits for foreign graduates of U.S. colleges, roughly 200,000 three-year H-1B visas for foreign white-collar professionals, and 400,000 two-year permits to DACA illegals.
The current annual flood of foreign labor spikes profits and Wall Street values by cutting salaries for manual and skilled labor offered by blue-collar and white-collar employees. It also drives up real estate prices, widens wealth-gaps, reduces high-tech investment, increases state and local tax burdens, hurts kids' schools and college education, pushes Americans away from high-tech careers, and sidelines at least 5 million marginalized Americans and their families.
Multiple business groups admit that Trump's popular RAISE Act immigration and economic reform would raise Americans' salaries.
Many polls show that Americans are very generous, they do welcome individual immigrants, and they do want to like the idea of immigration. But the polls also show that most Americans are increasingly worried that large-scale legal immigration will change their country and disadvantage themselves and their children. Trump's "Buy American, Hire American" policies are also extremely popular, including among Democratic-leaning voters.