WASHINGTON, D.C. — Rep. Bill Johnson (R-OH) says Republicans and Democrats need to stop politicizing tax reform and work in favor of America's working class to pass legislation that will take the financial burden off of small businesses.
"If we want to see innovation and ingenuity return to America, in a way that we haven't seen it in decades, this is absolutely necessary," Johnson told Breitbart News outside of the IRS building on Friday where he participated in a demonstration in support of passing tax reform legislation.
Friday's event was spearheaded by the Job Creators Network, which recently launched a multi-million dollar campaign, called "15% on the 15th, to pressure Republican and Democratic lawmakers to pass small business tax cuts by Thanksgiving.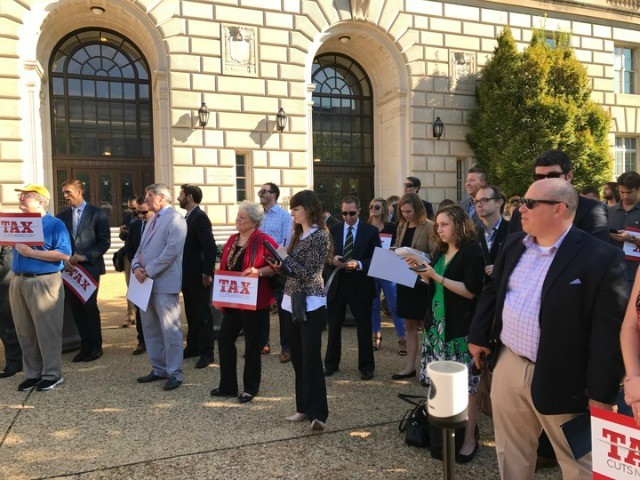 "There are going to be those, on both sides of the fence, that try to politicize this. This is not a time for politics," Johnson said. "This is a time for pragmatism and believing in the strength of America. Our strength is not inside this beltway here. The strength of America is in the indomitable spirit; the heartbeat of the American people. That's where we thrive, and this is not a time for politics."
John said, "America's got one of the most onerous tax codes in the western civilized group of nations. Ronald Reagan was the last one that did a big tax reform package. I don't even think Ronald Reagan would recognize our tax code today; 75,000 pages long."
The Ohio congressman spoke about the impact of America's tax code on small businesses. "Small businesses create about two-thirds of the jobs in our country." He added, "95 percent of those small businesses are passed through entities that are taxed as pass-through-entities, like LLCs, sub-chapter Ss and such. Those people pay an effective tax rate upwards of 40 percent. If we can get small businesses down to that 15 percent, 20 percent range, oh my gosh, what is that going to do in terms of hiring and growing and expanding our economy."
He said he believes "it's very likely" the tax reform bill will pass. "I can't think of any subject that's talked about more. And I don't know anybody on either side of the aisle when you sit down and talk about how to get our economy going, that doesn't understand that letting the American people keep more of what they earn, letting businesses keep more of what they earn. Innovation and ingenuity has got to come back.
Alfredo Ortiz, president and CEO of Job Creators Network, recently told Breitbart News, "Let's stop playing the D.C. game and understand what's reality versus what isn't." He added, "If we want to see economic growth, we need to make sure that we cut the tax rate for small business owners as fast as we can and also to make the retroactivity to January 1 of this year as opposed to January of 2018."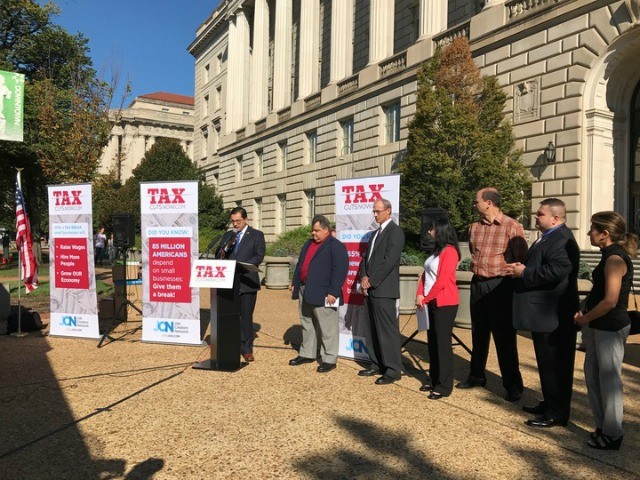 At least six small business owners spoke at Friday's event in favor of a 15 percent tax cut. "If we can get a tax cut I can buy the property next door to me, I can expand my business," Susan Kochevar owner of 88 Drive-In Theatre told the crowd. "I pay my kids more. They're young people trying to learn skills and get better jobs."
In an interview with Breitbart News, Joseph Semprevivo, owner of Joseph's Sugar Free Cookies, said "this is a middle-class issue" and called for a tax cut for America's middle class workers while imploring Mitch McConnell, Chuck Schumer, Nancy Pelosi and Paul Ryan to "listen to the middle class and listen to small business owners and pass this tax cut now." He added, "The tax code needs to be a moral mirror of our country's values. We need a simpler tax system; one that promotes entrepreneurship instead of stifling it."
Semprevivo added, the tax cut "gives us more money in our pocket to give raises" to their employees, "so we can keep our team members and not have to retrain people that you hire because they're not making enough money. Our goal is to keep them."
Adelle Nazarian is a politics and national security reporter for Breitbart News. Follow her on Facebook and Twitter.