A 19-and-a-half foot Balsam fir arrived on a wagon pulled by two horses at the White House on Monday, with first lady Melania Trump and son Barron there to greet the beauty and the Chapman family, whose farm provided the White House Christmas tree for the third time.
Five Marine band members played "O Christmas Tree" as the carriage pulled toward the North Portico of the White House. Melania and Barron emerged from the residence and took a turn around the carriage, taking in a full view of the massive tree.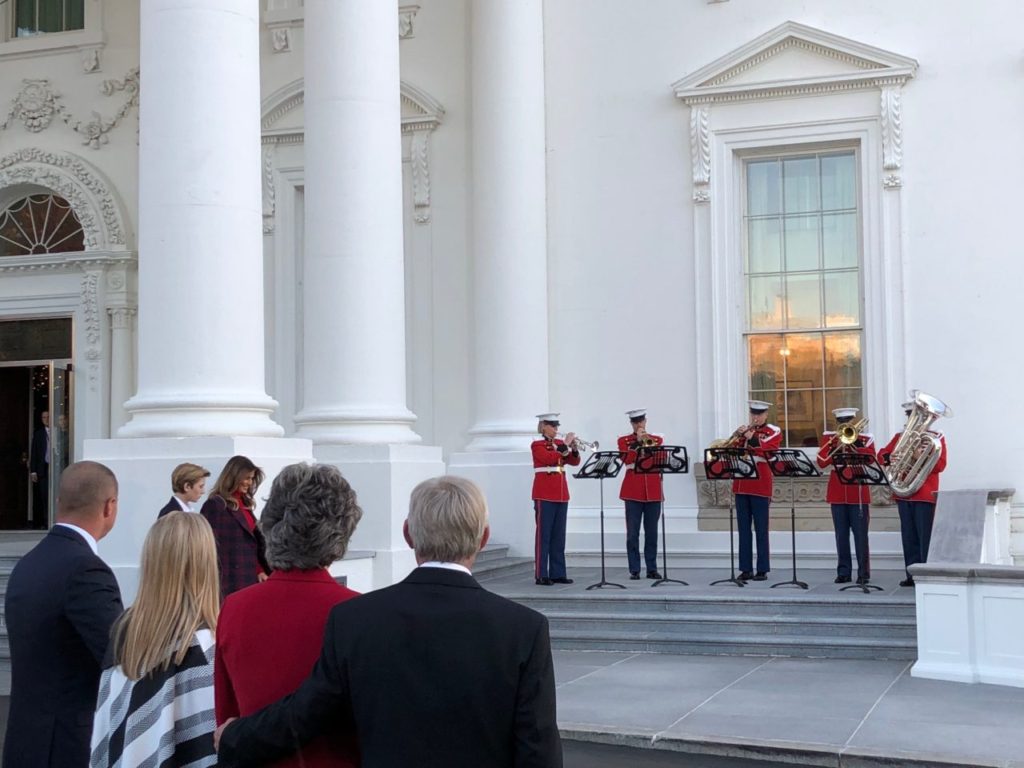 The First Lady moved to visit members of the Silent Night Evergreens tree farm family that were gathered for the delivery. Melania could be heard remarking to Jim and Diane Chapman and their son David of the tree farm, what a beautiful tree it was.
Video posted on the First Lady's social media shows her and son Barron Trump receiving the tree:
Thank you Silent Night Evergreens in Wisconsin for our beautiful tree! @POTUS, Barron & I are excited for Christmas in our new home! pic.twitter.com/so6HVG1st8

— Melania Trump (@FLOTUS) November 21, 2017
In the post she thanks the tree farm that provided the tree, Wisconsin's Silent Night Evergreens, and expresses excitement from both herself and son Barron to celebrate Christmas in their "new home!"
Just a few days ago, the first lady's office posted a photo of the White House Christmas booklet with a note that she was looking forward to receiving the tree:
This year's @WhiteHouse Christmas booklet is in printing! Excited to receive the beautiful tree Monday! #ChristmasTraditions pic.twitter.com/x1bbnXch0z

— Melania Trump (@FLOTUS) November 17, 2017
The five-piece ensemble also played Christmas songs including "Deck the Halls," "We Wish You a Merry Christmas," "Jingle Bells," and "Gloria in excelsis Deo."
One of the songs played at the arrival of the White House Christmas tree: "Gloria in excelsis Deo" 🎄🎼🌟 pic.twitter.com/53QrQxl7me

— Michelle Moons (@MichelleDiana) November 21, 2017
The 19-foot Christmas tree was set up in the White House Blue Room after it was received. Since 1966, the tree has been chosen based on the winners of the National Christmas Tree Association national tree contest.
In a September National Christmas Tree Association announcement that the tree had been selected, Diane Chapman said, "We are so honored to be selected again as the National Grand Champion! Being a guest of the White House should only be a dream for small farmers like us, and we are very excited about our trip to Washington." The Chapmans previously provided Christmas trees to the White House in 1998 and 2003.
White House Chief Usher Timothy Harleth and White House Superintendent of Grounds Dale Haney traveled to Wisconsin to select the tree two months before its arrival at the White House.
Follow Michelle Moons on Twitter @MichelleDiana