The U.S. military once again used its massive logistical reach to send almost 100,000 pounds of turkey to U.S. troops stationed all over the world for Thanksgiving, it announced Wednesday.
For example, the Defense Logistics Agency Troop Support provided service members deployed to Afghanistan, Iraq, Jordan, and Kuwait with:
98,820 pounds of turkey
47,880 pounds of beef
31,650 pounds of ham
30,384 pounds of shrimp
3,110 gallons of grape juice
918 gallons of eggnog
6,288 pies
9,378 cakes (which includes 382 cheese cakes)
The team also worked with regional vendors across the globe to provide Thanksgiving meals to Navy ships at sea and troops in Japan, Singapore, Philippines, Korea, Okinawa, Saudi Arabia, Qatar, Bahrain, Europe, and Africa.
There are more than 257,000 active-duty troops and reservists stationed overseas, according to Pentagon statistics.
Robin Whaley, who works with DLA Troop Support's Subsistence supply chain in Philadelphia, said the planning begins in March and the work continues until the last deliveries are made.
"I am grateful and feel honored and blessed knowing I was personally involved in the process of providing Thanksgiving support to the warfighter," she told DLA Troop Support Public Affairs' Shawn J. Jones.
"If we can bring a little taste of home to the warfighter and put a smile on their faces, we have done our job," she said.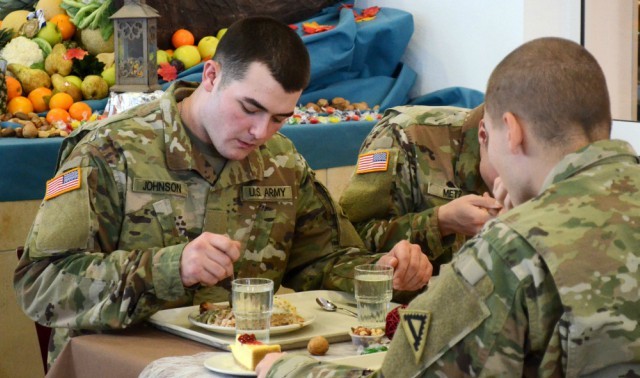 U.S. Army Pvt. Austin Johnson with the 1st Battalion, 4th Infantry Regiment, enjoys his first Thanksgiving meal away from home as a Soldier at the Joint Multinational Readiness Center's Warrior Sport Café Dining Facility in Hohenfels, Germany, Nov. 22, 2017 (Staff Sgt. David Overson / U.S. Army).