A huge Chicago bakery is now hiring Americans at higher wages, following a federal immigration enforcement action which forced the firing of 800 illegal immigrants.
The forced departure of the illegal-immigrant workers at the Chicago-based Cloverhill bakery was a financial shock to the Swiss company which bought the bakery from a U.S. investment group in 2014. The illegals comprised one-third of the bakery's employees, so U.S. sales fell by seven percent when the enforcement forced the company to rebuild its workforce by hiring Americans, the CEO told Wall Street analysts, according to Bloomberg:
"It's proceeding very, very slowly because it's like having a brand new factory and a brand new workforce," Chief Executive Officer Kevin Toland said on a call with analysts. "That's presenting a lot of challenges, as you can imagine" …

The increase in employment costs — which is affecting retailers and restaurants nationwide — will eventually lead to higher consumer prices, Toland said.
Company officials blamed the illegal-immigrant workforce on an outside staffing firm which was investigated by federal agencies. However, some employees had complained about racial antagonism before the federal review.  Also, the firm suddenly lost $1 billion in stock value in the seven days after Donald Trump was inaugurated and promised his "Buy American, Hire American" policy.
The loss of illegal immigrants can be very expensive for a company because the new American hires can demand higher wages — and most of the prior employers will then demand similar pay levels.
But payroll costs are a relatively small share of costs in highly automated factories, such as the Cloverhill bakery, allowing wages to rise without threatening profitability. For example, the company reported a "very severe loss in margins … [because of] volume losses … [and] increased labor input costs." But the extra costs only caused the company's U.S. profits to drop from 16 percent to  9.5 percent of revenue.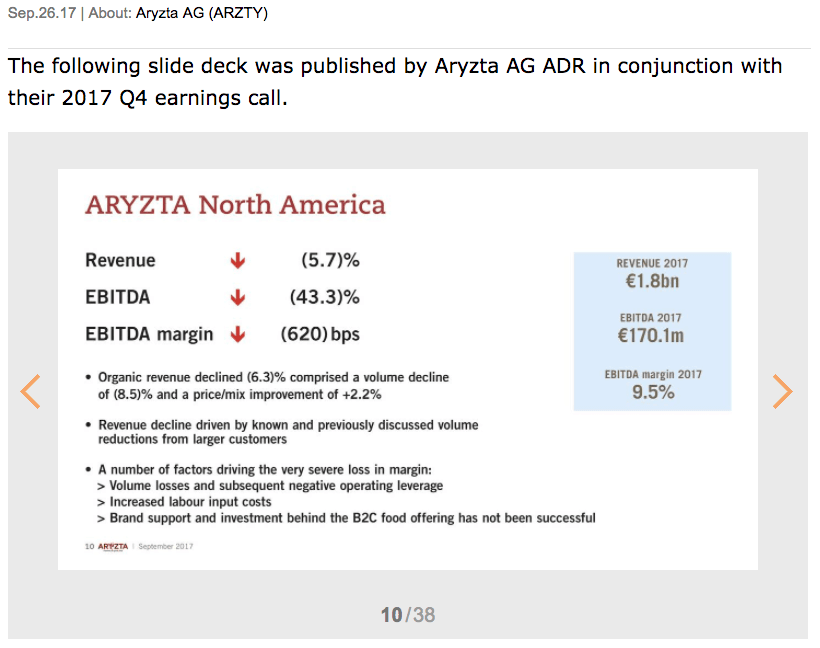 The damage to company profits caused by immigration enforcement helps explain the rising effort by many business-supported advocacy groups to expand the supply of cheap-labor immigrants into the United States. For example, a loose coalition of lobbying groups is now pushing Congress to package a wage-lowering amnesty in the 2018 budget. The groups include FWD.us, New American Economy, and the National Immigration Forum.
The Cloverhill action suggests that officials at the Department of Homeland Security are stepping up their workforce inspections. In October, Thomas Homan, director of the U.S. Immigration and Customs Enforcement agency, told reporters at the Heritage Foundation that:
So we're taking worksite enforcement very hard this year. Regarding the increased number of inspections and worksite operations, you are going to see us significantly increase this next fiscal year. We're doing it differently than we've done it. Now we're going to prosecute the employers who knowingly harbor the illegal aliens, we are going to detain and remove the [aliens].
TheDailyBeast.com recently reported that immigration officers plan "to conduct a major worksite enforcement operation at a national food service chain in the coming weeks, according to an internal Immigration and Customs Enforcement (ICE) document." The report said:
"These [illegal-immigrant] people are basically being used as slave labor," said the official, who spoke to The Daily Beast anonymously because he was not permitted to discuss impending operations on the record.

The plans detailed in the document are the strongest indication to date that Immigration and Customs Enforcement officials are increasing what's called "worksite enforcement"—meaning, efforts to prosecute people who employ undocumented immigrants. As with all complex law enforcement operations, there's a chance this one is altered or even scuttled. If it does go according to plan, however, it will be the first major worksite enforcement action of an administration that has promised to prioritize this core ICE mission.

The food service industry is a particularly ripe target, with The Migration Policy Institute estimating that about 9 percent of food service workers in the U.S. are undocumented.
In March 2014, Cloverhill was sold to the Swiss holding company, Aryzta A.G. A press statement said:
Aryzta A.G. said it has closed on its acquisition of Chicago-based Cloverhill Bakery.  Aryzta bought Cloverhill from Quad-C Management, a middle market private equity firm based in Charlottesville, Va. Financial terms of the transaction were not disclosed … Quad-C invested in Cloverhill in 2009, and during its ownership, Cloverhill invested approximately $100 million in growth capital and grew revenue by more than 80%.
The automated Cloverhill bakery supplied a wide variety of products to the other companies. It sells hamburger buns to McDonald's and supplies many single-package products for vending machines.
Each year, four million Americans turn 18 and begin looking for good jobs in the free market.
But the federal government inflates the supply of new labor by annually accepting 1 million new legal immigrants, by providing almost 2 million work-permits to foreigners, by providing work-visas to roughly 500,000 temporary workers and doing little to block the employment of roughly 8 million illegal immigrants.
The Washington-imposed economic policy of mass-immigration floods the market with foreign labor and spikes profits and Wall Street values by cutting salaries for manual and skilled labor offered by blue-collar and white-collar employees. It also encourages discrimination against American workers, drives up real estate prices, widens wealth-gaps, reduces high-tech investment, increases state and local tax burdens, hurts kids' schools and college education, pushes Americans away from high-tech careers, and sidelines at least 5 million marginalized Americans and their families, including many who are now struggling with opioid addictions.