At a remote military base in Jordan earlier this month, U.S. Marines were abuzz with excitement — Defense Secretary Jim Mattis was in town.
He would not be visiting Camp Titin, where they were training Jordanian forces — but he would be nearby at an international terrorism conference in Aqaba, Jordan, and for these Marines, that was close enough.
One recalled being deployed in Afghanistan years ago, and how Mattis, then-commander of U.S. Central Command, had been just feet away from him, delivering a pep talk.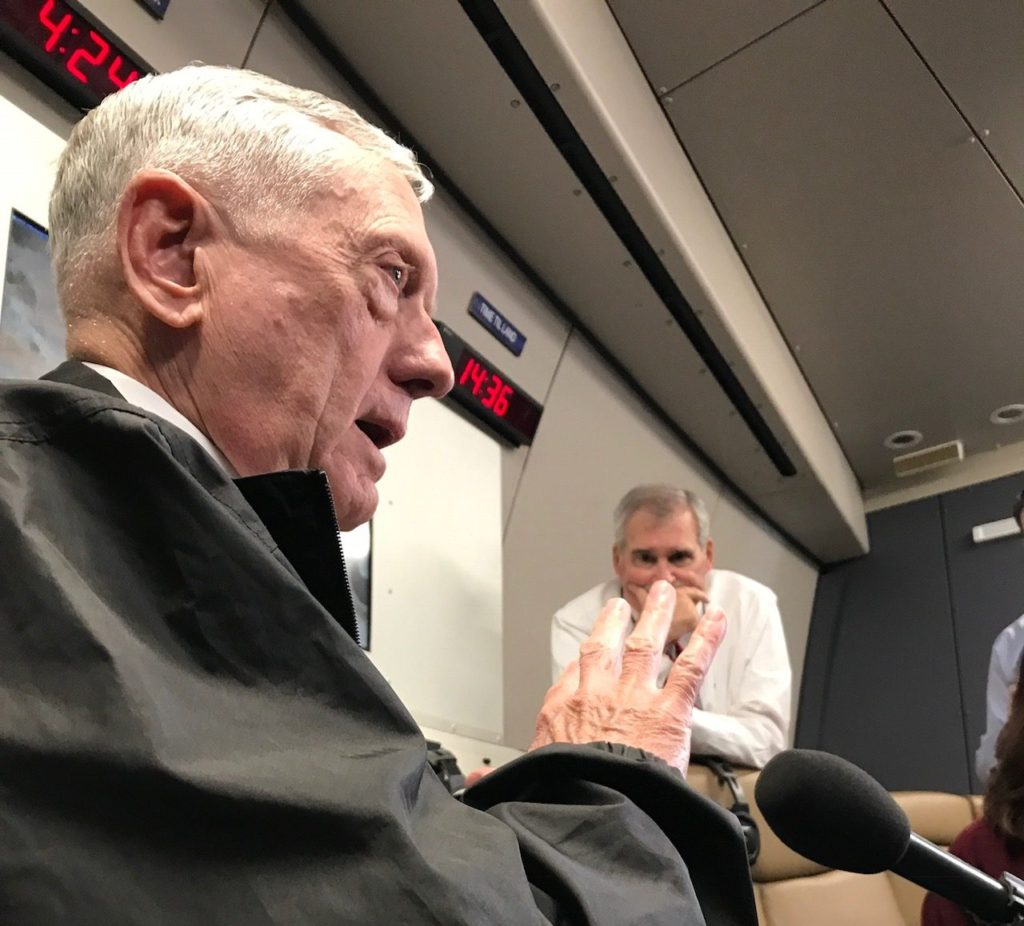 "Ask him if he has coins," he said, referring to the challenge coins that commanders and senior defense leaders carry to hand out to troops as a small token of gratitude. "They're probably blocks of granite!" he joked, a nod to Mattis's reputation for toughness.
"Tell him his Marines love him," he added.
When that message was relayed to Mattis by this reporter, the defense secretary smiled and said he didn't have coins.
"I'm saving money for bombs," he replied.
The story encapsulates how Mattis has approached his first year as Defense Secretary: laser-focused on combat-effectiveness, fiscal responsibility, and maintaining a low-profile.
"Mattis sees his job as carrying out the president's military priorities and that's it. He doesn't see his job as making policy or 'fixing' President Trump's agenda," said Rebeccah L. Heinrichs, senior fellow at the Hudson Institute.
"Mattis and Trump seem to have, at their core, the same guiding principle. Mattis's 'taking our own side in the fight' is Trump's 'putting America first.' How can we carry out our military objectives as efficiently and successfully as possible?" she said.
So far, Mattis's focus on combat-effectiveness appears to be working.
Tasked by President Trump, Mattis has overseen a U.S.-backed war that has decimated the Islamic State (ISIS) in Iraq and Syria. After the president ordered a 30-day review, the Pentagon rolled out its strategy on May 19, which has been credited with taking out ISIS faster than most experts — and even commanders — expected.
Critics claim that credit should go to former President Obama — but analysts say the strategy was new and different in several ways: It allowed commanders on the ground to make more decisions, which sped up the pace of the war. It also ordered the "annihilation" of ISIS fighters — surrounding them entirely instead of letting them flee and live to fight another day, and potentially launch attacks in their home countries.
The administration also began directly arming the Syrian Kurds for specific missions, which enabled them to take back Raqqa, ISIS's de-facto capital, and allowed U.S. advisers to get closer to the battlefield, where they could more effectively advise local forces.
Mattis has also overseen a shift to target ISIS in Africa, where the terrorist group is now trying to establish itself. The Pentagon is using a "by, with, and through" approach, training partner forces to target ISIS and other groups.
Other conflicts remain a work in progress, however. Mattis supported a new strategy in Afghanistan which provides more U.S. troops and combat support for Afghan forces fighting the Taliban, aimed at convincing the Taliban to negotiate. There's been little progress so far, but commanders argue it will take at least two years to implement. And commanders on the ground have been given more authority to act.
"The defense secretary has empowered leaders on the ground to make decisions — given the commanders the ability to command. Instead of trying to send up a star [formation] from Afghanistan here to the Pentagon to get permission to do something, he's empowered those operational commanders," said Pentagon spokesman Army Lt. Col. Roger Cabiness.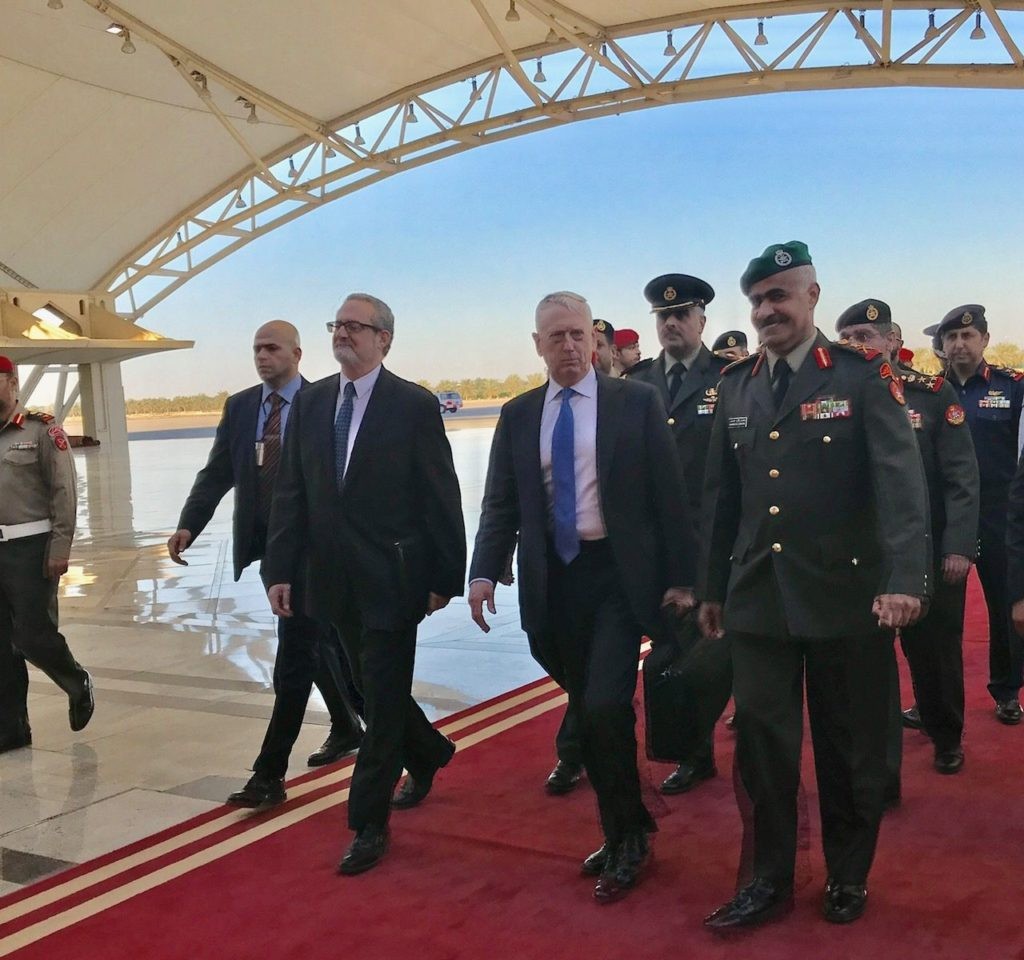 On North Korea, Mattis has been careful to take a backseat to Secretary of State Rex Tillerson, since the administration's strategy is diplomatically-led. But he has also done his part to deter North Korea — reminding the rogue state that the U.S. does have military options if necessary.
Mattis has also approved a plan to confront China's aggressive behavior in the South China Sea, by allowing more U.S. Navy freedom of navigation operations there to challenge Beijing's territorial claims over disputed islands.
And Mattis was one of several advisers who convinced Trump to green-light the sale of lethal weapons to Ukrainian forces who are battling Russian-backed separatists in eastern Ukraine. The decision has sparked tension with Russia, but the administration is hoping it will prompt resolution of the conflict.
On the fiscal front, Mattis has also taken key steps to rein in wasteful spending and rebuild military readiness.
Earlier this month, he launched the Pentagon's first-ever agency-wide audit.
"After a couple years of Congress asking us to do a DOD audit, we're actually doing it," Pentagon Press Secretary Dana White told Breitbart News. That includes sifting through $2.4 trillion of assets, she said. "It's equivalent to Apple, Walmart and the state of California times two — that's the amount."
White said the audit showed Mattis's dedication to accountability and fiscal accountability: "This is his demonstrating our desire to be accountable to the American people…we know that every dollar is precious."
He has also instructed military leaders to identify training that is unnecessary for combat effectiveness, and asked officials to review regulations that are wasting time and energy, and slowing down the effectiveness of the department.
And Mattis has increasingly stepped up pressure on Congress to lift defense budget caps known as sequestration and to pass budgets on time, instead of passing stop-gap funding measures that hurt the Pentagon's ability to negotiate multi-year contracts that help lower costs.
"Congress needs to provide us with a budget," White said. "If we don't have a budget, and we can't predict what we're going to buy and when we're going to buy it, people don't hire people, people don't invest in the infrastructure … it has a ripple effect."
"He's made this case several times on the Hill — for Congress getting back in the driver's seat and being stewards of the American's people's money and to make sure we have a budget, and to be accountable for it," she said. "No enemy has done more harm to combat readiness than sequestration."
Mattis has also been adept at keeping a low profile and not becoming a headline — or a headache — for the president.
Those who work with him at the Department say he is deeply apolitical — something they say is ingrained in him as a former military leader.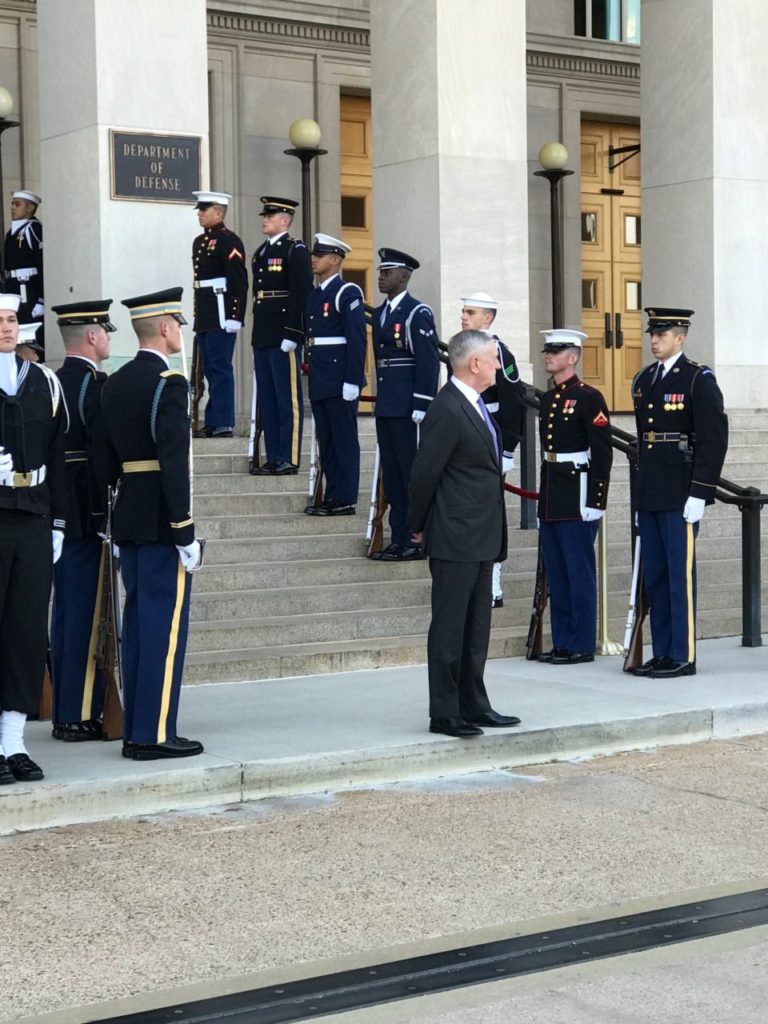 He has kept his advice to the president quiet, and has stayed out of political fights that have roiled the nation. He was once asked by a reporter during a trip about his thoughts on the NFL controversy of players taking a knee.
"Do you have anything to say about the NFL?" he was asked.
Mattis replied, "I'm the secretary of defense. We defend the country."
But, like Trump, Mattis has also shown he is not afraid to criticize the media. He scolded reporters after reports claimed he disagreed with the president over whether it was the right time to talk to North Korea.
"If I say six and the president says half a dozen, they're going to say I disagree with him," he told reporters on August 31. "So let's just get over that."
He has held few formal on-camera press conferences, instead preferring to hold frequent informal off-camera, but on-the-record, gaggles with Pentagon reporters.
He has also slightly reduced the number of reporters traveling with him overseas, and has invited more conservative outlets such as Breitbart News, Washington Free Beacon, Christian Broadcasting Network, and the Washington Examiner, to travel with him.
Mattis's style has angered some reporters, who accuse him of trying to avoid transparency and breaking with the status quo. However, some argue he is justifiably wary.
"[Mattis] seems to realize that the media isn't working with him. And like everything else for him, if it isn't helping the mission, he doesn't want to do it – which explains his different approach to working with reporters," said Heinrichs.
"Too many stories have been written to fit the narrative that Mattis is the 'adult in the room' when it comes to Trump, and that Mattis somehow undermining the president. In reality, that isn't happening," she said.
Despite the media looking for division between him and the president, Mattis is reportedly known as "the favorite" in the administration. White credits Mattis's effectiveness to his focus on his job.
"The secretary is a unique secretary of defense, as I've said many times. He is focused on the warfighter, he is focused on all the things that need to be done," White said.
"He just has laser focus on his job. And it's about the warfighter…it's never about him."